Senator Rick Scott, Other Elected Leaders Denounce Antisemitic Rallies Held in Florida
Florida elected officials have denounced two antisemitic rallies held this weekend in the central part of the state involving individuals who wore Nazi symbols and yelled hate speech.
The rallies, held close to the University of Central Florida and Disney World, seem to be part of a growing trend in the United States. According to the Anti-Defamation League's 2021 Online Antisemitism Report Card, "60 percent of Jewish Americans witnessed behavior or comments they deemed antisemitic following the conflict between Israel and Hamas." The group added that 2019 and 2020 were among the highest years on record for reported cases of harassment or assault against Jewish people in the U.S.
Newsweek previously reported that demonstrators in this weekend's incidents chanted, "The Jew is the devil," and a video posted on Twitter by user DawneyNP shows what appears to be protesters assaulting a driver.
Republican Senator Rick Scott denounced the antisemitic violence, tweeting, "The hateful & antisemitic demonstrations reported in Florida today have no place in our state.…We must always condemn it & continue to stand strongly with our Jewish communities."
Representative Carlos Guillermo Smith tweeted, "Hatred and antisemitism have NO PLACE in our community. I'm appalled to see Nazis rallying in the East Orlando district I represent."
Representative Val Demings also spoke out against the violence, tweeting, "Yesterday neo-Nazis rallied in Orlando. But America beat their disturbing ideology before and we'll do it again."
Orlando Mayor Buddy Dyer also condemned the violence in a statement posted to Twitter: "Antisemitism and hatred are not welcome in this community. Despite displays of hate in Central Florida this weekend, our collective commitment to building an inclusive, compassionate community for all is stronger than ever."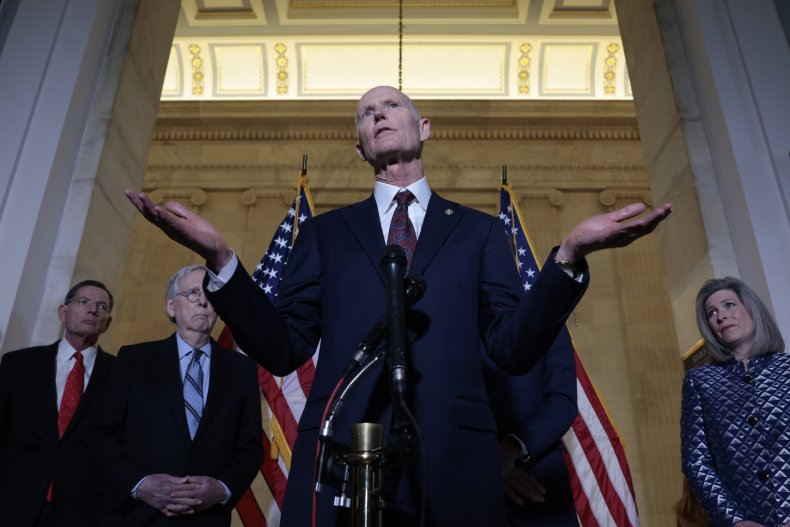 Despite several Florida lawmakers speaking out in opposition to this weekend's attack, Christina Pushaw, the official spokeswoman for Florida Governor Ron DeSantis, has been criticized for a since-deleted tweet where she asked ,"How do we even know they're Nazis?"
Although Pushaw deleted her tweet, she has retweeted other posts to defend her skepticism, while adding, "We have always condemned antisemitism and hate."
Orange County, Florida, Sheriff John Mina said his agency would investigate any reports of criminal activity, according to the Associated Press.
"I along with the Orange County Sheriff's Office deplore any type of hate speech," Mina tweeted. "This hatred has no place in our society."
Additionally, the Florida Department of Highway Safety and Motor Vehicles responded to the protesters to disband the antisemitic group from an overpass, the AP reported.
"It is against the law to obstruct highway traffic or hang signs on the overpasses and violators will be prosecuted," the department said in a statement on Twitter.
This weekend's protests followed other acts of antisemitic harassment across the country. Last week, swastikas were drawn on Washington, D.C.'s Union Station the day after International Holocaust Remembrance Day. A Chicago Jewish school and synagogue were also vandalized, according to the Jewish Telegraphic Agency.