Senator Ron Johnson Says Mandates 'Basically' Put World's Unvaccinated 'Into Internment Camps'
Republican Senator Ron Johnson on Tuesday criticized the treatment of people who choose not to get the COVID-19 vaccine and claimed they are being put "basically into internment camps" around the world.
The Wisconsin senator made the comparison during an interview on Your Talk Show, a program on the Janesville-based radio station WCLO. "We are demonizing [unvaccinated] people," Johnson said. "Around the world, they're putting them basically into internment camps."
Johnson told Newsweek in a statement that "other countries like Austria, Australia, and Germany are arresting their citizens for not wearing masks outside, and ordering lockdowns for those who are not vaccinated. In Australia, an article from The Age writes, 'the quarantine camp is likely to still have a use for unvaccinated people.'"
"It's lunacy," Johnson's statement continued. "Americans did not elect career government bureaucrats like Dr. Fauci, Dr. Walensky, and Dr. Collins to run our lives. We believe in individual rights. The freedom to make your own informed healthcare decisions."
During his radio interview, Johnson also spoke about the new Omicron variant and vaccine mandates in the U.S., calling health officials including White House chief medical advisor Dr. Anthony Fauci "COVID gods." In his statement to Newsweek, Johnson said that Fauci and other "federal bureaucrats" are "complicit in enacting divisive and pointless mandates that are violating Americans' health autonomy and personal freedom."
Johnson sympathized with Americans who are hesitant to get vaccinated. He said on WCLO: "It's not irrational for people that are aware of that information to go, 'you know, I think, cause I've seen a lot of my neighbors get COVID, and really well, it wasn't all that bad.' And I said, 'you know, I think maybe I'll take my chances, and I don't think I'm going to, I'm going to actually utilize my own freedom, my own health autonomy, and I'm going to choose not to get the vaccine.' And now we are demonizing those people."
The senator also claimed that people can't challenge opinions and statements made by public health officials.
"We can't ask that question, we can't get a second opinion, there's only one narrative, and it's the narrative put forth by the COVID gods," Johnson said. "And anybody like me, who provides a little more truthful information, they try to destroy us. So that's what's happening."
He also pointed out that the side effects resulting from the COVID vaccine are being dismissed, which "concerns" him, and urged that this is a matter that should be looked into.
"We've had over 900,000 adverse events on the VAERs system with the COVID vaccine, 19,500 deaths, and our health agencies continued to say, 'nothing to see here,'" Johnson said.
Johnson was referring to the Vaccine Adverse Event Reporting System (VARES), a database run by the Centers for Disease Control and Prevention (CDC) and the Food and Drug Administration (FDA), to track reactions to all vaccines.
Still, VARES can sometimes fuel misinformation about vaccines because anyone can submit an unconfirmed report to the system to be instantly posted to the VARES database.
Johnson has previously made similar statements in criticism of COVID-related restrictions, including baseless claims about treatments. During a virtual town hall on Wednesday, the senator said that "standard gargle mouthwash" kills COVID, a claim that is not backed by scientific research or mouthwash companies.
"By the way, standard gargle mouthwash has been proven to kill the coronavirus," he claimed. "If you get it, you may reduce viral replication. Why not try all these things?"
"It just boggles my mind that the NIH (National Institutes of Health) tell people, 'Do nothing. Maybe take Tylenol,'" he added.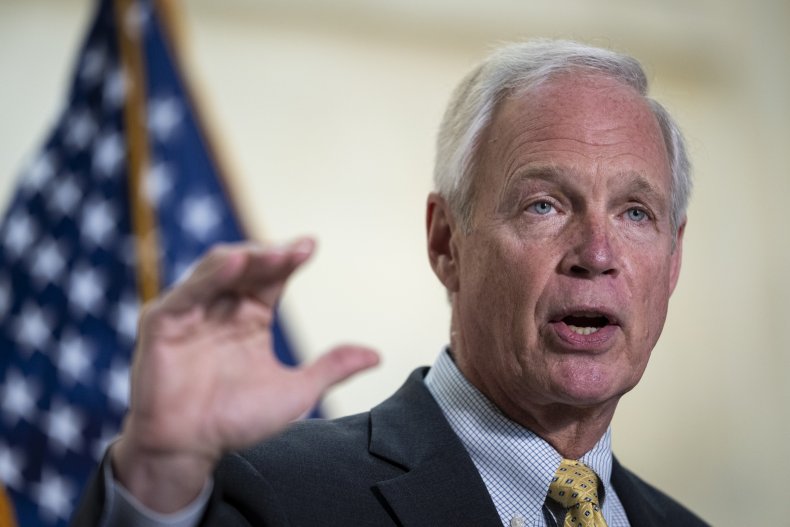 According to past studies, mouthwash can reduce coronavirus in laboratory settings. However, those studies haven't examined COVID-19 and were not tested on humans in real-world settings.
Though researchers said that mouthwashes could decrease the amount of coronavirus inside of a person's mouth, it doesn't treat COVID-19 or prevent someone from contracting the virus. According to laboratory studies cited by Healthline, mouthwashes are not a replacement for COVID-related measures such as face masks and social distancing.
Senator Johnson confirmed to Newsweek on Wednesday that his statement during the virtual town hall was not made to suggest that mouthwash could replace the COVID vaccine.
"I did not say that taking vitamins, using mouthwash, would be a replacement for the vaccine, should you choose to get one. I continued to be amazed at the resistance to anything that might reduce the severity of COVID-19 symptoms," he said, adding that he was pushing for his constituents to take the surge in COVID cases in Wisconsin seriously.