Senator Says 'Democracy at Risk,' but Supports PAC Backing Election Denier
Democratic Senator Patty Murray of Washington state backed President Joe Biden's Thursday speech, saying that "democracy is at risk today," but defended a Democratic PAC backing an election denier in the New Hampshire Republican primary.
Murray spoke to CNN's Dana Bash on State of the Union Sunday morning. In the interview, she addressed Biden's "Soul of the Nation" speech, where the president called out "MAGA republicans" and former President Donald Trump as representing "an extremism that threatens the very foundations of our republic."
"I want to be very clear, very clear upfront. Not every Republican, not even a majority of Republicans, are MAGA Republicans. Not every Republican embraces their extreme ideology. I know because I've been able to work with these mainstream Republicans," Biden said.
Murray responded by sharing her own experiences on January 6, 2021.
"I believe that our democracy is at risk today. I was in the nation's capitol on January 6. I wasn't able to escape. I was barricaded in an office and I heard the pounding at the door, and I heard those who are outside of it, willing to use brute force, incited by President Trump to take over our country. To take over our democracy. To stop the transaction to a new presidency in a peaceful way, which is what a democracy is," Murray said.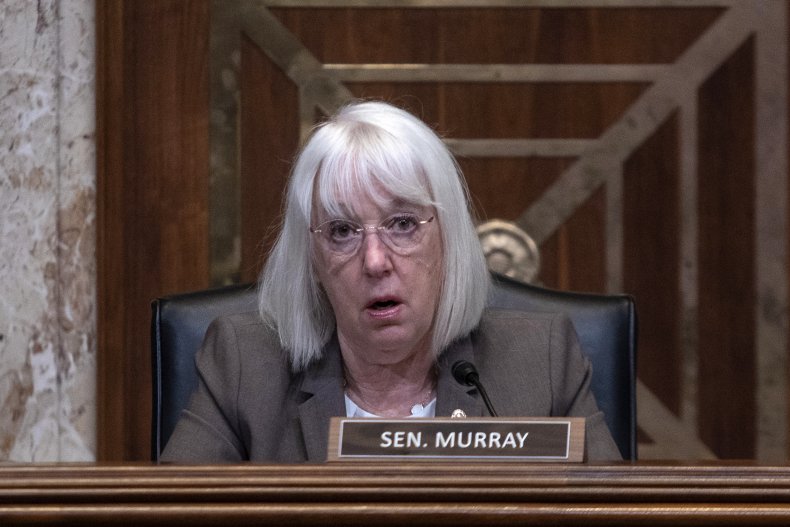 Bash pivoted to reports that the Senate Majority PAC, which supports the Democratic party, was funding ads intended to sway New Hampshire voters in the Republican primary into voting against the moderate Senate candidate Chuck Morse.
Bash asked Murray, "Are you okay with Democrats helping election deniers in Republican primaries like New Hampshire?"
"I believe what Democratic supporters are doing is working to make sure that we have a Democratic majority in the United States Senate and the Congress so that we can restore the rights of women to make their own health care choices, so that we can continue to fight climate change, so that we can work to continue to put in place the policies that allow this economy to work for the men and women and working families across my state and across the nation," Murray answered.
"OK, that sounded like a 'yes,'" Bash replied.
Though the Senate Majority PAC ads do not mention Morse's opponent, Don Bolduc, by name, according to Politico, it is one of a number of Democratic ads attempting to influence the Republican primary. The tactic is that by bashing moderate candidates in hopes Republican voters will choose the more extreme candidate in the primary, the Democrat will be more likely to win in the general.
In New Hampshire, Bolduc, a retired Army general, is leading Morse in polls. He is aligned with Trump, embracing Trump's false claims of election fraud. In a recent debate, he said he signed a letter with other generals and admirals that Trump won the 2020 election.
Bolduc also commented on the raid of Mar-a-Lago by FBI investigators, asking "Do we still need the FBI?" according to WMUR. He later clarified to the station that he was talking about the FBI's "political leadership from top to bottom," and said that the leaders should have their confirmation revoked by the Senate.
The strategy of attempting to boost a candidate seen as more "unelectable" is a risky one. Prior to the 2016 presidential election, many Democrats celebrated Trump getting his party's nomination.
A memo from the Hillary Clinton campaign surfaced by Wikileaks from April 7, 2015, describes the strategy of boosting "Pied Piper Candidates" like Trump, Senator Ted Cruz of Texas and Dr. Ben Carson.
"The variety of candidates is a positive here, and many of the lesser known can serve as a cudgel to move the more established candidates further to the right. In this scenario, we don't want to marginalize the more extreme candidates, but make them more 'Pied Piper' candidates who actually represent the mainstream of the Republican Party," the memo reads, while outlining how to undermine "more-established" candidates.
In the 2016 election, though Clinton won the popular vote by 65,853,514 to Trump's 62,984,828, he won the electoral college 304 to 227.
Newsweek reached out to Murray for comment.