Senators Indicate Trump Impeachment Trial Could Be Shortest in U.S. History: 'Days,' Not Weeks
Senators from both sides of the political aisle have signaled that former President Donald Trump's upcoming impeachment trial could be the shortest in U.S. history, with some expressing hope that the trial could conclude in under one week and others pushing for mere days.
Prior to the Senate trial that's expected to start Tuesday and result in an acquittal, several senators have indicated that the process could be sped along so that lawmakers can resume focus on other matters, including delivering President Joe Biden's highly-anticipated stimulus package.
Republican Senator Kevin Cramer of North Dakota told reporters that he doesn't see the proceedings lasting longer than one week. "I just can't imagine that it's going to go beyond a week. I don't think there's a lot of enthusiasm for this thing from anybody," he said, adding that "a couple of days each side would be sufficient."
Democratic Senator Chris Murphy of Connecticut echoed his remarks, saying "I don't think it needs to last more than a week," according to The Hill.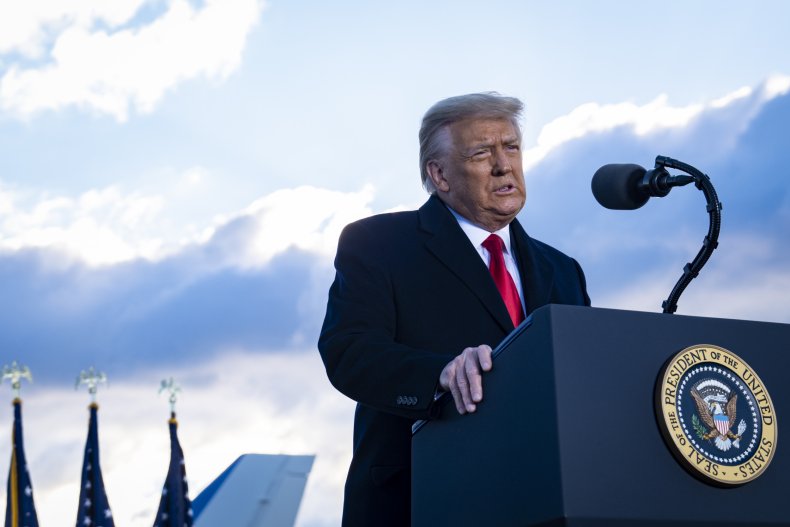 Senator Tom Carper of Delaware, a Democrat who shares a close relationship with Biden, told reporters this week that the trial should last only a few days. "The trial is not something that should take months or weeks. Days. Days. And then we can get back to getting this administration's team in place," he said.
The current shortest impeachment trial record was set by Trump's first impeachment trial in 2020, which spanned 21 days. Prior to that was former Democratic President Bill Clinton's impeachment trial in 1999, which lasted 37 days.
Democrats condemned the then Republican-led Senate for barring the appearance of witnesses during Trump's first trial, but neither side wants to see the proceedings drag on this time around.
Senate Majority Leader Chuck Schumer and Senate Minority Leader Mitch McConnell still need to determine the procedural details of the trial, including how much time each side will get to present their cases.
The odds of a conviction are incredibly slim. Seventeen GOP senators will need to join Democrats in voting to convict, but only about five are expected to do so. Last week, 45 of the 50 Republicans in the upper chamber voted for challenging the constitutionality of the upcoming trial, indicating the likelihood of an acquittal.
The Democratic-led House impeached Trump for a second time last month on a charge of inciting the January 6 insurrection in the U.S. Capitol, which left five people dead. Trump is the only American president to have been impeached twice by the House.
The 10 House Republicans who crossed party lines to vote for impeachment have faced intense retaliation from Trump loyalists for breaking with the party.
Newsweek reached out to Trump representatives for comment.