Senators Jon Ossoff, Mark Kelly Introduce Bill to Ban Stock Trading by Congress Members
Members of Congress would face stiff penalties for trading stocks while in office under legislation announced Wednesday by Democratic Senators Jon Ossoff and Mark Kelly.
The Ban Congressional Stock Trading Act would require every member of Congress—as well as their spouses and dependent children—to place their stock portfolios into a blind trust. The arrangement is meant to prevent members of Congress from using insider information to profit off their investments.
The senators said in a joint statement that members of Congress shouldn't be playing the stock market while having access to confidential information.
"Elected leaders have access to valuable information that impacts policy, the economy, and entire industries," said Kelly, of Arizona, in the statement. "This legislation I am introducing with Senator Ossoff will put an end to corrupt insider trading and ensure that leaders in Congress focus on delivering results for their constituents, not their stock portfolios."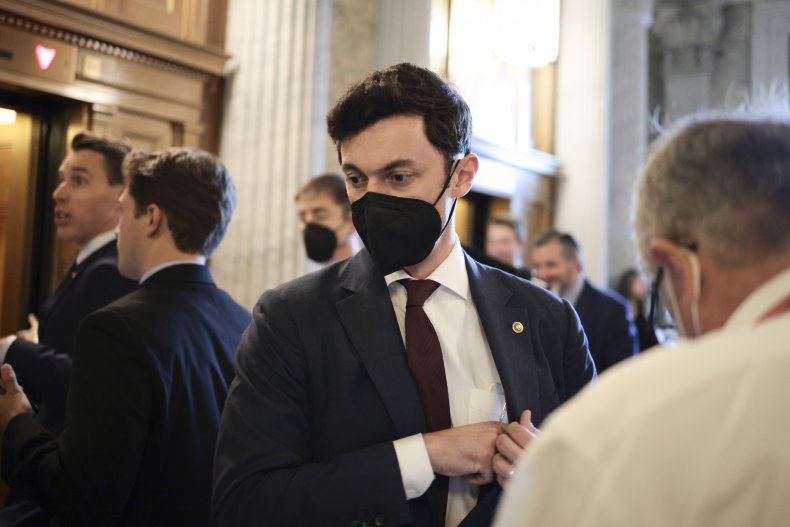 The bill comes as reporting has revealed how the nation's lawmakers have used information from committees for financial gain.
Last fall, Newsweek reported that Congresswoman Lois Frankel, member of a subcommittee that oversees funding to the Department of Energy, traded fossil fuel stocks during a global energy crisis. Senate Intelligence Chair Richard Burr sold $1.7 million of stock in 2020 after getting a daily briefing on the COVID-19 pandemic, despite reassuring the public, according to ProPublica.
Donald Sherman, vice president and chief counsel of Citizens For Responsibility and Ethics, told Newsweek Wednesday evening he welcomed the legislation.
"I think it's an important check to limit potential conflicts of interest for members of Congress," he said. "I also think it's an important measure to promote faith in government."
Congress passed the Stop Trading on Congressional Knowledge Act in 2012 in an attempt to bring more transparency to members' financial dealings. However, a report published by Insider on Tuesday found that lawmakers who violate the law face a small fine, usually $200. The report found 54 members of Congress have violated a law intended to prevent insider trading and conflicts of interest.
The newly introduced Ban Congressional Stock Trading Act would greatly stiffen penalties, with members of Congress who violate the act facing fines of their entire congressional salaries.
Sherman said the hefty fine is justified because it'll serve as a deterrent for some members of Congress are already immensely wealthy.
The Federal Reserve said in October it would adopt rules restricting policymakers and staff from trading individual stocks and other securities. Other members of Congress have also voiced support for banning lawmakers from trading stock.
(Update: 1/12 9:00 p.m.) This story has been updated with comment from Senator Josh Hawley.
Senator Josh Hawley, R-Missouri, also announced he will introduce similar legislation. His bill, the Banning Insider Trading in Congress Act, would bar members of Congress and their spouses from buying and trading individual stocks and does not apply to their dependents. Those who violate it would be required to hand over illicit profits to the U.S. Treasury.
The bill would give the Government Accountability Office enforcement powers, directing it to conduct an audit to ensure lawmakers are in compliance.
"Year after year, politicians somehow manage to outperform the market, buying and selling millions in stocks of companies they're supposed to be regulating," Hawley said in a statement. "Wall Street and Big Tech work hand-in-hand with elected officials to enrich each other at the expense of the country. Here's something we can do: ban all members of Congress from trading stocks and force those who do to pay their proceeds back to the American people. It's time to stop turning a blind eye to Washington profiteering."
While the push for a ban is gaining momentum, it faces opposition from an important source.
House Speaker Nancy Pelosi defended lawmakers' ownership of stocks during a news conference last month.
"We are a free-market economy," she told reporters. "They should be able to participate in that."