Two representatives of a group of 9/11 first responders campaigning for the federal government to renew their healthcare benefits called out Republican Senators Mitch McConnell and Lindsey Graham on Wednesday, saying they weren't going to take their "crap this time."
John Feal and Brian McGuire, who were both first responders to the September 11, 2001 terrorist attacks, appeared for an interview with CNN's New Day host John Berman following a congressional hearing emploring lawmakers to reauthorize a victim compensation fund. The hearing drew national media attention, as former host of The Daily Show, Jon Stewart, gave an impassioned speech, slamming lawmakers for not taking the issue seriously.
"History will show you, in 2010, 2015, it was Republican leadership [that opposed this]," Feal told Berman on Wednesday morning.
"Now we're going to go to the Senate, where bills go to die, because it's run by a bunch of cranky old white men, who are trying to keep control of this country," he continued. "So, Mitch McConnell, we're on our way. Lindsey Graham, we're on our way," the 9/11 first responder warned, calling out the GOP Senate Majority Leader as well as Graham, who chairs the Senate Judiciary Committee.
McGuire also told Berman that he, Feal and other first responders in Washington were "fighting for those who can't be here, to voice their own help in their cause because they are too sick and they are dying."
Speaking to reporters on Wednesday morning, McConnell appeared unaware that the fund for 9/11 victims was even running out.
"Gosh, I hadn't looked at that lately. I'll have to. We've always dealt with that in the past in a compassionate way, and I assume we will again," he said when asked by a reporter on Wednesday if he would support reauthorizing the fund during a press conference.
Currently, Congress must annually renew the fund, which is running short on resources, due primarily to a growing number of claims. The fund was allocated just under $7.4 billion to be dispersed over the next five years back in 2015. More than $5 billion of that had already been used as of February.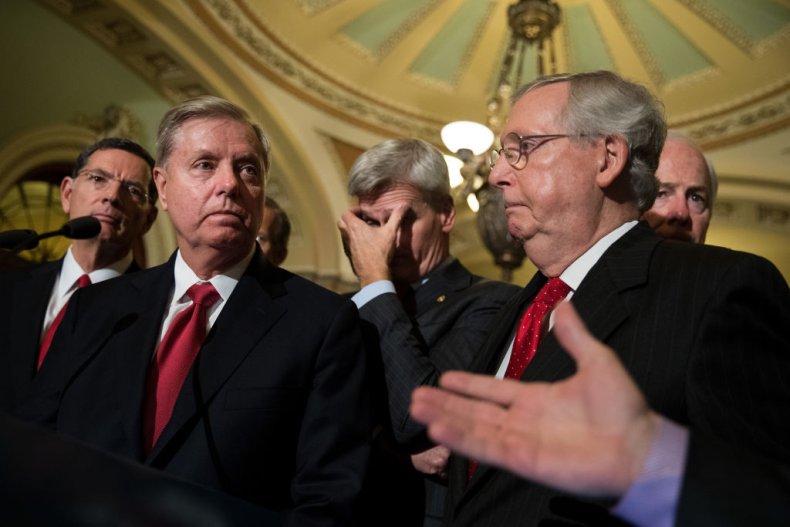 An effort led by New York lawmakers, including Democratic Representatives Alexandria Ocasio-Cortez and Jerrold Nadler, as well as Democratic Senators Kirsten Gillibrand and Chuck Schumer, aims to extend the fund permanently, not just through its current 2020 deadline. The House of Representatives is set to vote on the "Never Forget The Heroes Act" this week.
In his widely shared remarks to Congress on Tuesday, Stewart said he was "sick and tired" of hearing the 9/11 terrorist attack referred to as a "New York issue."
"Al-Qaeda didn't shout death to Tribeca. They attacked America and these men and women and their response to it is what brought our country back," he said.