Sequoia Capital said Thursday that it did not influence Robinhood, a stock market app, to halt trading any stocks.
Users of Robinhood, which allows users to purchase stocks without charging commission fees, banded together to purchase stocks in companies under financial strain, such as GameStop and AMC Theaters. In doing so, the price of those has risen. Some hedge funds, which had been believed the price of the stocks would fall, have decreased in value. On Thursday, Robinhood blocked users from purchasing stocks in GameStop and other companies, leading some to believe that pressure from Sequoia was the underlying cause. On Thursday, Sequoia denied that claim.
"Sequoia did not pressure Robinhood to halt the trading of any stocks," the tweet said. "This rumor is completely false."
Rumors that Sequoia had pressured Robinhood into barring some transactions came from a Thursday post on Reddit from an alleged employee of Robinhood. The post alleged that Robinhood founder Vladimir Tenev had "received calls from Sequoia Capital and the White House that pressured into closing trading" on certain stocks.
Robinhood also restricted transactions for other companies, including electronics manufacturers Nokia and Koss, American Airlines and Bed Bath and Beyond. In a Thursday statement, Robinhood said the restriction on certain transactions was needed.
"We continuously monitor the markets and make changes where necessary," adding that the restrictions were enacted "in light of recent volatility."
Newsweek reached out to AMC Theaters for comment.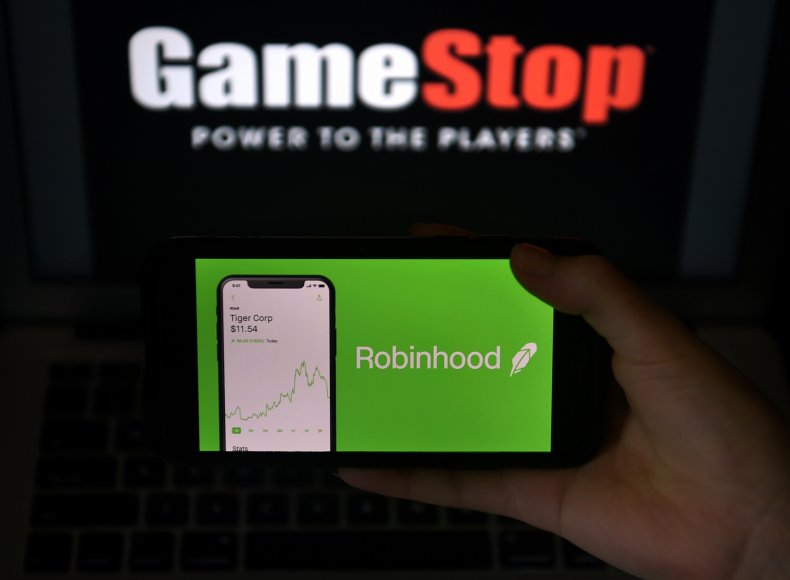 Tenev tweeted Thursday that "limited buys" of the currently blocked stocks would resume on Friday. "We'll continue to monitor the situation and make adjustments as needed," Tenev wrote.
One of the ways hedge funds make money is by shortselling. This practice involves borrowing a stock on the predication that the stock price will drop. If that happens, the seller can then repurchase the stock and pay back the original lender while pocketing the difference.
Some lawmakers criticized Robinhood's decision to ban stock purchases, alleging that large hedge funds were permitted to things that small investors could not.
"People on Wall Street only care about the rules when they're the ones getting hurt," Ohio Democratic Senator Sherrod Brown, the Senate Banking Committee chair, said Thursday. "American workers have known for years the Wall Street system is broken— they've been paying the price."
Pennsylvania Republican Senator Pat Toomey tweeted that "retail investors should be free to purchase even highly-speculative stocks, just as hedge funds should be free to short them. And all investors should accept the consequences—whether they gain or lose—from their decision."
White House Press Secretary Jen Psaki said during a Thursday news briefing that President Joe Biden was "briefed by his economic team frequently" but referred reporters to a statement released Wednesday by The Federal Securities and Exchange Commission. The statement said that the commission was "actively monitoring the on-going market volatility."
The infographic below, provided by Statista, illustrates the year-to-date stock performance of GameStop.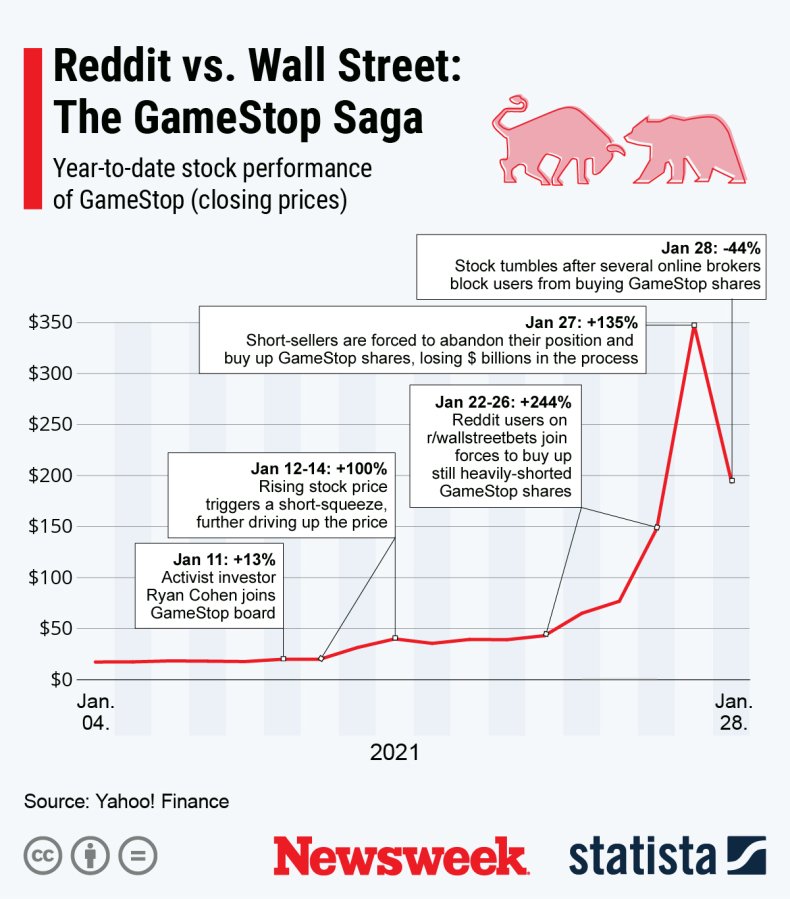 Update 1/29/21: This article was updated to includ an infographic.