Serena Williams OK Not Being GOAT, Happy 'Writing the Big Checks'
Serena Williams is alright with not being the GOAT—the "greatest of all time."
The tennis star revealed in a Vogue essay published Tuesday that she is planning to retire from the sport after this year's U.S. Open, the final Grand Slam tournament of the year, which begins on August 29.
In the lengthy essay, Williams said she wants to turn her focus to having a second child and her business interests. She does not like the word "retirement," as she said in the essay, preferring to describing it as "evolving away from tennis, toward other things that are important to me."
She added: "I'm torn: I don't want it to be over, but at the same time I'm ready for what's next."
In a post on Instagram, Williams said "the countdown has begun" and that she was "gonna relish these next few weeks."
In her essay, she expressed regret that her retirement plans mean she will leave tennis without surpassing the record for the most Grand Slam titles.
Williams has 23, the most of any player in the Open era and one behind Margaret Court's all-time record of 24.
"There are people who say I'm not the GOAT because I didn't pass Margaret Court's record of 24 grand slam titles, which she achieved before the 'open era' that began in 1968," she said in the essay. "I'd be lying if I said I didn't want that record. Obviously I do."
On a day-to-day basis, Williams isn't thinking of beating that record. But the way she sees it, she had the opportunity to go further and win 30 Grand Slam titles.
"I had my chances after coming back from giving birth," she said. "I went from a C-section to a second pulmonary embolism to a grand slam final. I played while breastfeeding. I played through postpartum depression. But I didn't get there. Shoulda, woulda, coulda.
"I didn't show up the way I should have or could have. But I showed up 23 times, and that's fine. Actually it's extraordinary. But these days, if I have to choose between building my tennis résumé and building my family, I choose the latter."
Williams—ranked by Forbes as the second-highest-paid female athlete in 2021— also noted that in her life, the balance "has been slowly shifting" to Serena Ventures, her venture capital firm that has invested in MasterClass, Impossible Foods and Noom among other companies in recent years.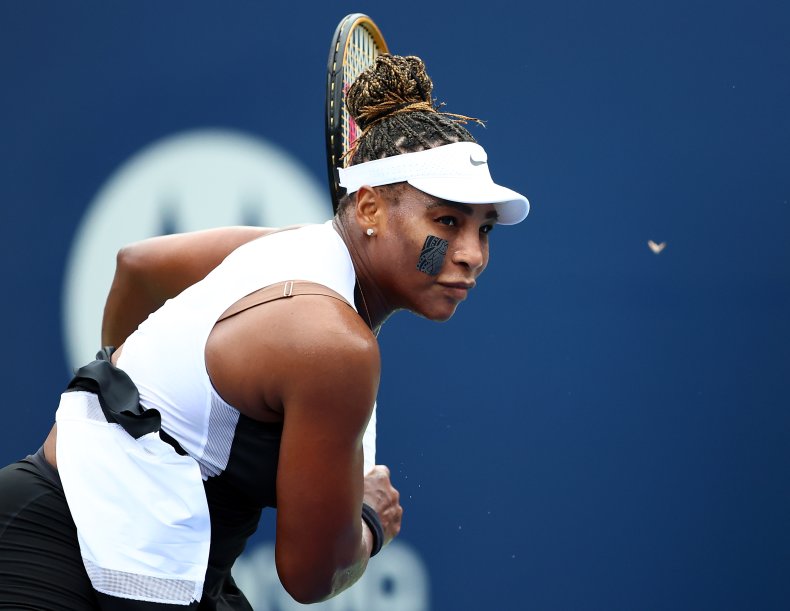 A majority of the companies funded by her firm were started by women and people of color "because that's who we are," she said.
She said she had been shocked to learn at a conference a few years ago that less than 2 percent of venture capital money was going to women.
"I kind of understood then and there that someone who looks like me needs to start writing the big checks," she said.
"Sometimes like attracts like. Men are writing those big checks to one another, and in order for us to change that, more people who look like me need to be in that position, giving money back to themselves."
She noted that she doesn't like to think about her legacy.
"But I'd like to think that thanks to opportunities afforded to me, women athletes feel that they can be themselves on the court," she said.
One Last Attempt
Returning to the topic of tennis, Williams said she "unfortunately" wasn't ready to win Wimbledon this year.
"And I don't know if I will be ready to win New York. But I'm going to try," she said.
"I know there's a fan fantasy that I might have tied Margaret that day in London, then maybe beat her record in New York, and then at the trophy ceremony say, 'See ya!' I get that. It's a good fantasy. But I'm not looking for some ceremonial, final on-court moment.
"I'm terrible at goodbyes, the world's worst. But please know that I am more grateful for you than I can ever express in words."
Williams has been contacted for further comment.