Serena Williams Says Golf Is 'No Longer About Country Clubs'
Serena Williams has talked about turning to golf after stepping away from tennis and how the sport is becoming more mainstream.
The tennis great, 41, announced last year that she was leaving the sport she has played since she was a young child and in which she won 23 Grand Slam singles titles.
Since then, Williams has been pursuing new interests, including trying her hand at other sports, something she had never really tried until now. "That's it, I'm going to do it," she told Newsweek.
"I am not looking to be the best at it, but I am going to enjoy it and have fun in it. I just want to do something different," she said.
She also had no hesitation about trying golf, saying it has become more accessible over the years and was moving past its "stuffy" reputation.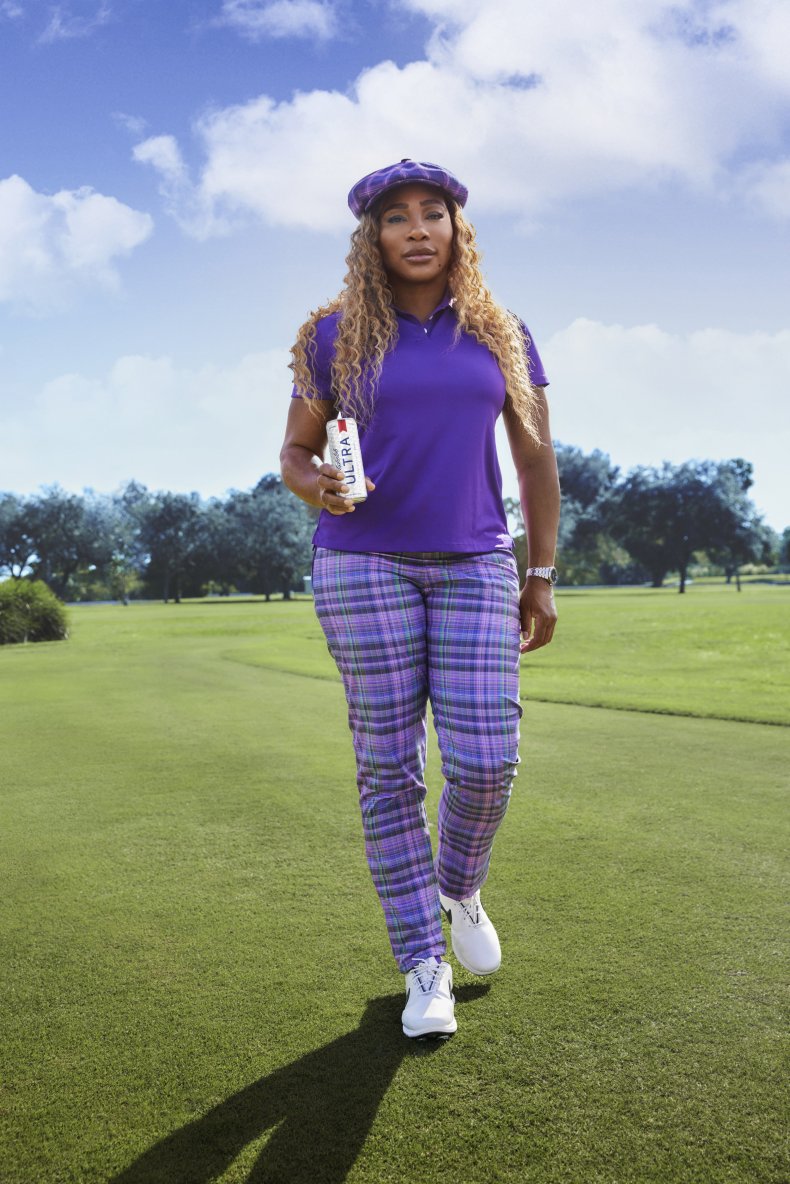 "I do know that the golf courses are changing," she said. "I do know that it is no longer about country clubs or being stuffy or narrow attitudes, and I think it is here to stay and that fans are energetic, the communities are inclusive, with younger more diverse faces. And it is blockbuster partnerships [like one with Michelob] that will affect new generations to the sport."
Williams is joining Succession star Brian Cox to star in a Super Bowl ad for Michelob Ultra beer.
The prestigious Super Bowl spot will feature Williams in a golf-themed ad that celebrates gender equality as Williams goes head-to-head with Cox in a golf tournament.
She also said she was reluctant to try other sports while a tennis pro because she knows how competitive she can get.
"It is one thing that I always have to be careful with, and I honestly think that is why I never really picked up any other sport because I do have this knack at wanting to be really good at everything I do," she said.
Williams admitted to being "OK" with her golfing mediocrity because she was "not doing it for a living" and unlike tennis "didn't start it at [age] 2."
"So I have no expectations," she said, adding that she does have some advantages in playing golf because "tennis means that the swing is a little bit similar, so I won't be hurting anybody on the course."
"It's the hand/eye/ball/eye coordination. I was pretty good on set. I took the shot and hit it," she said.
She played her last match at this past September's U.S. Open. During her career, Williams won the most singles titles in the Open era and is second to Margaret Court in Grand Slam singles titles. Court won 24.
After starring in her second Super Bowl ad and a brief cameo in Netflix's murder-mystery film Glass Onion, Williams hasn't ruled out trying her hand at more acting.
"That would be fun, right," she said. "It would be unforeseen, but I'm open and I'm pretty free now, my schedule is open. I don't have a lot of time on my hands, but I could make it."