Wisconsin Serial Toilet Clogger Jailed on Multiple Criminal Damage Charges: I Must 'Pray Forgiveness Every Day'
A Wisconsin man who blocked toilets with plastic bottles was sentenced to 150 days in jail and given three years of probation on Monday.
Patrick D Beeman, 35, clogged women's toilets in Sheboygan's Deland Park and at his workplace, The Sheboygan Press reported.
Police tracked down Beeman after they discovered a plastic bottle stuck in an overflowing toilet at the women's bathroom at Deland Community Center in March 2018.
Investigators discovered looked at 10 other incidents from April 2017 onwards, according to a criminal complaint seen by The Press.
The manager of a temp agency told police Beeman damaged toilets at two companies he was placed at. Beeman told police he stopped plugging toilets when he discovered investigators were searching for him.
Beeman was initially charged with a dozen misdemeanors of criminal damage to property, but seven were dropped.
Per The Independent, Beeman told cops he "could not explain" his actions and said his behavior was driven by "very strong urges." The comments were recorded in the criminal complaint, which was filed with Sheboygan County Circuit Court.
Beeman said in court Monday: "I need to make things right and pray for forgiveness every day."
In addition to his jail sentence, Beeman will perform 100 hours of community service and pay more than $5,500.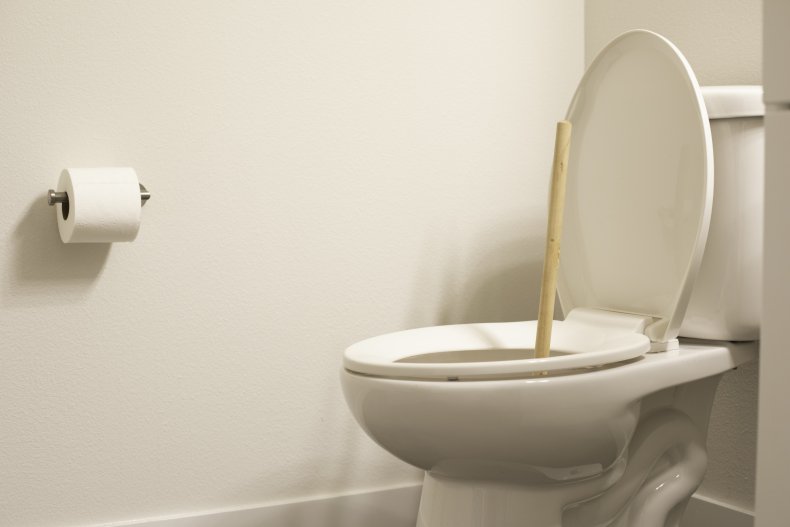 Before they found Beeman, police complained about the mysterious case online. "Over the past year and a half, someone has been clogging the women's toilet at the Deland Community Center with a 20 ounce soda bottle," police said on social media in March. "Why do this? I do not know, but if you help us find the person, I will tell you. This is very strange... and gross, but that is the reality of life."
Joe Kerlin, the city's parks and forestry superintendent, estimated city toilets were clogged about a dozen times in 2016 and 14 times in 2018. Three incidents had been reported by March of this year, the newspaper stated.
The perpetrator is thought to have plugged the bottles directly into pipes, rather than flushing them down the toilet. "A lot of times we can just fish 'em out," Kerlin said. But officials were forced to completely remove some toilets to get at the bottles.
According to court documents, the city estimated each clogging cost approximately $200 of damage.
The Sheboygan Police Department did not immediately respond to Newsweek's request for comment.
In other toilet news, a Florida man's trip to the porcelain throne ended in disaster when a snake emerged from the plumbing and bit him. Authorities were able to remove the snake, which was treated for an infection.
Luckily for the Coral Springs resident, the snake was not venomous.