'The Serpent' on Netflix: Where is Charles Sobhraj Now?
The Serpent has become a Netflix hit, a few months after it debuted on the BBC. In the drama, we see Charles Sobhraj (played by Tahar Rahim) on a crime spree that spanned many years, many countries, and numerous spells in prison (including a prison escape that allowed him to escape the death penalty in another country). The drama ends, however, with his final arrest in 2003, when for reasons unknown he returned to the one country where there was a warrant out for his arrest.
Where is Charles Sobhraj from The Serpent now?
The BBC and Netflix show ends with a series of title cards that bring the story up to date. They read:
"The reasons behind Charles Sobhraj's decision to return to Nepal in 2003 are still a matter of conjecture and known only to himself.
"In November 2004 he was sentenced by a Nepalese court to life imprisonment for the murder of Connie Jo Bronzich in December 1975.
"Sobhraj lost two appeals against this conviction.
"In 2010 the United Nations Human Rights Committee expressed the view that he did not receive a fair trial.
"In 2014 a Nepalese court found Sobhraj guilty of the murder of Laurent Carriere, also in December 1975. He was sentenced to a further 20 years.
"Sobhraj did not challenge this conviction.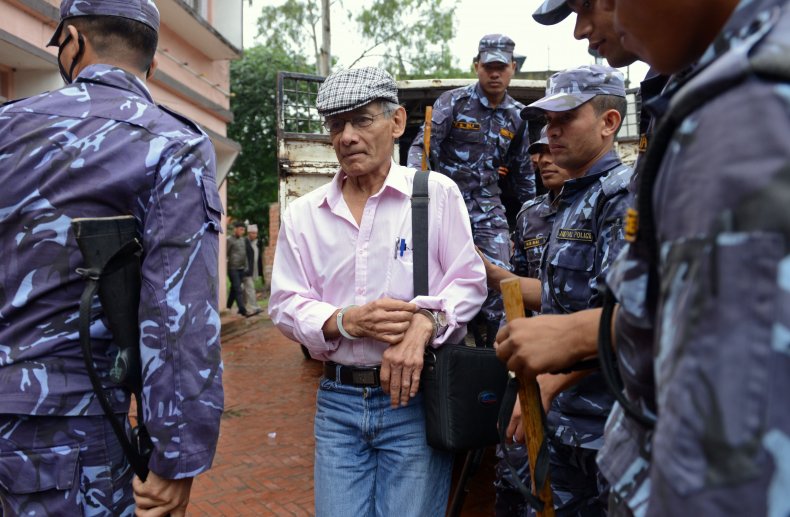 "In December 2020 he remained imprisoned in Kathmandu.
"Although the Thai police issued a warrant for his arrest in 1976, Charles Sobhraj never returned to Thailand and has never been tried for any crimes there.
"In the absence of a guilty verdict, Sobhrak is therefore presumed innocent."
Sobhraj has given various explanations as to why he returned to Nepal in the early 2000s. Per The Guardian, he told police he was set to make a documentary about Nepali handicrafts. He then told a different story to Andrew Anthony, a journalist who interviewed him in prison in 2013.
Anthony recounted to The Guardian: "Over the course of a couple of mind-boggling hours he recounted a fantastical plot in which he said he had been working for the CIA in a ruse to trap Taliban guerrillas buying arms from the Chinese triads. So not Nepali handicrafts, after all."
One detail not mentioned in The Serpent's ending title cards is that Sobhraj has married for a third time. The Times of India reported in October 2008 that at 64 he had wed the 20-year-old Nihita Biswas. They had met while Biswas was working as an interpreter for Sobhraj's French lawyer. Biswas then found fame of her own by appearing on the Indian Big Brother, Bigg Boss, in 2011.
Biswas said of her relationship with Sobhraj in a Times of India interview in 2008: "I don't know what he was," she says. "What he is now is important. He is a good man, I have seen the way he cares for his family. We have a good relationship...He's innocent. There's no evidence against him."
Sobhraj has reportedly been in poor health over the past few years. In 2018, for example, Dr. Raamesh Koirala wrote Charles Sobhraj, Inside The Heart Of The Bikini Killer, where he writes about performing open heart surgery on the killer.
He writes about repairing and replacing the valves of his heart due to Sobhraj suffering from "severe mitral and tricuspid regurgitations," a condition where one's heart valves no longer close properly, allowing blood to flow backward into one's heart.
Per the Mayo Clinic, this can cause patients to feel fatigued or out of breath or, in the worst cases, cause cardiac arrhythmias or even heart failure. In his book, Koirala also says that Sobhraj had other ailments, including swelling of the leg and fluid on the lungs. "Do whatever you think is right for me, doctor," Koirala quotes Sobhraj as saying, "I just want to live."
The Serpent is streaming now on Netflix.