Seth MacFarlane Wishes 'Family Guy' Wasn't on Fox: 'This Marriage Isn't Working Anymore'
Seth MacFarlane has said he wishes Family Guy was not on Fox over the network's association with Tucker Carlson.
"Tucker Carlson's latest opinion piece once again makes me wish Family Guy was on any other network," MacFarlane tweeted Sunday. "Look, Fox, we both know this marriage isn't working any more. The sex is only once a year, I don't get along with your mother, and well... I've been having an affair with NBC."
The reference to NBC is in relation to MacFarlane's huge TV overall deal he made in January 2020 with NBCUniversal's UCP, departing his longtime studio home, then-20th Century Fox Television.
It's not clear which of Carlson's opinion pieces MacFarlane is referring to, but some of his latest include the reactionary pundit labeling Dr. Anthony Fauci "the guy who created COVID" and suggesting teachers wear cameras to ensure they don't teach critical race theory in class.
MacFarlane previously tweeted his disdain for Carlson back in 2018 saying he was "embarrassed" to work for Fox after the host told viewers to ignore other news sources.
"In other words, don't think critically, don't consult multiple news sources, and in general, don't use your brain," he tweeted at the time. "Just blindly obey Fox News. This is fringe s***, and it's business like this that makes me embarrassed to work for this company."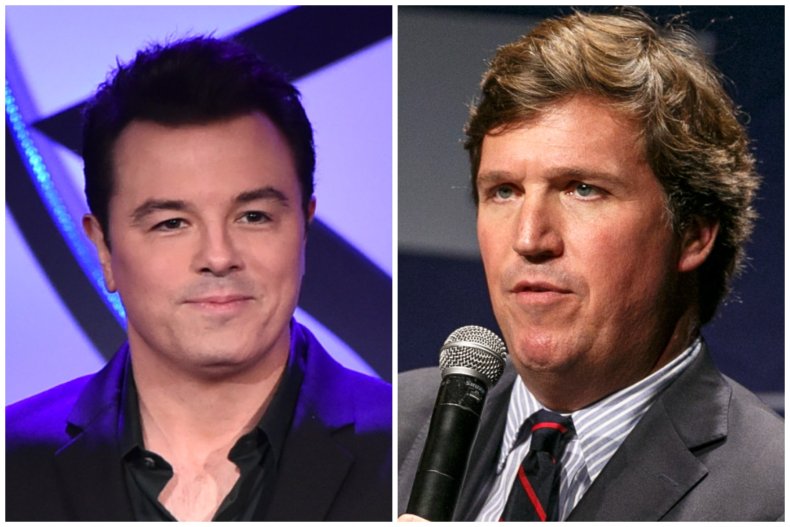 The Family Guy creator also once replied to another Fox News host on Twitter, telling Laura Inghram: "I really cannot fathom that we produce content for the same corporation."
Family Guy has been broadcast on Fox for 19 seasons.
On his show last Wednesday, Carlson spoke about changing mask guidelines that include those who have been fully vaccinated against COVID-19.
Before playing a clip of Dr. Fauci, Carlson said: "So, if you're in something called a high or substantial COVID transmission region you better prepare to put on your little mask.
"Now, what are those regions? What does this mean exactly? Well, for the answer to that pressing question, which could affect your life, we go right to the source—here is the man who helped to create COVID in the first place, watch him explain."
The claim that Dr. Fauci helped create COVID is false.
Meanwhile, a video of a man confronting Carlson at an outdoor goods store went viral recently.
The clip was posted by Dan Bailey, who was seen in the video telling Carlson, "You are the worst human being."
"It's not every day you get to tell someone they are the worst person in the world and really mean it," Bailey's caption accompanying the video said. "This man has killed more people with vaccine misinformation, he has supported extreme racism, he is a fascist and does more to rip this country apart than anyone that calls themselves an American."