As the first day of Supreme Court nominee Brett Kavanaugh's confirmation hearing came to an end, "Late Night" host Seth Meyers took a jab at President Donald Trump for trying to appoint the judge at a time when the president has been implicated in a number of "criminal cases and corruption scandals."
"Let's just step back for a moment and consider the fact that Trump is trying to appoint someone to a lifetime seat on the Supreme Court while simultaneously being implicated in a truly staggering number of criminal cases and corruption scandals," Meyers began.
"That's like Bonnie getting arrested and saying, 'You know who'd make a great judge? Clyde!'" he joked, in a reference to the notorious criminal couple Bonnie Elizabeth Parker and Clyde Chestnut Barrow.
Meyers then went on to provide a recap of "what we already know" of the "various crimes and corruption scandals swirling around the president," including: Trump's former personal attorney Michael Cohen's guilty plea to eight counts of campaign finance violations, tax fraud and bank fraud; his former campaign chair Paul Manafort being convicted on eight counts of tax and bank fraud; his former deputy campaign chair Rick Gates admitting to embezzlement and money laundering; his former national security advisor Michael Flynn pleading guilty to lying to the FBI about his contacts with Russians; and his former foreign policy advisor George Papadopoulos also pleading guilty to lying to the FBI about contacts with Russians.
Meyers also made mention of the two GOP congressmen facing charges from the DOJ: Representative Duncan Hunter (California), who was charged with misuse of campaign funds, and Representative Chris Collins (New York), who was indicted for insider trading, as well as lobbyist Sam Patten, who pleaded guilty to illegal lobbying.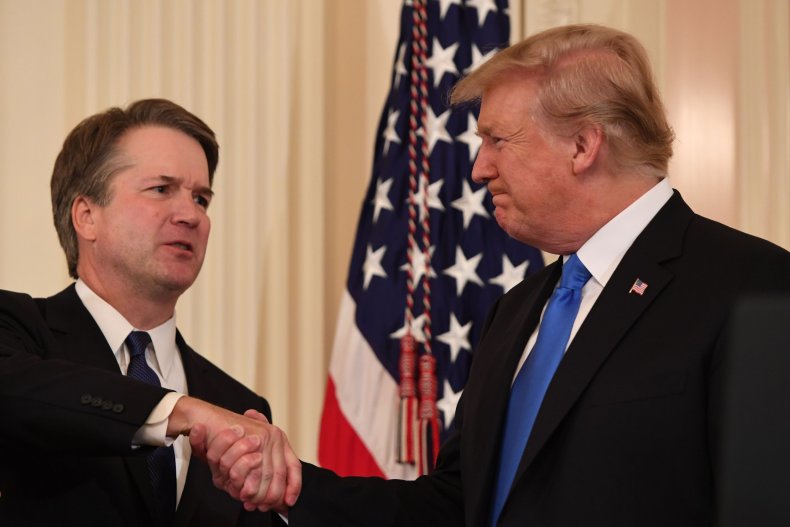 He also joked that Trump Senior Adviser Stephen Miller "has been sleeping rent-free in the White House attic."
Meyers then brought up tweets published by Trump on Monday, attacking Attorney General Jeff Sessions for pursuing federal criminal charges against GOP congressmen up for re-election, in an apparent reference to Hunter and Collins.
"Two long-running, Obama-era, investigations of two very popular Republican Congressmen were brought to a well-publicized charge, just ahead of the midterms, by the Jeff Sessions Justice Department," Trump had written in the tweet.
"Two easy wins now in doubt because there is not enough time. Good job, Jeff..." Trump tweeted.
"Trump just openly admitted on Twitter that he wants the Justice Department, which is supposed to be independent, to cover up crimes by Republicans in order to win elections," Meyers said.
Read more: Kavanaugh Hearing Erupts Into Chaos as Democrats Brand It a 'Mockery' and Demand It Be Postponed
"Not only is Trump corrupt, but he's so obvious about it. He's like a guy that would try to pick your pocket from the front," the host joked.
In summary, Meyers said: "Trump is threatening and harassing the Justice Department, and even his own lawyers have warned him he might go to jail, which is why it's absurd to let him appoint anyone to a permanent seat on the Supreme Court. Let alone a lifelong partisan Republican like Brett Kavanaugh."
Kavanaugh's confirmation hearing began on Tuesday. It got off to a chaotic start, with Democrats demanding that the proceedings be postponed and activists staging demonstrations against the judge's nomination.
If confirmed, Kavanaugh is set to bring a conservative majority to the court, which Democrats and activists have warned could spell the end of Roe v. Wade, a landmark 1973 decision issued by the U.S. Supreme Court on the constitutionality of laws that criminalized or restricted access to abortions.