Seth Meyers Mocks Republicans Over Impeachment Inquiry Hearing Stunt: 'It Looks Like a Protest at a Pharmacy That Ran Out of Viagra'
Talk show host Seth Meyers has mocked Republicans who disrupted an impeachment inquiry hearing taking place in a secure zone, saying the protest group looked like it belonged outside a pharmacy that had run out of viagra.
During a press conference in the basement of the Capitol yesterday, the group stormed the hearing room where impeachment inquiry testimonies are taking place behind closed doors.
They breached the House's sensitive compartmented information facility (SCIF), specially designed for intelligence security, while Pentagon official Laura Cooper was testifying in front of the Democrat-led inquiry. Their protest led to the hearing being postponed by several hours.
The pack of House Republicans led by Minority Whip Steve Scalise and Florida Rep. Matt Gaetz tried to gain access to the secure room after several representatives used a press conference to complain about the handling of the inquiry and its figurehead House Intelligence Committee Chairman Adam Schiff.
Only members of the House Intelligence, Oversight and Foreign Affairs committees, which include both Republicans and Democrats, and their staff are allowed to be at impeachment hearings in the room.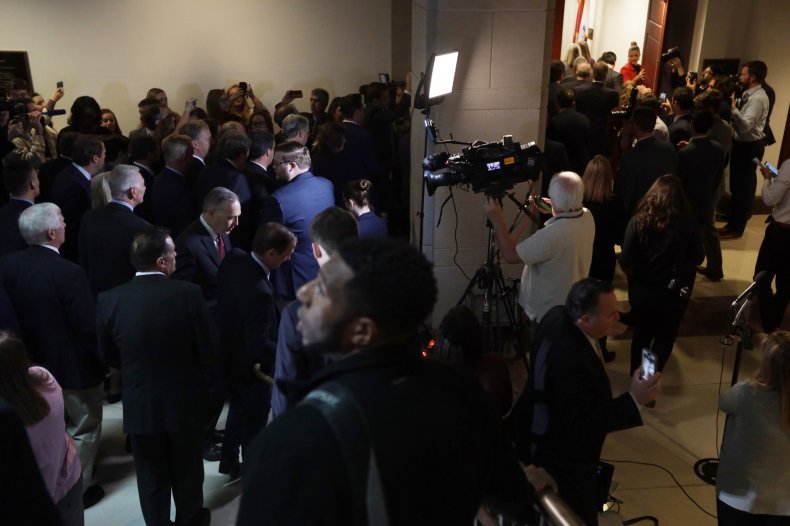 Reacting to the protest on his NBC show Late Night, Seth Meyers said: "Republicans are flailing so badly in their attempts to actually defend what Trump did with Ukraine that rather than mount an actual defense, they've decided instead to resort to dumb stunts to shut down the inquiry altogether."
The host went on to call the group of Republican protesters "angry weirdos" and joked: "I haven't seen a group of white guys that angry since they found out their Don Henley tickets were obstructed view. [It] looks like a protest at a pharmacy that ran out of viagra."
His criticism of the disruptive stunt joined several complaints about the protest from both Democrat and Republican politicians.
"This stunt from House Republicans is designed to intimidate people from revealing the truth—hardly the hallmark of a democracy," Senate Minority Leader Chuck Schumer tweeted yesterday.
Speaking to MSNBC, Democrat Rep. Ro Khanna of California, who was in the room as an Oversight Committee member when it was stormed by the congressional protesters, said: "It was a scene not in the United States Congress, but in a fraternity."
"They brought their phones into the SCIF, which everyone knows is against the law," Khanna added. "And then they started ordering pizza and there were pizza boxes strewn all over the SCIF. They didn't even clean up."
South Bend, Indiana Mayor Pete Buttigieg, an Afghanistan veteran running to be the 2020 Democratic presidential candidate, also took a shot at the House Republicans' antics yesterday.
He tweeted: "I used work in a SCIF, as a military officer. The importance of keeping it secure (i.e. from cell phone signals) was drilled into us so deeply that I'd have bad dreams about accidentally leaving my phone in the pocket of my uniform. This behavior is an embarrassment."
GOP Sen. Lindsey Graham raised similar concerns about the protest, dubbing his colleagues "nuts" in conversation with the Associated Press.
Media outlets have also weighed-in against the stunt pulled by House Republicans yesterday.
The New York Times editorial board said the "spectacle was a circus" intended to "distract from the facts" of the impeachment inquiry.
"Accusing Democrats of mishandling the process certainly fits with Mr. Trump's enduring sense of victimhood," the newspaper wrote. "The strategy also works to inflame the party's base against the opposing team, while allowing Republican lawmakers to avoid defending Mr. Trump's behavior."