Seth Rogen Says His Midlife Crisis Hair Was 'Objectively Pathetic' 
Seth Rogen admits the bleach-blonde hair he adopted in 2022 was "objectively pathetic" for a man of his age.
Having received many compliments for his striking look, it was later revealed that he dyed his hair for his role in the new Apple TV+ series Platonic.
The new show sees him reunite with Australian actress Rose Byrne—the pair played a married couple in Neighbors and its sequel. This time, they star as old friends who reconnect as they approach midlife, only to disrupt each other's worlds with hilarious consequences.
Rogen and Byrne sat down to speak with Newsweek ahead of Platonic's launch, where they discussed bleaching, parties, and their off-screen friendship.
My Blonde-Haired "King"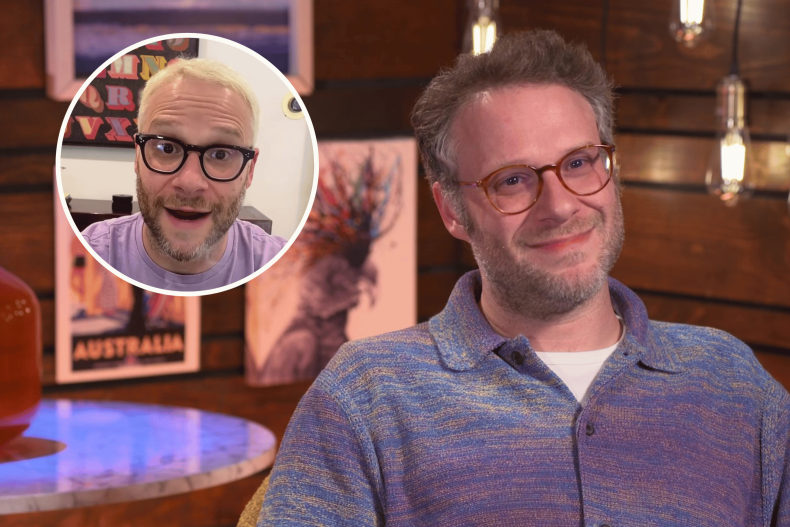 Rogen shocked his social media followers in June 2022 when he debuted his new blonde hair and painted nails. The social media reaction was resoundingly positive for Rogen at the time, with fans calling him "my king" and suggesting it was a "sexy" look.
Rogen let out his signature laugh when Newsweek reminded him about the reaction.
"I remember that happening and being like, 'If people only knew, I'm not that cool.' It's merely a character I'm playing," Rogen told Newsweek.
When the first trailer for the new show Platonic dropped, it revealed that Rogen only dyed his hair to play the role of Will.
"What's funny is, in the show, my character is having a midlife crisis. So I'm dating a girl in her twenties, so I bleached my hair because I hear she likes Machine Gun Kelly," he said as both he and Byrne, who is sat next to him, laugh at the concept. "What's funny is it actually looked very good, and I got tons of compliments, but the subtext of a 41-year-old man bleaching his hair blonde is objectively pathetic."
He continued, "As good as it looked, I could not ignore the subtext and then I did cut it off, and a lot of my friends were like, I thought you were gonna keep it going, it looked good. And I was like, 'If I did, you would have judged me. I know you would have thought it looked good but you would have thought of me a little differently than you do.'"
Rose Byrne's No Longer a Party Person
Within Platonic, Rogen and Byrne play Will and Sylvia, respectively, two former best friends whose lives went on different paths. Newly divorced Will is having success through his craft beer business, while Sylvia got married and had three kids.
In the early moments of Platonic's first episode, Sylvia heads to Will's launch party with her friend Katie (Carla Gallo). Immediately unimpressed, they decide it's time to go home almost as soon as they walk through the door.
At 43 years old, Byrne admitted it's a feeling she's becoming familiar with.
"There's absolutely a side of me that's like, 'I'm good. I'm good to go.' As soon as I get there I think, 'It was fun to get ready. It was fun to leave the house and have a break from the kids, and now I'm ok I can go home,'" she told Newsweek.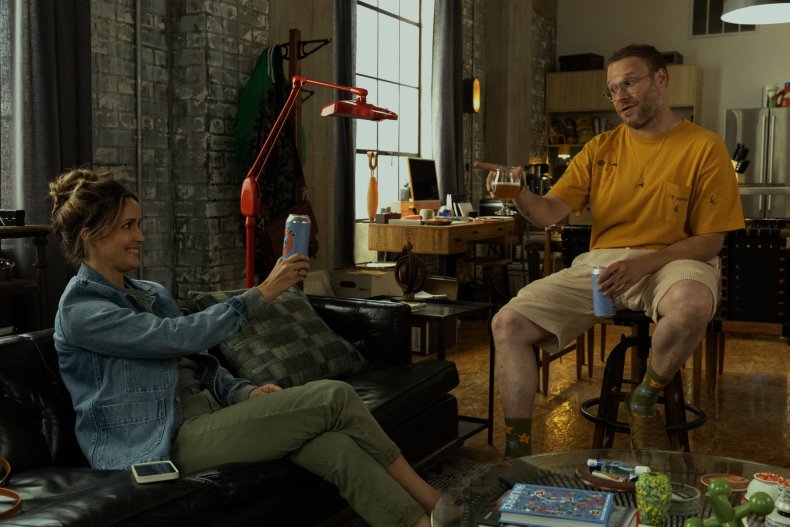 She's not always so quick to make an exit though, especially now after we had years of not being able to go to parties.
"I went to a wedding recently which was really fun, and also post-COVID, I think I've got a new appreciation for actually being in the room, and it was really joyous to do that... But I absolutely relate [to Sylvia] walking in and being like, 'I'm good', particularly at a party like that.'"
Will's party takes place at a craft brewery where it's a typically younger crowd. "It depends on the party and where you are. That bar was out of my league," Byrne said.
"It was a lot of people," Rogen agreed.
"A lot of young people in amazing outfits that I didn't understand," Byrne added.
"I feel a lot of those scenes with you and Carla feel very real," Rogen said. While Byrne and Rogen are reuniting after starring together in Neighbors and Neighbors 2: Sorority Rising, actress Gallo also starred in those movies as their family friend.
Rogen and Byrne's Platonic Friendship
It was 2013 when Rogen and Byrne first starred together in the hit comedy Neighbors, and a decade later, Platonic is proof that their real-life friendship is still going strong.
Nicholas Stoller, who two directed the two comedies, has co-created the latest series Platonic, perhaps explaining why there are so many connections between those projects and this one.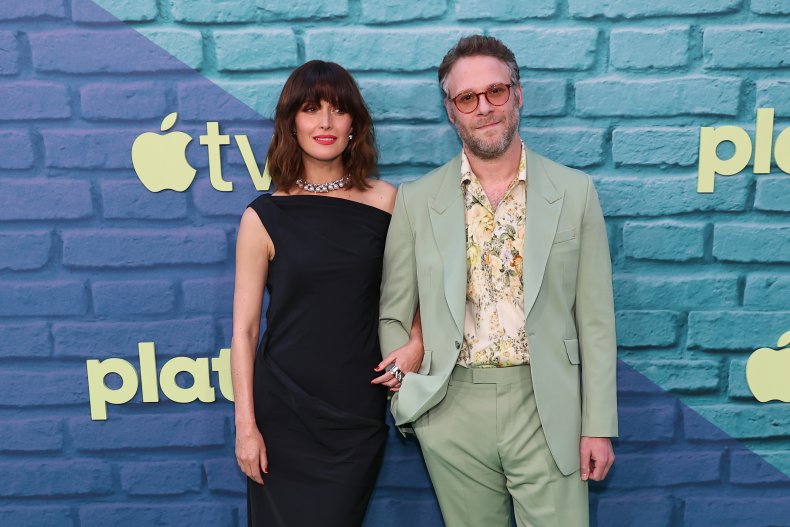 Stoller, who has worked with the likes of Judd Apatow, Jason Segal, Jim Carrey, Ben Stiller, and more, has created a number of comedies with great scripts, but room for actors to improvise. This loose feeling was aided by the dynamic of Rogen and Byrne's friendship it seems.
"There's a lot of improvisation on the show," Rogen said, as Byrne nodded to agree. "I think we would include references to things that we, at times, did in real life, knowing the other person would like and laugh at.
"That's always what we've done. I think referential comedy, when the characters feel as though they exist in the same world as the viewer, we watch the same shows, and we use the same websites and stuff like that, that's always something I've liked." Rogen added, "I'd say we brought a lot of ourselves into the characters."
"There were moments for sure," Byrne said.
The first three episodes of Platonic are available to watch on Apple TV+ now. New episodes drop every Wednesday.