Seth Rogen Praised for New Painted Nails and Blonde Hair Look—'My King'
Seth Rogen is showcasing his electric new look alongside his personalized range of ashtrays, and both are causing a stir on social media.
The actor and comedian, known for his movies like This Is The End, Superbad and The Lion King, has recently dipped his toe into the entrepreneurial world, releasing a range of cannabis-themed products.
While showing off his latest product, a "Gloopy Ashtray," he also showed off his shorter, bleach blonde hair. As a result, he received compliments en masse, and became a trending topic on Twitter.
On Twitter and Instagram, Rogen shared a 17 second clip of him rolling a blunt, which then ended with him speaking to the camera, showing off his new hairstyle for the first time. "Gloop is back, in lilac and orange," he said to the camera. Rogen was also wearing acrylic nails which matched the design of his new ashtray.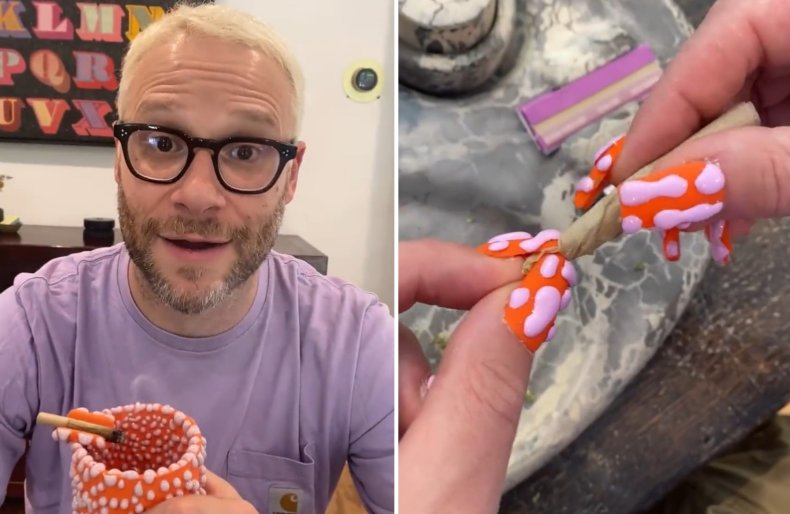 Sharon Stone was one of the first people to compliment Rogen on his new look, commenting multiple clapping hands and fire emojis. Comedian King Bach, SNL's Bowen Yang and actress Dascha Polanco all approved of the post too.
Over on Twitter, Rogen received millions of views, and hundreds of thousands of likes, comments and retweets on his latest video.
"The fact you rolled that with nails and then THE HAIR!!!!! My king," wrote comedian Chris Klemens on Twitter.
"Let's just take the time to appreciate blonde Seth Rogen," another user wrote. More Twitter users piled on with the compliments for the 40-year-old actor, with one writing: "I never thought the sexiest thing Seth Rogen could do is roll a joint in acrylics, yet here we are."
"The nails, the glasses, the hair. Is it just me, or is Seth Rogen getting more attractive as he gets older," @redfrenchhorn wrote.
While the hair shocked some, many comments were praising Rogen's ability to roll while wearing acrylic nails—a skill he also showcased in April this year. That video received 7.6 million views on Twitter.
The latest product being sold by Rogen is the Gloopy Ashtray by Seth, made by the company Houseplant which he started with his business partner Evan Goldberg.
The first time he released the product, with a different design, only 325 were produced. It is currently unclear exactly how many Gloopy Ashtrays are being produced for the latest batch.
The first round of Gloopy Ashtrays were sold for $275 each.
Rogen, the actor, writer, director and producer, has already released several projects in 2022 including The Boys, The Boys Presents: Diabolical, and Pam & Tommy. He also has more to come like The Fabelmans, Console Wars and Being Mortal.