Seth Rogen Says Some of His Jokes Have Not Aged Well
Seth Rogen has said that some of his jokes have not aged well in a discussion about comedy and cancel culture.
"I think there are certain jokes that for sure have not aged well, but that's the nature of comedy," the actor said during an appearance on Good Morning Britain on Tuesday.
The comedian was asked by host Susanna Reid what he thinks about jokes in his movies that make some people feel "uncomfortable."
"I think conceptually those movies are sound and I think there's a reason they've lasted," he explained. "Jokes are not things that necessarily are built to last."
Rogen said that he doesn't think his poorly aged jokes are a "big deal" or an example of "cancel culture."
"To me, when I see comedians complaining about this kind of thing, I don't understand what they're complaining about," he said. "If you've made a joke that's aged terribly, accept it. And if you don't think it's aged terribly, then say that."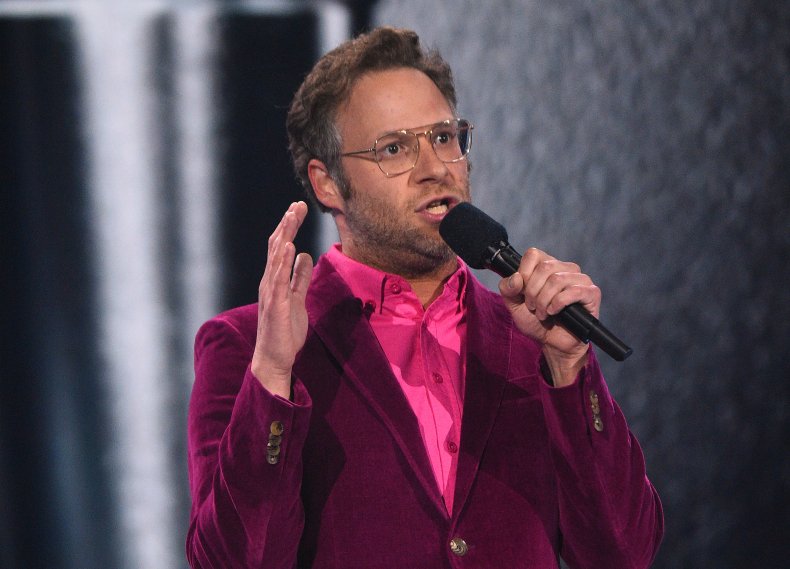 He continued: "Getting criticism is one of the things that goes along with being an artist, and if you don't like that, then don't be a comedian anymore. To me, it's not worth complaining about to the degree I see other comedians complaining about."
Reid then asked the actor if he ever had to scrub his Twitter for old distasteful jokes for fear of being canceled.
"I was never a comedian that made jokes that were truly designed to target groups that were subjugated in some way," he explained. "Have we done that without realizing it? Definitely. And those things are in our movies and they're out there, and they're things that I am more than happy to say that they have not aged well."
Rogen added: "But in my career I've never made a joke that's outwardly horrific in some way, and if you have, I would question why you did that. Saying terrible things is bad, so if you've said something terrible, then it's something you should confront in some way, shape or form. I don't think that's 'cancel culture,' that's you saying something terrible, if that's what you've done."
Earlier in May, the Knocked Up star said that he "very much regrets" making a joke about underage girls during a Saturday Night Live appearance in 2014 with his former collaborator, James Franco.
Rogen said at the time: "To make myself feel better I decided to prank James Franco. I posed as a girl on Instagram, told him I was way young. He seemed unfazed. I have a date to meet him at the Ace Hotel."
The joke was a reference to the then-recent revelation that Franco contacted a 17-year-old girl on the social media platform.
Since then, Franco has been accused by five women of exploitative and sexually inappropriate behavior.
Reflecting on the joke in an interview with Sunday Times' Culture Magazine recently, Rogen said: "I do look back at a joke I made on Saturday Night Live in 2014 and I very much regret making that joke. It was a terrible joke, honestly."
The 39-year-old also confirmed that he has no current plans to work with Franco on any upcoming projects.