Seth Rollins Talks RAW Reunion, Brock Lesnar and the Future of Monday Night RAW
WWE is getting ready for the biggest party of the summer as the promotion heads to Toronto for this year's SummerSlam.
The road to SummerSlam is already underway, but firstWWE fans take a pit stop with some of the superstars from the past. The July 22 episode of Monday Night RAW, dubbed the RAW Reunion, will feature a long list of stars including Stone Cold Steve Austin, Mick Foley, Eve Torres and many more.
Seth Rollins, coming off losing his Universal Championship to Brock Lesnar at Extreme Rules, will play a big role at the RAW Reunion.
Newsweek had a chance to catch up with Rollins to talk about the upcoming RAW Reunion, the current state of Monday Nights and the road to SummerSlam.
Note: This interview has been lightly edited for clarity and length.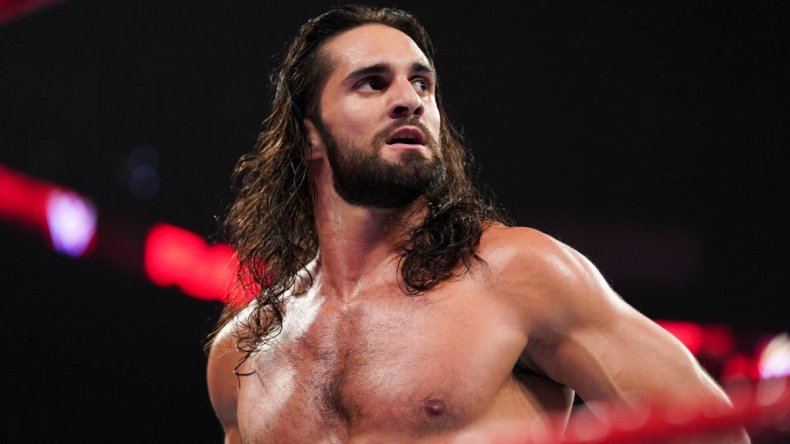 The RAW Reunion is going to bring back all these former superstars. How cool is it to be a part of a show like this?
It's great, dude. It's great to walk around the locker room and there's Hulk Hogan. Or you go into the bathroom and see Shawn Michaels washing his hands. You go to catering and have a meal with Stone Cold Steve Austin and be able to sit down and pick his brain. It's a special thing and it's cool to pay tribute to these guys and girls who paved the way for us to do what we love to do on a daily basis.
Anyone in particular you're looking forward to seeing?
Stone Cold don't come around that often so I'm pretty excited to see him there. And to see what kind of role he plays.
Brock Lesnar is supposed to show up on Monday. With your title match coming up, how's that going to play out?
If he's there, he's there. You never know when he's going to show up. That's the problem with him and the major difference between him and Seth Rollins. I'm here every single Monday no matter what, whether I'm sick, hurt, tired whether I'm broken. I'll be there on crutches or in a wheelchair. Brock Lesnar shows up when Brock Lesnar feels like showing up. I'm not concerned with him showing up on Monday, I just need him to show up at SummerSlam in Toronto to take that title back.
Lesnar's advocate Paul Heyman has a new role backstage now. Is there a difference backstage that you noticed? What are your feelings toward this change?
It's nice to have people like him and Eric Bischoff in creative roles, guys that are super influential. I think it's one of those things, that, if you want to look to the future you'll want to look at the past and find good examples. We have done a great job of collecting a lot of great minds over the last several years. Especially this past year, we have Bruce Prichard back there, Jeff Jarrett back there as well. We're adding Paul and Eric to the mix. There's a lot of information and brain power in the creative department so it'll be cool to see where things go from here.
What will Heyman bring to Monday Night RAW?
One thing about Paul, and it's still true to this day, is that he's not afraid to take risks. He's good at taking a lot of things about the talent that people may see as weakness and turn them into strengths. The way he sees talent is different than other people in the creative side. So you combine that with the ability, and willingness, to take risks that other people aren't it adds for an exciting and unpredictable three hours of RAW. And so I'm looking to see the crazy left and right turns that he'll take us moving forward.
At Extreme Rules you had a match with Becky Lynch. How is it working with her in a match like that?
It was awesome. You saw how much fun we had out there. Becky can hold her own especially with Lacey. So I wasn't worried about that at all. She's as tough as they come, tougher than me in a lot of ways. It was a blast to be out there with her, to hear the crowd response to her and the two of us together and just take a kendo stick or chair to Lacey was a lot of fun. I loved it. I had a great time.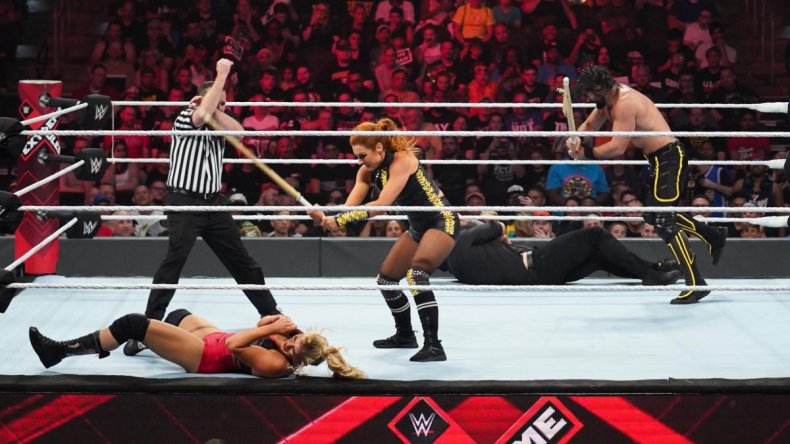 After Extreme Rules it seems you two are going your separate ways. Do you prefer it that way?
The stories aligned only because of Baron Corbin aligned them. It was circumstantial. It wasn't like Becky and I thought "hey, we're dating now, let's be on TV together and have matches together." So now we're back being supportive boyfriend and girlfriend for each other. I'm looking forward to her match with Natalya at SummerSlam and hopefully she's looking forward to me beating Brock Lesnar and winning back the Universal title.
The Wild Card rule has been a constant thread on RAW and SmackDown the last few weeks. You've been able to face some opponents like Daniel Bryan and Kofi Kingston because of it. Do you look forward to having those types of match ups?
Maybe? The Wild Card really muddled things up, to be honest with you. Now you're seeing those guys every single week. It used to feel special when I see the New Day but now they're eating pancakes backstage every chance they get on Monday and I'm not a fan of that. But no, it's great that there's so much talent across both brands. I think once you see the move to Fox it's really going to tighten down as far as best Wild Card options and stuff like. It's really cool to see things come together now and get these cool match ups you might not get in October or November.
Is there a reason you haven't shown up on SmackDown?
RAW is my gig, man. SmackDown is fine, they have two hours. There are people on that show that need TV time. They have so many guys backstage that are starving to get the opportunity right now or they're just sliding in on backstage vignettes or what have you. I'm not going to go over on their and take over segments every single week. They don't need it they have a wealth of talent over there. Besides, I don't want to deal with Shane McMahon more than I have to.
Bray Wyatt returned on Monday what are your overall thoughts on that whole reemergence?
It's great to see him back, man. He's a guy with a ton of creative talent, obviously. Look what he's done with the Firefly Fun House. It's cool to see him back on the screen, but obviously the response from the live crowd was incredible and the reaction on social as well. Easily the highest, most liked photo and video of the week for both shows. Having him back is a coup man, it's going to make Monday Night RAW that much more interesting.
Do you want to get involved with Bray and this whole change?
I'm really curious to see where it goes. It'll be interesting to see how it translates into wrestling matches. That's always my concern when you look at characters that are a bit off the wall like that. How does it translate to being a performer and when does the act get old or tired. I have never been that guy, that weird type of personality. I've always been me. So I find it easy to connect with an audience but I'm curious to see how Bray Wyatt connects with the audience on a regular basis. I'm looking forward to it, first night was a home run so let's see where it goes from here.
SummerSlam is on the horizon, how do you feel going into it?
Toronto has been an amazing city for me. I've had incredible matches in front of the crowds there. I'm looking forward to it. They just won their first NBA Championship this year so they're going to be all hyped. Toronto is beautiful and I'm looking forward to fight Brock Lesnar one more time and take the Universal CHampionship back from him. It's about time. All of us are sick and tired of seeing him. I thought I did a good job as champion after WrestleMania. I put my heart on the line every single time I put it on the line whether it was on live events or pay-per-views. Had a great title defense against AJ Styles, my matches with Baron Corbin I felt were very good. I'm looking forward to beating Brock Lesnar at SummerSlam, bringing the title back to RAW and seeing who the next contenders are.
RAW Reunion will take place Monday, July 22 at 8 p.m. EDT on the USA Network.