Seth Rollins on Reconnecting with the Audience, the Curb Stomp and Defending the Intercontinental Championship
Seth Rollins' tenure in the WWE has seen its share of ups and downs. Gone are the days of the SHIELD where Rollins, Roman Reigns and Dean Ambrose dominated the competition every week as the hottest faction around.
After he turned his back on the SHIELD and aligned himself with Triple H and Stephanie McMahon to become "the guy" in the company, capturing the WWE Championship in the process, everything was looking up for the WWE Superstar. And then Rollins suffered a massive knee injury at a house show in 2015 that shelved him for months and cut his WWE Championship reign short.
Even after Rollins returned, he had an uphill battle ahead of him. His star began to dim on Monday Night RAW, overshadowed by an influx of new stars like Finn Balor, Braun Strowman and Samoa Joe, while monsters like Brock Lesnar and Goldberg occupied the Universal Championship scene.
Now, much like his knee, Rollins has rehabilitated his in-ring career with some of the best performances of the year and reminding the audience how good he is.
We spoke with the current Intercontinental Champion about his upcoming title defense, a ladder match with Samoa Joe, Finn Balor and The Miz at the Greatest Royal Rumble event this Friday, and about what it took to get the crowd behind him once again.
The Greatest Royal Rumble will take place at the King Abdullah Sports City Stadium in Jeddah, Saudi Arabia on Friday, April 27, streaming live on the WWE Network at 12 p.m. EDT.
Editor's note: This interview was lightly edited for length and clarity.
Congratulations on becoming Intercontinental Champion and a Grand Slam champ. How does it feel to be in rarified air?
It's pretty cool, it's a small group that we have. Obviously, it's growing now that Jeff Hardy won the U.S. title and Randy Orton did it a couple of months back. But even then, it's an elite number of superstars. I feel very privileged to be among that group and to carry on the lineage of the great Intercontinental Championship.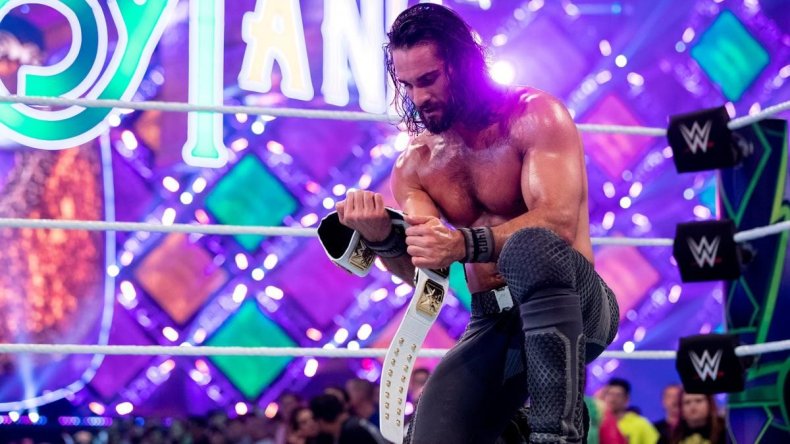 Speaking of the lineage of the IC title, what do you hope to bring to it with your current reign?
You go all the way back to the first ever Intercontinental Champion, Pat Patterson, till now and the million great names in between, and most recently with the Miz and Roman Reigns, they have done an incredible job on Monday Night RAW making the Intercontinental belt the title to go after every single week, the one that gets showcased the most. I just want to carry that on. I had a really solid 2018, so far, from an in-ring perspective, and I want to continue that with some great Intercontinental matches.
Your match with Miz and Finn at WM 34 was one of the best on a stacked card. Is it difficult to be the first match at 'Mania?
Starting the show off is a lot of pressure. You want to kick WrestleMania off the right way. This was Finn's first WrestleMania, Miz and I are WrestleMania veterans, and we all went out there with the same mentality to go and steal the show. We wanted to put out the best match we possibly could, put our best foot forward for WrestleMania. I think when you have three guys on the top of their game, pushing each other to be the best, you have a recipe for success.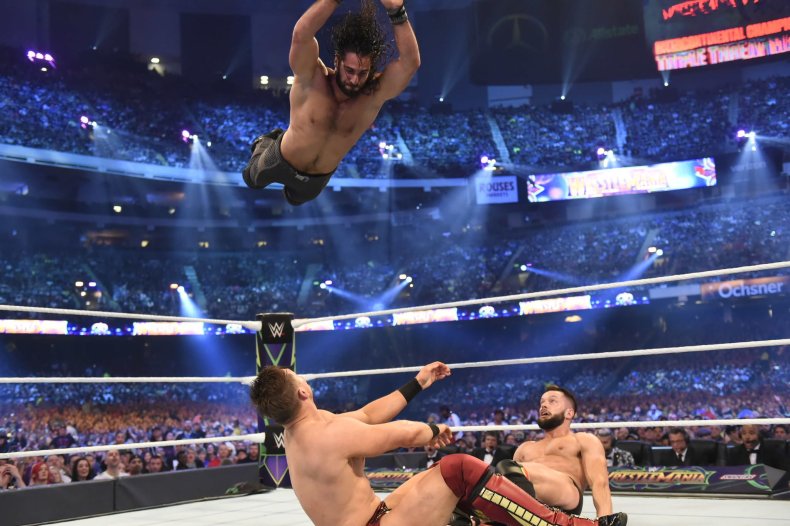 You're not a stranger to opening the show. You've been all over WM cards in the past. Is there a preference to where you want to be?
I mean you always want to be the last one standing. Guys walking out of WrestleMania with the fireworks going off behind you. That's the goal of every superstar every year, I know it's my preference. But the fact is that if you are on the card at WrestleMania, and trust me I know how it feels not to be on it with my knee injury a few years ago, it's a privilege to be on the card at WrestleMania. There's only been 34 of them and you look at the guys and girls who have been on there before and it's special.
You're going into the Greatest Royal Rumble as the IC Champ against three guys you have a history with. What are you feeling?
Nervous to be honest with you. This is my first IC title defense and you put me in a ladder match with three other guys over at Saudi Arabia in front of a hot crowd. It's going to be insane. It's unprecedented, this is the first time we've done anything like this. I'm looking forward to the challenge and the opportunity, but a lot can happen in a fatal four-way ladder match.
All the belts are being defended at GRR. You talked about the IC belt as the title that's defended every week, but if Roman takes the Universal title off of Brock and you retain, how will you feel sharing the spotlight on RAW?
I would love to see Roman take down Brock Lesnar and bring the Universal Championship to RAW. It would be a huge coup for our television show, the live events, for everything. I'm team Roman 100 percent. I'm not worried about my position or the Intercontinental championship. I know what I bring to the table and what the Intercontinental title brings to the table. I think having Roman with the Universal title on RAW every week will only add to the show and the prestige we do every week.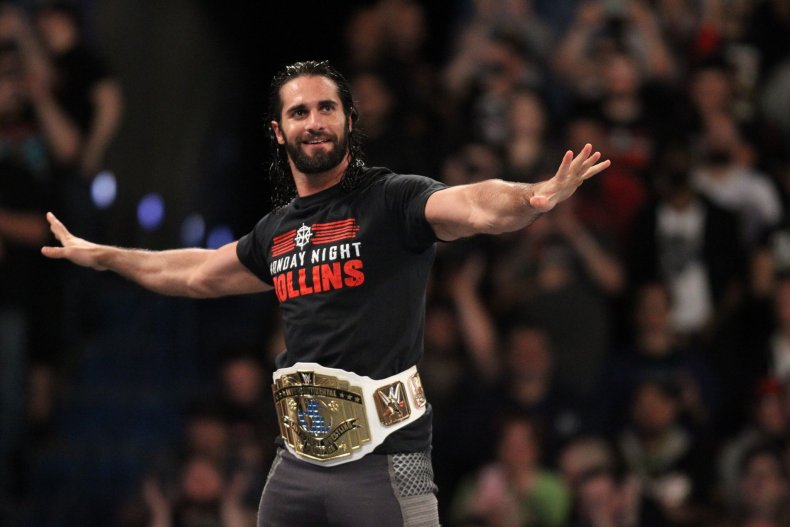 Will it still be Roman's yard? [laughs]
It's his yard all he wants. But I feel the show is mine, they don't call it Monday Night Rollins for nothing. I go out there every Monday and put on the best performances. For me, I'm the guy they should build the show around so [Roman] can think whatever he wants.
There's a history of Champion vs Champion matches between the IC and WWE champs. Would you want to get into a story with Roman?
I'd absolutely love to get into the ring again with Roman. Without a doubt, he's one of the top competitors in the entire world and being in the ring with him, whenever any of the SHIELD guys are in the ring at the same time, there's a special feeling involved. We've had some very classic matchups in the past and we've gone back and forth before. I think it would be a great time and I'm certainly up for the challenge and I'm certain he would be too.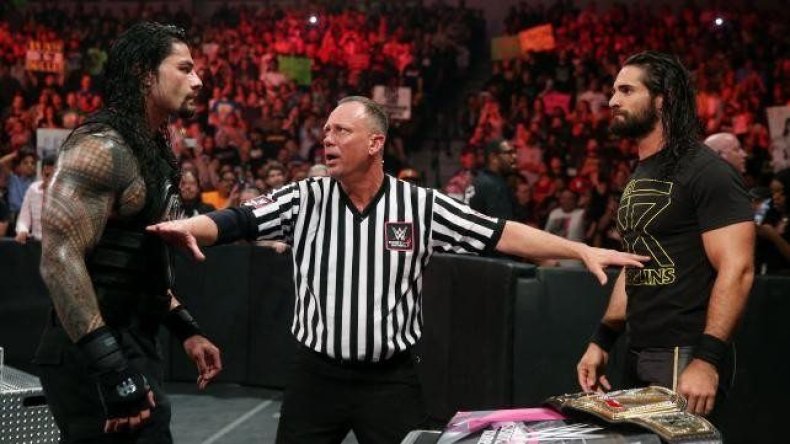 To get to where you are now, you were a great heel champion, then after the surgery you came back as a heel to the surprise of many. Was it difficult to act like you did, when the crowd wanted you to return as a face?
There were bits and pieces of me that were a little resentful at the fanbase, at the way they treated me as a heel champion and the way they talked about my reign. There was a lot of pent-up frustration I didn't get to work out when I came back. There's a little light and dark inside all of us, so if you find those motivations, it's not hard to find who you want to be when you get back in the ring. At the end of the day, it feels more right the way it is now. I feel a better synergy with the audience now.
About this synergy with the audience: is there a specific moment where you feel it all clicked?
The crazy thing is, there are a couple of moments. It's an "over time" thing, because when I broke up the SHIELD it hurt some people, it broke a lot of people's hearts and it took awhile for people to accept me. But over the last couple of years, starting with the rivalry with Triple H going into last year's WrestleMania, then the beginning of this year, I feel like I found my footing. I think people kind of forgot about me, or what I was capable of. The week I had where I had a gauntlet match on RAW, where I put on a 65-minute performance and then Elimination Chamber, people were reminded of what I could do in the ring. Couple that with the matches with Finn Balor on RAW, and now the Triple Threat at WrestleMania 34. I really started to find my footing with the audience, where I want to be anyway. It's been a slow road, but I feel like I'm exactly where we want to be.
A part of that journey was the story with Dean Ambrose and the SHIELD reunion. What was it like to work toward the reunion for it never to happen?
Getting back with Dean and Roman was incredible in itself. We had the band back together and we were ready for a few months run, and then things happen. That's just the nature of the business and life, really. You can't plan for those things. We had that six-man tag match against The New Day at Survivor Series, which was a lot of fun. I think all three of us would like to have another opportunity to have that classic six-man, but at the end of the day it afforded us some crazy opportunities. We teamed with Kurt Angle in that wild TLC match, and then teaming with Triple H on the European tour. Who would have thought you'd see those guys in SHIELD gear? It's a super interesting situation that didn't start the way we wanted, but it ended up pretty cool and had some cool moments.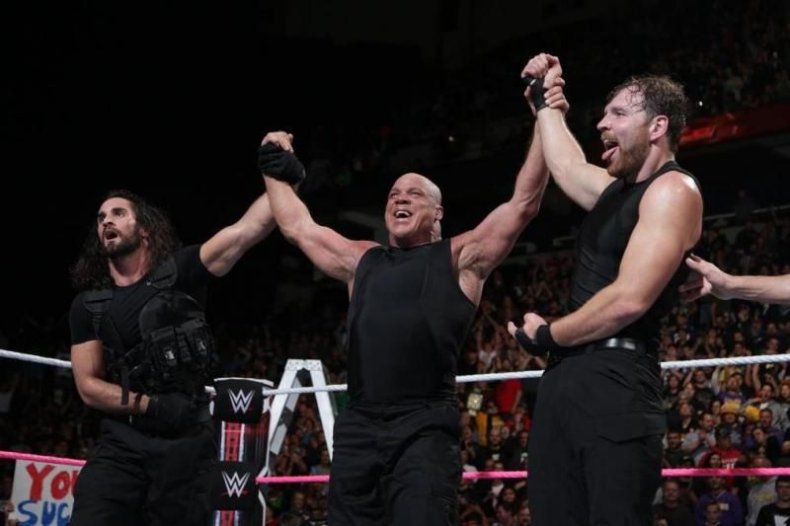 How is Dean doing?
I haven't heard from him in a little while. We correspond here and there, but one of the things I know from experience is that you want to get away. This is the first injury that he's had in his entire career, really, and the longest period he's taken off since he's started. So for him, I think it's best to just get away and do his own thing. He knows we care about him and hope he's doing well. He's on the road to recovery, he'll be back whenever his body is ready. At the same time, mentally, he's taking some time off to enjoy his life a little bit.
You spoke about the 65-minute Gauntlet match. I feel like right after, the "Burn it Down" chants became the loudest and the crowd was firmly behind you. How did it feel, going through it and after?
That was tough. You take even one of those matches against Roman Reigns, John Cena and even against Elias... Those are three top competitors. It takes a lot out of you. But to do them back-to-back-to-back on RAW, with that kind of pressure and crowd... I was fortunate to be put in that spot, to have that experience and that success in that type of match.
I was flying under the radar, so to speak, and everyone kinda got used to how good I was, which is pretty crazy to think about. It took something extraordinary to remind people that I'm not one of the best, but THE best in-ring performer in the entire company, and have been for the last few years. I was honored to be a part of it and set that record. It was a pretty cool thing and I'm glad people were as pleased with it as I was.
When did you know when you were allowed to bring back the Curb Stomp? What's the story?
You know, I can't divulge the entire story. Maybe some other time. It'll be good for a DVD or a Network special or something like that. I will say that I was very happy to see it come back. It wasn't a long-term plan, I knew way in advance, but I was happy to get it back. That is another thing this year that really put me on a very good trajectory. It felt good, man. The surprise in the audience and the reaction I got online was really cool, too. I'm glad to take it around the world now, it's been a good experience.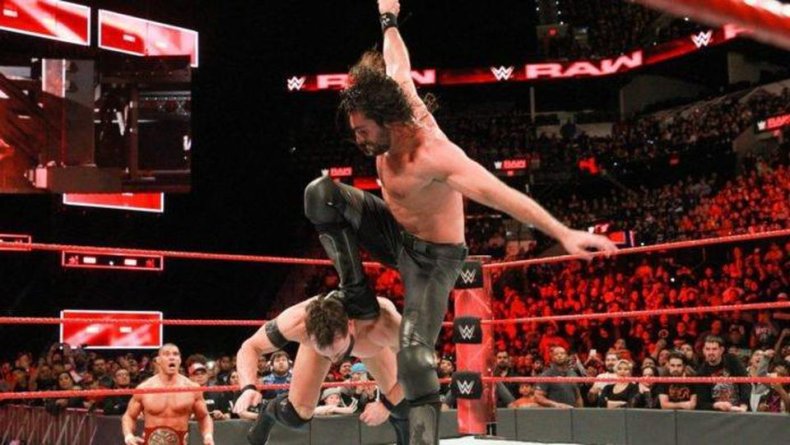 You got to stay on Monday Night RAW after the Superstar Shakeup but there is so much talent on SmackDown. AJ, Shinsuke, Daniel Bryan, to name a few. Do you wish you could get in the ring with them?
There's a ton of dream matches over on SmackDown for me, and I'm sure as time goes on we'll get to those eventually. But for the time being, I'm super happy I get to stay on RAW. It's where I wanted to be. I have the Intercontinental Championship and it stays on RAW. The Shakeup was a success.There's a lot of amazing talent that moved over from RAW, like Baron Corbin, Drew McIntyre, Dolph Ziggler, Bobby Roode, just to name a few. There's a lot of new interesting matchups for me at RAW that I'm looking forward to defending, successfully, against every single one of them. So we'll get to all those SmackDown matchups, I'm sure. I plan on being around for a long, long time. We'll get there, and it'll be all the sweeter when we do.