Settlement Construction Threatens Two-State Solution, Obama Tells Netanyahu at U.N.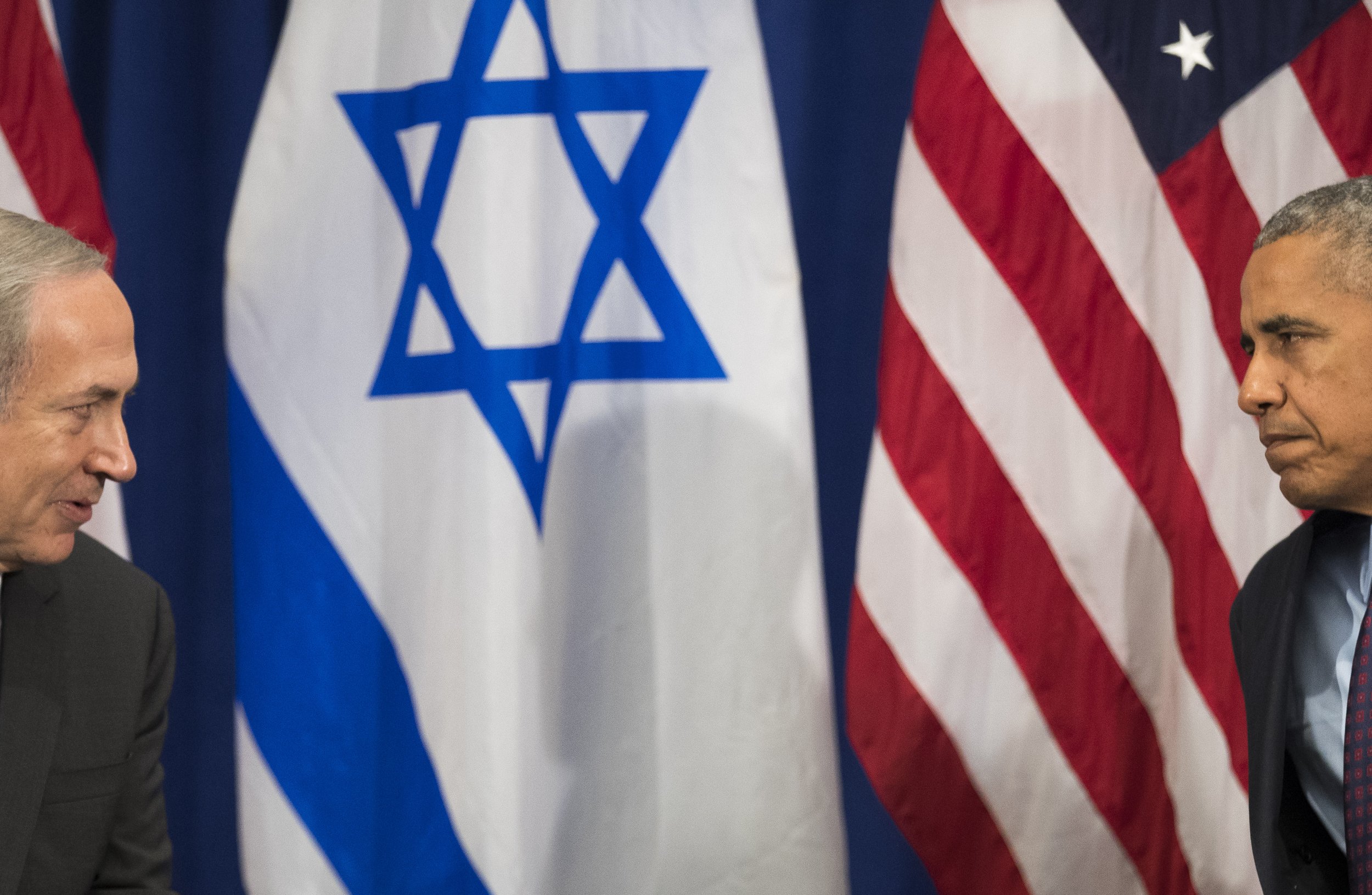 President Barack Obama told Israeli President Benjamin Netanyahu Wednesday that continued settlement construction in the West Bank and East Jerusalem was a threat to peace with the Palestinians.
Speaking on the sidelines of the U.N. General Assembly in what is likely to be their final meeting before Obama leaves the Oval Office in January, the two leaders discussed the expansion of Israeli settlement activity, an increase in violent attacks by Palestinians against Israelis and the prospect of Israeli-Palestinian peace.
"Clearly there is great danger of not just terrorism but also flare-ups of violence," Obama told reporters before they met in private, just a week after the two countries signed a record 10-year $38 billion (£29bn) military aid deal.
"We do have concerns around settlement activity as well. And our hope is that we can continue to be an effective partner with Israel in finding a path to peace," he added.
Netanyahu talked of Palestinian extremism as the biggest obstacle to peace, one that he said threatens the existence of Israel and the security of the Jewish people.
"The greatest challenge is of course the unremitting fanaticism. The greatest opportunity is to advance...peace. That's a goal that I and the people of Israel will never give up on," Netanyahu said.
"We've been fortunate that in pursuing these two tasks, Israel has no greater friend than the United States of America."
Their private half-hour meeting saw Obama raise "profound U.S. concerns about the corrosive effect that that settlement activity, that is continuing when the occupation enters its 50th year, is having on the prospects of two states solution," a senior U.S. official told Haaretz.
An Israeli official told the news website The Times of Israel that the meeting had a "light-hearted atmosphere" and noted a change in the pair's relations. "It's like an on old couple that is just getting to know each other," the official said.
But there has been no love lost between the pair in their time dealing with each other in their respective positions, locking horns about a wide range of issues, seeing the relationship between the historic allies hitting its lowest ebb in recent years.
Their personal relationship was damaged most severely in March 2015 when Netanyahu addressed the U.S. Congress without an invitation from Obama, breaking diplomatic protocol and bringing the pair's relationship to its lowest ebb in their shared tenures.