Seven Senate Democrats Oppose Fracking Ban in Symbolic Vote
Seven Democrats voted with Republican senators to oppose a future federal fracking ban, sending a signal to President Joe Biden after he pushed through a raft of executive orders on environment and energy policy.
In a "vote-a-rama" session of the upper chamber, which voted on more than 800 amendments proposed for the resolution on budget reconciliation, a bipartisan group of lawmakers backed a block on federal agencies banning fracking in a 57-43 vote.
The amendment, put forward by Senator Mike Braun (R-IN), would have prohibited the Council on Environmental Quality and Environmental Protection Agency barring future fracking projects from going ahead.
Senators Joe Manchin of West Virginia and Jon Tester of Montana were among the Democrats who voted in favor of the amendment, and backed another motion supporting the Keystone XL pipeline project earlier in the evening.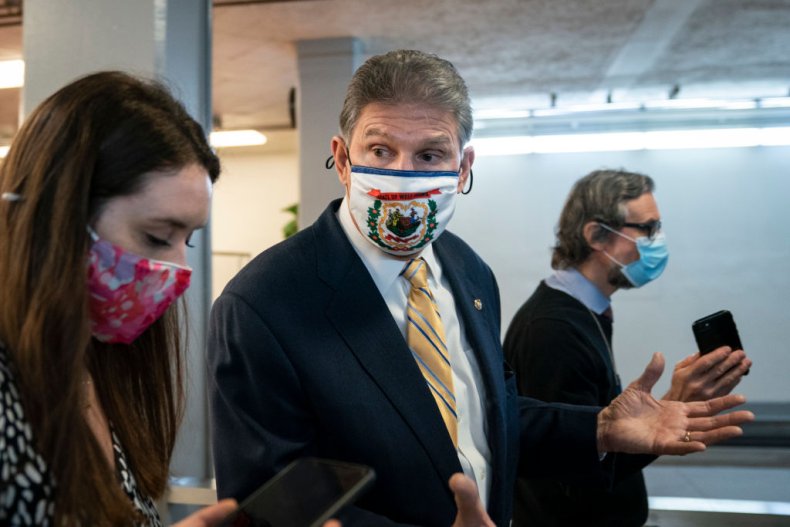 Releasing a statement after the vote, Sen. Braun said: "Tonight, I successfully included an amendment to stop the Biden administration from banning fracking: to protect jobs, to keep America energy independent, and to keep us on a path to clean, cheap energy."
The full list of Democrats who voted with Braun is Manchin, Tester, Michael Bennet (D-CO), Bob Casey (D-PA), Martin Heinrich (D-NM), John Hickenlooper (D-CO), and Ben Ray Luján (D-NM).
Politico reported that Democrats later stripped the amendment from the budget resolution, along with bipartisan motions supporting the Keystone XL pipeline and barring undocumented immigrants from receiving stimulus checks.
Newsweek contacted Senator Majority Leader Chuck Schumer's office for confirmation and comment, but did not receive a response by time of publication.
The Senate roll call shows Schumer put forward a substitute amendment at the end of the all-nighter Senate session that was backed in a 51-50 vote, as Vice President Kamala Harris used her tiebreaker vote to seal a win for Democrats.
"The Senate passed the budget resolution to quickly deliver more emergency COVID relief," the Democratic leader tweeted on Friday morning. "Our caucus worked together in unity to respond boldly to this crisis, and we are grateful President Biden put together the American Rescue Plan. We will keep working hard to make it law."
The passage of the resolution will allow Democrats to move forward with reconciliation, eventually permitting them to usher through President Biden's $1.9 trillion COVID-19 relief plan without the need for Republican support, or the threat of the Senate GOP blocking the bill with the filibuster.
The resolution is expected to be delivered to the House for a vote later today. The Democratic majority in the lower chamber is likely to back the motion with little trouble.