After more than a year-and-a-half-long wait, Sex Education Season 3 has finally landed on Netflix - much to the delight of fans!
With a new season comes a new school term...and some fresh faces on campus. Among them is Moordale High's new headteacher Hope (Jemima Kirke), who is determined to change its reputation as "Sex School", and Cal Bowman (Dua Saleh), an American student whose parents moved them to the U.K..
While Headmistress Hope promises to revive the school's integrity and be a cooler principal than Mr Groff (Alistair Petrie), it soon becomes apparent that in her quest to quash any negative headlines associated with the school, she ruthlessly sacrifices the fundamental rights of her students to achieve the desired result.
Unfortunately Cal is one such pupil, who, as Sex Education's first non-binary character, is continually reproached for their uniform (another new addition for Season 3) and is forced to join gendered lines and change in the female locker room.
So, who plays Cal in Sex Education Season 3? Here's everything you need to know about Dua Saleh...
8 Facts About Sex Education Star Dua Saleh
1. Dua Saleh is a Sudanese-American musician
Dua Saleh was propelled into the spotlight in 2017 when they caught the attention of Minneapolis producer Psymun. Their encounter led to the release of their 2019 EP, Nūr, produced by Psymun, to critical acclaim.
2. Dua Saleh has released two EPs so far
Saleh released their first EP in January 2019, titled Nūr, followed by their second EP, titled Rosetta, in June 2020.
Speaking about pursuing a career in music with Them magazine, they said: "I don't know what happened, but something [in my body] compelled me to start singing and start writing songs. I have no explanation for what it was; I just was depressed and needed something out.
"Then, I started trying to perform the songs at open mics just to see how people would respond, and they responded very well, so I started making songs on my phone. I think one person saw me perform a song at a poetry slam and booked me for an event."
3. Dua Saleh is a poet
Saleh has been writing poetry since they were four years old and first performed at an open mic event in their senior year of high school.
Their performance at the open mic of their poem "Pins and Needles" made it to Button Poetry Live on YouTube, which has accumulated over 165,000 views so far.
4. Dua Saleh is non-binary
Saleh is non-binary and uses they/them pronouns. Their character Cal in Sex Education also identifies as non-binary, the first character in the series to do so.
In a statement to Them, Saleh said they are "excited to make my acting debut on such a groundbreaking show and elated for Sex Education to include me as an actual enby to portray a non-binary student.
"Trans representation is so important now and moving forward," they added.
5. Dua Saleh is no stranger to acting
Sex Education may be Saleh's first major screen role, but they are no stranger to the stage.
Saleh began their acting career in theatre in Minneapolis, appearing in a production of Waafrika 123 in November 2018.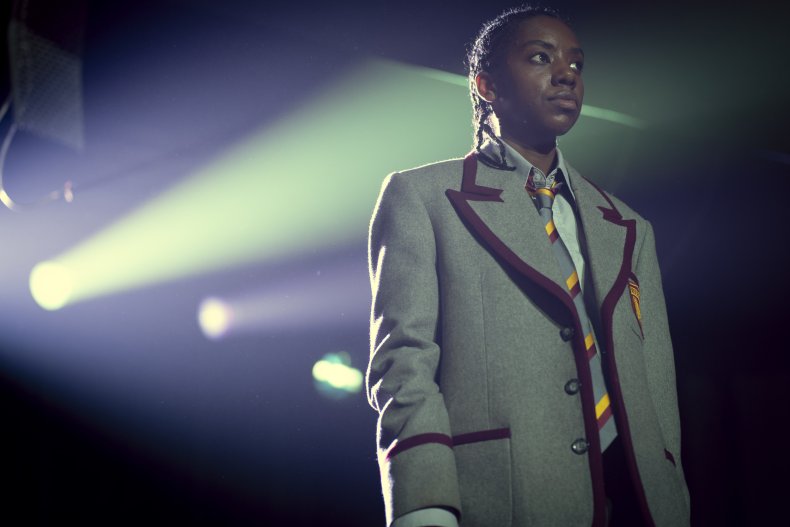 6. Dua Saleh moved to U.S. aged 5
Saleh was born in Kassala, Sudan.
Their family were refugees of the Second Sudanese War in the 1990s and moved numerous times, to Eritrea, then to North Dakota, Maine, and Newark, New Jersey. They then settled in the Rondo neighborhood of Saint Paul, Minnesota, Saleh shared in conversation with City Pages.
7. Dua Saleh graduated from University in 2017
Saleh studied gender, women's and sexuality studies, and sociology at Augsburg University, graduating in 2017.
8. Dua Saleh is an activist
Saleh led the walkout from their high school, Saint Paul Central, in 2014, through the St. Paul Youth and Collegiate Branch of the NAACP. It was in protest of the school-to-prison pipeline, a concept about disproportionate figures of young people from disadvantaged backgrounds ending up in prison because of harsh school and municipal policies, including school disturbance laws and the increase in police presence in schools.
In a statement at the time, Saleh said: "We are protesting the funneling of youth into prison systems" as well as the "criminalization, institutionalization and stigmatization of youth of color and low-income youth."
They have also been involved with Neighborhoods Organizing for Change, the Pan Afrikan Student Union, and the Minnesota Public Interest Research Group.
In May 2020, Saleh released their single "Body Cast" in response to police brutality in the U.S..
In a statement at the time, Saleh said: "We must take action to ensure the safety of our community. We demand justice for the family of George Floyd and countless others who have had their lives stolen by the police."
Proceeds from the songs download on Bandcamp were donated to the Minneapolis-based justice organization, Black Visions Collective.
To accompany the single, Saleh released an audio music video that listed the names of unarmed African Americans who had been killed by the police in recent years.
Sex Education season 3 is streaming on Netflix now