'Sex Education' Season 3 Netflix Release Date, Cast, Trailer, Plot
Sex Education fans have been waiting over a year for the third installment to land on Netflix. The wait has been extra intense following the huge cliffhanger at the end of season 2, where Otis (played by Asa Butterfield) finally came clean about his feelings for Maeve (Emma Mackey). Newsweek has everything you need to know about the new series.
When is Sex Education season 3 out?
There is good news for fans of Netflix's Sex Education.
After more than one year of waiting, Sex Education season 3 finally has a release date.
The brand new series will premiere on Friday, September 17 on Netflix worldwide.
Many members of the show's cast took to social media to share the news.
For example, Gillian Anderson posted a photograph of an interestingly shaped pepper with the hashtag #penisoftheday.
She wrote: "Two for the price of one. #penisoftheday (see you 17 Sept @sexeducation!)"
Aimee Lou Wood posted a picture of her and Sex Education co-star, Emma Mackey, with the caption: "September 17th. Get yer blazers on, change is coming."
All eight episodes will drop at once on the streaming platform, for Sex Education fans to watch in one go.
You can also watch episodes of Sex Education on the go via the Netflix app.
To watch Sex Education, you can subscribe to Netflix now for $8.99 per month.
What will happen in Sex Education season 3?
Sex Education fans hearts broke across the world watching the finale of Sex Education season 2.
After an entire season of will-they-won't-they, Otis finally admitted his true feelings for Maeve.
He left her an emotional voicemail, telling Maeve he was sorry and he was in love with her.
But Maeve never received the voicemail as Isaac (George Robinson) deleted the message from her phone while she was asleep.
When Otis turned up at Maeve's caravan to talk to her, Isaac also turned him away. Maeve was totally unaware of Isaac's actions and no doubt season 3 will begin with Otis questioning why Maeve never responded to his message.
Elsewhere, Otis' mom Jean (Gillian Anderson) found out she was pregnant, but who the father of the baby is remains unclear for now.
Mr. Groff (Alistair Petrie) was also placed on leave by the school administrator, so the students at Moordale can expect to see a new head of school in season 3.
Who will star in Sex Education season 3?
The entire main cast is back for the third season of Sex Education.
This means Asa Butterfield is back as the often insecure Otis Milburn and the iconic Gillian Anderson as his mother, Dr. Jean Milburn.
Emma Mackey is back as Maeve Wiley, a social outcast who has unexpectedly strong feelings for Otis.
Ncuti Gatwa and Aimee Lou Wood are back as Eric Effiong, Otis' best friend, and Aimee Gibbs, Maeve's closest friend.
Connor Swindells returns as Adam Groff, the headmaster's son, and Eric's love interest.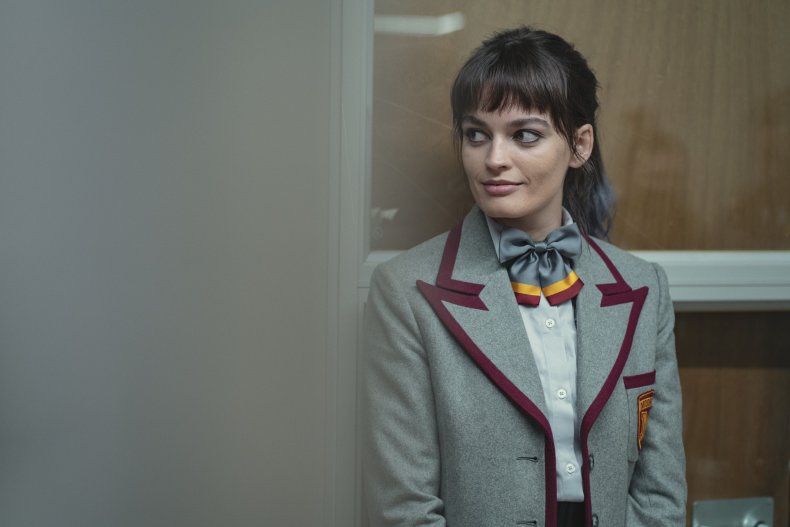 Kedar Williams-Stirling will also be back on screen as Jackson Marchetti, Maeve's ex and the head boy of Moordale Secondary School.
Also returning is Patricia Allison as Ola, Otis's ex-girlfriend, and Tanya Reynolds as Lily Iglehart, Ola's new love interest.
Fans will also see the return of Mimi Keene as Ruby Matthews, Chaneil Kular as Anwar, Simone Ashley as Olivia Hanan, and Alistair Petrie as Michael Groff.
There are also some new faces joining the cast of Sex Education season 3.
Sudanese-American singer and actor Dua Saleh joins the cast as Cal, a non-binary student.
Harry Potter star Jason Isaacs joins the cast of Sex Education as Peter Groff alongside Girls star Jemima Kirke as headmistress Hope.
Is there a trailer for Sex Education season 3?
Yes, there is finally a trailer for Sex Education season three after months of waiting.
One thing is for sure, it looks like there is going to be a lot of change at Moordale. There's a new head teacher, uniforms and what appears to be a strict sex education regime.
Thankfully, it also looks like there are plenty of happy endings on the cards, with the trailer featuring snippets of Maze and Otis content—good and bad.
In the meantime, you can watch the first two seasons of Sex Education on Netflix now.
Sex Education season 3 premieres Friday, September 17 on Netflix