Sex Pistol Johnny Rotten Calls Harry, Meghan 'Parasites': 'Shut Your Mouth'
Sex Pistols band member John "Johnny Rotten" Lydon, famous for co-writing the band's hit song "God Save The Queen," has called Prince Harry and Meghan Markle "parasites" during an interview on a U.K television show, adding, "if you don't want to be a public figure then shut your mouth."
Speaking to outspoken Harry and Meghan critic Piers Morgan on Thursday for his TalkTV show, Lydon revealed that he does not hold the royal couple in any great regard.
"I'm sorry, but I think that they've showed themselves to be parasites," he said in response to Morgan's asking what he thought of the couple's recent royal dramas.
"If you want to opt out of that family situation then please by all means do and go and work at McDonald's," he continued.
"But don't expect me to be still forking money out to support your nonsense. They seem to be amazingly ungrateful—or at least he is."
"If you don't want to be a public figure, then shut your mouth."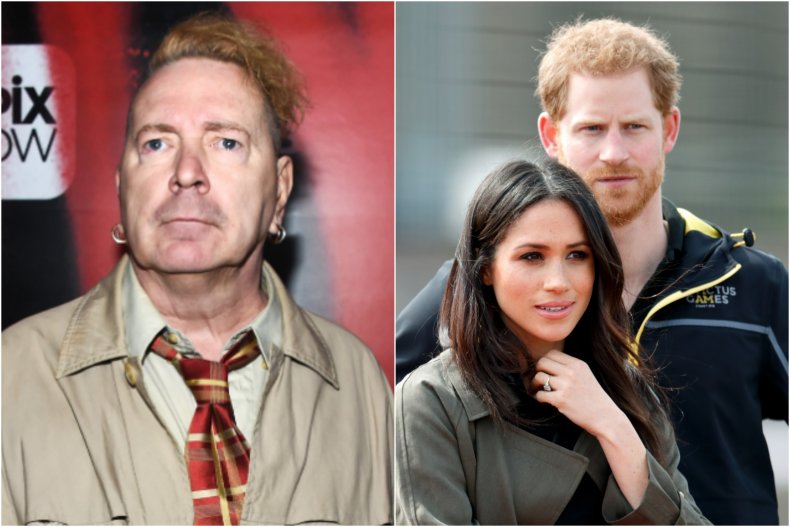 The British punk rock star was being interviewed about his hit song "God Save The Queen," as it celebrates its 45th anniversary.
It was released at the same time as Queen Elizabeth II's Silver Jubilee in 1977 and refers to her in the lyrics as "not a human being" and "not as she seems."
Discussing the song with Morgan, Lydon explained his remarks by stating that the song was never intended as a direct attack on the queen as a person, clarifying that: "it's very anti-monarchist but not anti-human."
"You must not assume that I'm completely dead against the royal family as human beings," he said.
"I am not. I'm actually really really proud of the queen for surviving and doing so well. I applaud her for that. That's a fantastic achievement. I just think if I am paying my tax money to support this system, I should have a say so on how it's spent."
Though he may have warmed over time to the queen, Lydon does not feel as optimistically generous towards the next in line to the throne, Prince Charles.
"I think this is quite possibly the end of the monarchy," he told Morgan, "because Prince Charles isn't going to be able to handle it.
"This is the man that plays Pink Floyd to his cabbages," he concluded.
At the time of its release in 1977, "God Save The Queen" caused controversy and was banned by the BBC in the U.K, but despite this achieved a charting position of number two. However, speculation has arisen that the chart was manipulated to keep the song from the top spot.
The song's release in the jubilee year was not deliberate, Lydon claimed to Morgan, but it was a response to what was happening in society at the time.
During the 1970s, attitudes towards the monarchy were beginning to change as the U.K experienced a period of industrial decline and economic struggle. This period was represented in Season 3 of hit Netflix series The Crown which charts the life and reign of Queen Elizabeth II and her family.
"God Save The Queen" by the Sex Pistols has experienced revivals in popularity around the time of the monarch's golden and diamond jubilees, and is to be re-released on vinyl for the Platinum Jubilee this year.
The jubilee signifies the 96-year-old queen's 70th year on the throne and will be marked with a central weekend of celebrations in early June.
The events will be attended by various members of the royal family, including Harry and Meghan who have announced that they will be making their first family visit to the U.K. for the occasion.