Lilibet to Meet Queen: Harry, Meghan 'Delighted' to Bring Kids to Jubilee
Prince Harry and Meghan Markle's daughter, Lilibet Diana Mountbatten-Windsor, will finally be introduced to Queen Elizabeth II for the first time as part of the monarch's Platinum Jubilee celebrations this June, a spokesperson for the couple has confirmed.
A spokesperson told Newsweek that the Sussexes and their family will make a Jubilee trip which will mark the first time the family have visited Britain together:
"Prince Harry and Meghan, the Duke and Duchess of Sussex are excited and honored to attend The Queen's Platinum Jubilee celebrations this June with their children,"
Harry and Meghan left the U.K. after stepping down as full-time working royals in 2020. Lilibet Diana, known as Lili by her parents, 11 months, was born during the coronavirus pandemic in 2021 and has not yet met her British family members.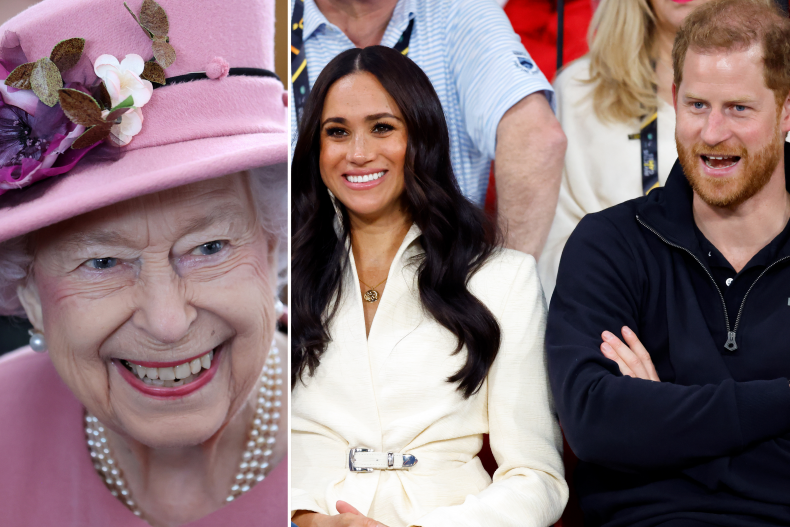 The announcement follows plans released by Buckingham Palace earlier today that confirmed the Sussexes were not invited to appear alongside the queen on the palace balcony following the special Trooping of the Colour ceremony on June 2. The statement released by the palace read:
"After careful consideration, The Queen has decided this year's traditional Trooping the Colour balcony appearance on Thursday 2nd June will be limited to Her Majesty and those Members of the Royal Family who are currently undertaking official public duties on behalf of The Queen."
Harry and Meghan are no longer considered full-time working members of the royal family, having stepped down from official royal duties in 2020.
Elizabeth II has become the first monarch in British history to celebrate a Platinum Jubilee, reigning for 70 years. The previous record was held by her great-great-grandmother Queen Victoria, who sat on the throne for 64 years.
The special jubilee events planned to celebrate this milestone, and to which Harry, Meghan and their family could attend, include a special pop concert outside Buckingham Palace at which Ed Sheeran will perform, a service of thanksgiving at St Paul's Cathedral, and a jubilee pageant through London.
Harry had previously voiced his concern that he would not be able to attend the events with his family owing to security issues. The prince is currently in an ongoing legal dispute with the U.K Home Office after his security allocation was changed following his move to America and stepping down as a working royal.
The prince told Today show host Hoda Kotb, when asked if he would take his children to meet the Queen for the jubilee: "I don't know yet. There's lots of things with security issues and everything else. This is what I'm trying to do, trying to make it possible that I can get my kids to meet her."
Despite these concerns, Harry and Meghan were able to pay a private visit to the Queen ahead of her 96th birthday at Windsor Castle on their way to the Invictus Games last month. The visit was kept secret until the couple had left the U.K.
The Sussexes' attendance at the jubilee events would also provide an opportunity for Meghan to be seen alongside her brother-in-law and sister-in-law, Prince William and Kate Middleton, for the first time since her landmark 2021 interview with Oprah Winfrey.
During the course of the interview, Meghan discussed tabloid stories that claimed that she had made Kate cry during a bridesmaid dress fitting before her wedding. When asked if the story was true Meghan responded: "No. The reverse happened. She was upset about something. She owned it and bought me flowers."
Harry has returned to the U.K three times publicly since moving to the States, once for his grandfather's funeral and again to unveil a statue of his mother during 2021, both times alone, and then the visit in April this year with Meghan to the Queen at Windsor.