SF School Board Recall Shows a New Political Awakening of Asian Americans | Opinion
An overwhelming majority of voters in San Francisco just chose to oust three leftist school board members via recall. Apparently, even in the most progressive city in America, these board members' ideologically driven policies and actions have gone too far.
The three school board members who lost their seats are Board President Gabriela Lopez and Commissioners Faauuga Moliga and Alison Collins. The city's Democratic mayor, London Breed, who favored the recall campaign, will select three people to fill the newly vacant seats.
The recall campaign was the result of a grassroots effort led by local Asian American parents, who were frustrated over the school district's extended COVID-induced school closures. Kids in San Francisco's public schools didn't return full-time to in-person class until last August, long after schools in many parts of the country had already reopened.
Besides prolonged school closures, parents were also upset that the city's progressive school board had demonstrated more interest in performative social justice activities than in providing quality education for all. The school board had beclowned itself by trying to cover up a mural depicting slavery and Native Americans, as well as its renaming 44 schools named after such titans of American history as Abraham Lincoln and George Washington.
In her campaign mailer sent to voters in an attempt to defend her school board seat, Commissioner Collins couldn't even name a single education-related accomplishment under her tenure. The school board had done everything in its power to lower education standards and hold students back, including its attempt to gut AP classes and dumb down math education in the K-12 system. Unsurprisingly, nine public schools in San Francisco ranked in the bottom five percent of statewide schools for academic performance.
The editor of the "Eyes on SF Board of Education" newsletter, Laurance Lee, pointed out that many fed-up parents had pulled their kids out of the city's public schools. Consequently, the enrollment has fallen so much that the school district now faces a $125 million budget deficit.
Asian American parents are further distraught by the school board's decision to eliminate the merit-based admission process to Lowell High School, one of the city's top high schools. Bayard Fong, a long-time human rights activist, has two kids who graduated from Lowell. He and other Asian parents are worried that fewer qualified Asian students, especially those from poorer immigrant families, will be admitted without a merit-based admission.
Board President Lopez nonetheless insisted that grades and test scores were structurally "biased toward Whites and Asians"—even though students of color make up 75 percent of Lowell's student body.
Commissioner Collins called merit a "racist construct." She alienated Asian Americans further after some of her old tweets disparaging Asian Americans resurfaced. In one of those tweets, Collins had accused Asian-Americans of using "white supremacist thinking to assimilate and 'get ahead.'" Collins offered a half-hearted apology but refused to resign from the board. After the board stripped her committee chair position, she sued the cash-strapped district for $87 million. Several Asian-American voters told me that Collins' racist tweets and the school board's decision to cancel merit-based admission at Lowell had motivated them to support the recall campaign.
The three school board members and their supporters claimed that the recall campaign was organized and funded by right-wing money. That could not be further from the truth.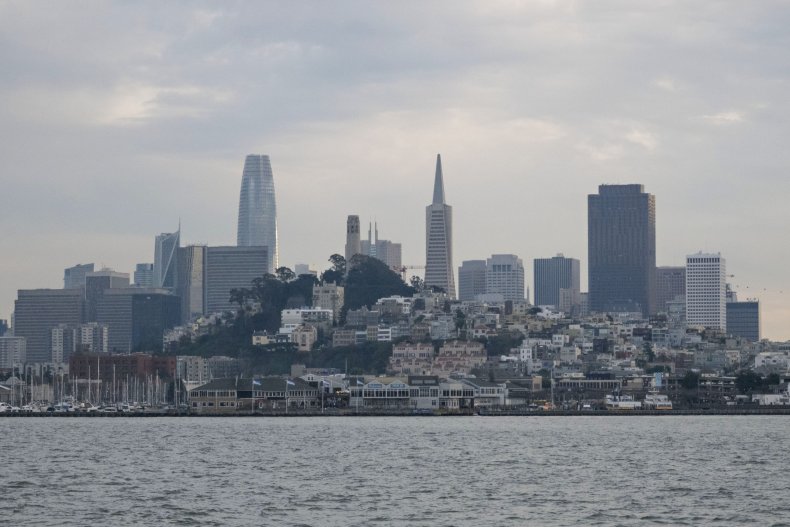 The recall campaign was organized by Asian Americans, many of whom are lifelong Democratic voters—and some of whom are first-generation immigrants who had never before been politically active. Kit Lam, a father of two children, told me that it broke his heart to see his once-outgoing son become socially withdrawn and struggle with remote learning. Since Lam works for the school district, he has also witnessed many other children's learning delays and developmental disruptions. Lam desperately wanted to "do something to save these kids."
Never interested in politics before, Lam joined the recall campaign from the start and became the most recognized face in the local Asian American community. He often rode his bike in San Francisco's Chinatown as a living campaign billboard, with "Yes" (i.e., pro-recall) campaign signs pinned to the front of his bike and the back of his shirt. He has done everything the recall campaign needed, from signature gathering to media interviews to voter registration, and always with a big smile.
Like Lam, most Asian American parents who volunteered for the "Yes" campaign were political novices. They had to overcome many challenges, including gathering over 70,000 signature petitions for each of the three school board members to put the recall on the ballot—and they had to do so amid San Francisco's myriad COVID-19 restrictions. Some recall volunteers and supporters had been harassed online, or even found their home addresses doxxed by some "Berniecrats"—a group of Democratic activists who had supported Senator Bernie Sanders' (I-VT) presidential campaigns and had thrown all their energy into defending the three beleaguered school board members.
As for the funding of the recall campaign, Matt Gonzalez, chief attorney in the San Francisco Public Defender's Office, noted that "over 80% of the individuals contributing to the recall are San Franciscan residents, while opponents of the recall are getting over half of their contributions from outside the city."
The recall campaign couldn't claim a landslide victory without the dedication and hard work from campaign volunteers like Lam, as well as the strong support from local Asian American communities. Post-election analysis shows that the most substantial support for recall came from the city's Asian-majority districts.
What has happened in San Francisco also carries critical national implications. First, the Left's insistence on prolonged COVID restrictions in schools, as well as its divisive and race-essentialist education policies, have been proven to be highly unpopular even among traditionally liberal voters in a deep-blue city.
Second, competency matters. Voters are fed-up with institutional failures caused by elected officials who had neglected their essential duties to the communities they were elected to serve. The San Francisco recall demonstrates that education is a front-and-center issue this election year. American parents, regardless of ethnic background, have become a formidable voting bloc, and they are determined to hold school boards accountable when they go too woke.
Last but not least, the success of the recall campaign has ushered in a new political awakening for Asian Americans. Traditionally, Asian Americans have been considered a silent minority, because most are not politically active. Running a political campaign was unthinkable to many Asian Americans before the onset of the pandemic. But through the recall campaign, in Fong's words, Asian American parents "have found fire in the belly." In other words, they won't remain politically silent any longer. And such a political awakening will undoubtedly influence America's future.
Helen Raleigh, CFA, is an American entrepreneur, writer and speaker. Helen is the author of Backlash: How China's Aggression Has Backfired and Confucius Never Said. Follow her on Twitter: @HRaleighspeaks. Visit her website: www.helenraleighspeaks.com.
The views expressed in this article are the writer's own.