'Shadow and Bone': Freddy Carter Reveals 'Desperate' Hopes for Kaz and Inej
Fans of Leigh Bardugo's Grishaverse novels have a soft spot for Kaz Brekker and Inej Ghafa, and so too does the Shadow and Bone cast, it seems, as actor Freddy Carter told Newsweek of all the ways he hopes their relationship might develop onscreen.
The leader of the Crows and the Wraith have been tiptoeing around their feelings for each other since Season 1 but the show's second season, which came out on Thursday, sees them take some steps forward.
In the new season, Kaz is determined to get revenge against Pekka Rollins (Dean Lennox Kelly), the Ketterdam crime lord who conned him and his brother Jordie when he was a child and left them for dead—an experience he is still feeling the repercussions of.
As Kaz is navigating his trauma the one safe harbor in his life, as it were, is Inej (Amita Suman). The spy has always been there to help him in his darkest hours, and this is certainly true of Shadow and Bone Season 2.
Warning: This article contains some spoilers for Shadow and Bone Season 2
Freddy Carter Reveals 'Desperate' Hopes for Kaz and Inej in 'Shadow and Bone'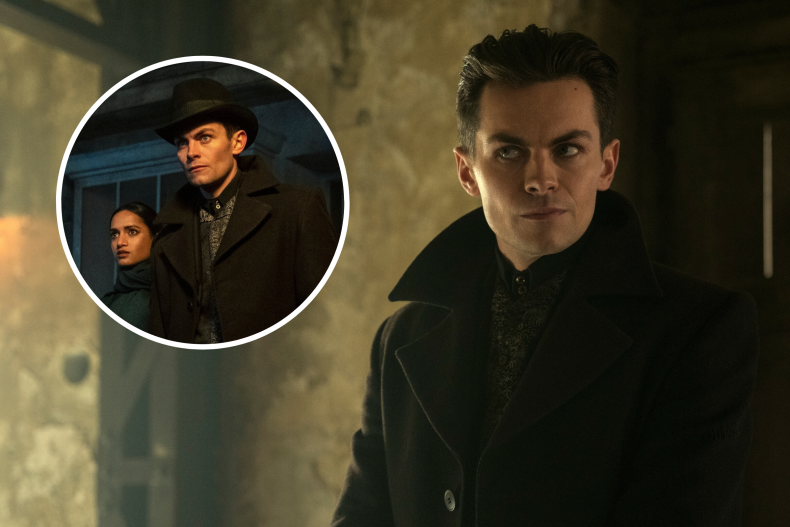 Carter told Newsweek that he found it "interesting" to bring Kaz's backstory to life in such vivid detail on screen, particularly the ways in which the events of the season impact his bond with Inej.
"I think halfway through the season Kaz gets his revenge. He has this thing that he's been hunting for forever and then he suddenly realizes that there's more to life," the actor said. "He's [finally] got this thing he's been hunting for and he still feels quite empty.
"What we see in the season is him beginning to try to open up to Inej, and her quite openly saying, 'this is what I need, I need you to open up otherwise I'm gone,' and it's him desperately trying to but he's still haunted by all of this stuff.
"I think he thinks on some level that if he gets revenge then it'll be a quick-fix cure and it'll all be fine, but it's obviously not the case."
Carter admitted that he's just as keen for Kaz to accept and act on his feelings for Inej as viewers are: "I'm such a fan of Kaz and Inej, and I'm really rooting for him. I'm obviously desperate for him to go through this big change whereby he can suddenly tell Inej exactly how he feels, and he can be open and honest with everyone.
"But, also, what I love about him so much, as a character to read and watch, is that duality where he's desperate for that but just can't make it happen, and so the struggle is what's so fascinating to me.
"And at the end of Season 2, Inej is gone, and so I think what I would love to see is how long it takes Kaz to realize just how important she is to him."
The season sees the Crows embark on a dangerous heist to get the Neshyenyer blade for Alina Starkov (Jessie Mei Li), but they are poisoned during the encounter. The drug gives them hallucinations, and in Inej's dream she imagines she and Kaz are alone, that he reveals his feelings for her, and almost kisses her.
"I'm very intrigued to see how [fans are] going to react to that moment. I hope that they like it," said Carter. "Obviously for fans some things are taken slightly out of context from the books, or the context has changed, but I think that the adaptation is done with such love of the books and such love of the characters that, actually, the spirit of them and of the stories is still very much the same.
"So, I hope that people get behind it and really love it as much as I do."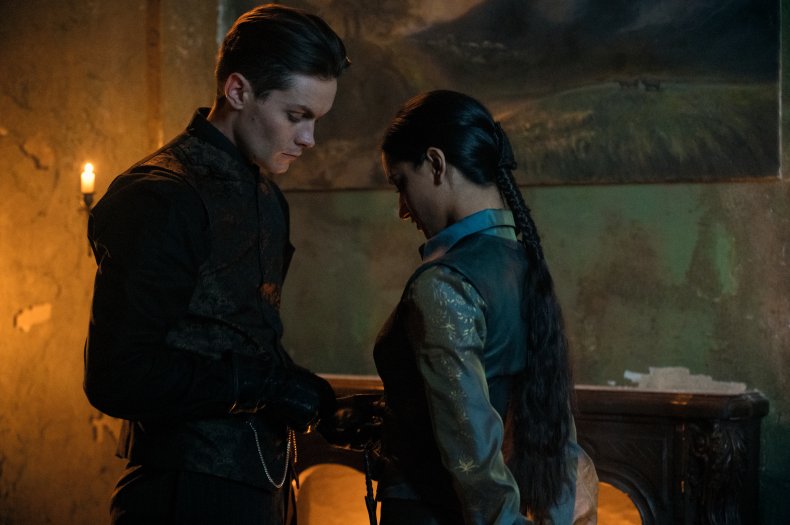 On Kaz's Revenge on Pekka Rollins
Fans of Bardugo's novels will no doubt realize that the storyline around Kaz's plot for revenge against Pekka happens in Crooked Kingdom, the second book in the Six of Crows duology.
Carter explained that he was "really eager" to dig into the plot and Kaz's haphephobia —the fear of being touched— as early as Season 1, because it is such an integral part of his character's journey.
"I was saying to [showrunner] Eric [Heisserer] while we were shooting Season 1, I was like 'can we show a little bit of this?' Because to my mind, and reading the books, it's what makes him so fascinating," Carter explained.
"This duality between this incredibly traumatic and difficult childhood experience and the very hard, sharp-edged guy who we meet at the start of the books, and the start of the TV show.
"I was always desperate to add it in, so actually when I read the script for Season 2 and saw that it was happening I was very, very excited."
Delving into Kaz's history with Pekka meant that Carter shared a number of intense scenes with Kelly, whom the actor describes as a "brilliant" performer.
"He just wanted to go as deep as possible with it, he didn't want to shirk anything," Carter said. "He wanted to really dig into it, and so we did a lot of rehearsal and did a lot of talking about it.
"We talked through the stuff in the books and used the books as a bible, almost, to dip back into it and kind of see what was going on for each character at any given moment."
Going on to speak about their face-off, Carter said of filming the encounter: "Dean's an absolute joy to work with, but anything where you're covered in sticky fake blood, being beaten up and you've got two-page monologues to learn, they're always challenging.
"But shooting that showdown in the Emerald Palace really did feel like the culmination of a season and a half's worth of building blocks, so it was just exciting more than anything else."
Although the plotline might come as a surprise to book fans because of how early it takes place, Carter said he felt it was "such a brilliant" way of moving Kaz's story forward in Season 2.
He explained: "In Crooked Kingdom it's such a brilliant culmination of this long arc and I feel like I was on this 12-episode arc from the beginning of Season 1 to halfway through Season 2.
"It's this hunt for revenge, and while it may not always be exactly what he's doing it's sort of always at the front of his mind, and it's his ultimate goal: To get revenge and seek redemption from his brother."
"I was very glad that they tackled it in the way that they did," he added.
Shadow and Bone is out on Netflix now.