'Shadow and Bone' Season 2: All the Easter Eggs You May Have Missed
Shadow and Bone is officially back for its second season, and the epic fantasy does a great job of bringing Leigh Bardugo's Grishaverse novels to life once more.
Season 2 finds Alina Starkov (Jessie Mei Li) and Mal Oretsev (Archie Renaux) on the run, but they are soon brought back into the fight to save Ravka. They ally with Nikolai Lantsov (Patrick Gibson) to find the two amplifiers Alina needs to increase her powers and take down General Kirigan, aka The Darkling (Ben Barnes).
Meanwhile, the Crows —Kaz Brekker (Freddy Carter), Inej Ghafa (Amita Suman), and Jesper Fahey (Kit Young)— start to plot revenge against Ketterdam crime lord Pekka Rollins (Dean Lennox Kelly) with the help of Nina Zenik (Danielle Galligan) and Wylan Hendricks (Jack Wolfe).
The show adapts both Siege and Storm and Ruin and Rising, and it takes storylines from the Six of Crows duology, but it also has several Easter Eggs that are so subtle even fans of the Grishaverse might not notice. Here is everything you need to know.
Warning: This article contains some spoilers for Shadow and Bone Season 2
'Shadow and Bone' Season 2: All the Easter Eggs You May Have Missed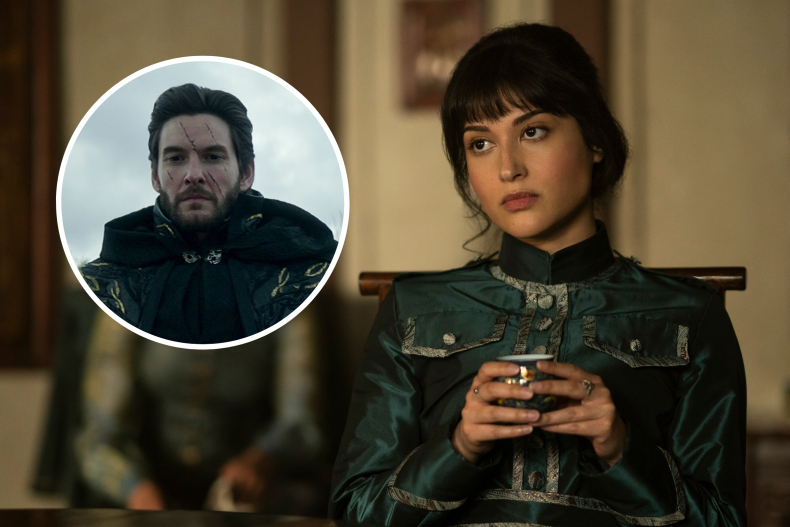 1. The Bumblebee
After Alina and her cohort's battle against General Kirigan, aka the Darkling (Ben Barnes), ends in the villain's death, the characters stand and hold vigil as his body is burned in what remains of the Shadow Fold.
While standing by the pyre with Alina and Genya Safin (Daisy Head), Zoya Nazyalensky (Sujaya Dasgupta) swats away a bumblebee that comes close to her.
This is no ordinary bumblebee, though, it is actually an Easter Egg that will shape the show's potential third season. The bumblebee is part of Elizaveta, or Sankta Lizabeta of the Roses, a saint that features in the King of Scars duology.
In the books, Elizaveta is trapped in the Shadow Fold alongside Sankta Grigori and Juris, and she explains how she and her fellow saints were there when the Darkling was being burned. This blink-and-you'll miss it moment in the TV show is a reference to that.
2. The Darkling's Past
Earlier in the season, Kirigan confronts Alina and tells her of how he has lived a thousand lifetimes, had countless names and had to reinvent himself after every rebirth as he tries to tell her that she should realize they are similar.
The Darkling also explains that he was once a scared little boy, and this is a reference to a short story written by Bardugo titled The Demon in the Wood.
The prequel, which has also been released as a graphic novel, follows the Darkling as a child when he was almost killed by a girl he thought was his friend.
The Grisha girl had realized that the Darkling had the ability to amplify powers, and so wanted to kill him in order to use his bones as an amplifier.
3. 'I Can Fix Him'
Another Easter Egg that paves the way for a future third season took place in the finale, when Zoya and Genya met with Alina ahead of Nikolai's coronation.
They enter Alina's room whilst Nikolai is speaking with her, and when the prince goes to leave Zoya remarks that he was a "mess" but that she could "fix him."
This is a subtle nod to the events of the King of Scars duology, where Zoya helps Nikolai with a dark secret he struggles to keep hidden.
4. Kaz's Crow Cane
Kaz's cane is an important piece of the character's arsenal. While it may seem like a sign of weakness the item often proves to be one of his biggest strengths, and in Season 2 he even wields it as a weapon.
The cane that Kaz uses in Season 1 and the start of Season 2 has the body of a crow engraved onto it, but Carter told Newsweek he was keen to get a version of the cane that was more accurate to how it was described in Bardugo's books.
This actually ends up happening as Kaz gives Nikolai his first cane when the Ravkan prince is hurt in battle, and then he acquires a cane that has a silver crow skull on top.
"We bounced around a little bit on that stuff because Eric [Heisserer, the showrunner] and I were eager to find a way in which we could get Kaz's cane which is slightly closer to the fan artwork," Carter said. "The crow skull rather than the fully formed crow that was in the first season, we were very excited to figure that out."
The actor also explained that the new cane was the one thing he asked to be included in Season 2, adding: "I really loved the cane from the first season, but I've been trying to find a way in which we could —within the story and in a way that made sense— come to something closer to the fan art and books, so that was my main thing I've been trying to sneak in there."
Ben Barnes Reveals Key Deleted Scene for The Darkling
Barnes spoke to Newsweek about the events of the show's new season, and in particular the way in which his character met his demise.
The Darkling's final words are different to Bardugo's books, and this was because Barnes had suggested new lines that he felt suited the character's arc in the TV show more.
In explaining why he made the suggestion, the actor revealed a key scene that is no longer featured in the finale, which would have paved the way for the shocking twist that Season 2 ends on.
Of making this change, he told Newsweek: "It was all, for me, about preserving a tenderness in the moment because there's a tenderness in the books, that she's the only person who knows his real name, which I always felt very beautiful.
"But that was something that was shared between them very early on in the first season. [The writers] thought that calling him the Darkling from the beginning was showing your hand with the villainy aspect [...] so that was just a different theme but I wanted to preserve a tenderness, so something that felt the same, that felt intimate between them.
"And Eric [Heisserer, the showrunner] had written this paragraph about 'make sure there's nothing left of me' and I thought that was a really beautiful realization, a sort of deathbed realization: 'I concede that I've been blinkered and I've gone too far with this, and maybe you can be the one to fix it your way. Maybe I was wrong.'"
"Then there's this sort of wonderful irony in the fact that he wasn't wrong at all about her and where she might go," Barnes went on. "I think you've always got to have hope that you could pursue your agenda without manipulation or violence, but some things are nigh on impossible without it and I think that he still fed into that.
"There's this irony that they've taken a piece of each other, that little piece of each other in the first season when they had the amplifier ceremony, that little piece that they've kept of each other.
"I like to think that that's highlighted, the hopeful boy in him that is capable of loving and forgiving and understanding. She's helped him understand in the end his shortcomings, but then he's left a piece of him with her that he could never make her understand with words: That it's going to be impossible to achieve what you want to achieve without showing your all-powerful hand."
Revealing the deleted scene from the finale, he concluded: "But he is able to make her understand it in his last moments as he grabs her wrist and he feeds his power into her, so she has both."
Season 2 now doesn't show this scene, likely so that the finale's last scene was more of a shock to viewers when it revealed that Alina now had the ability to summon shadow and could use The Cut like The Darkling.
Shadow and Bone Season 2 is out on Netflix now.
Update 03/17/2023 10:18 a.m. ET: This article was updated to include Freddy Carter's interview with Newsweek.