Colson Whitehead at National Book Awards: "Be Kind to Everybody, Make Art, and Fight the Power"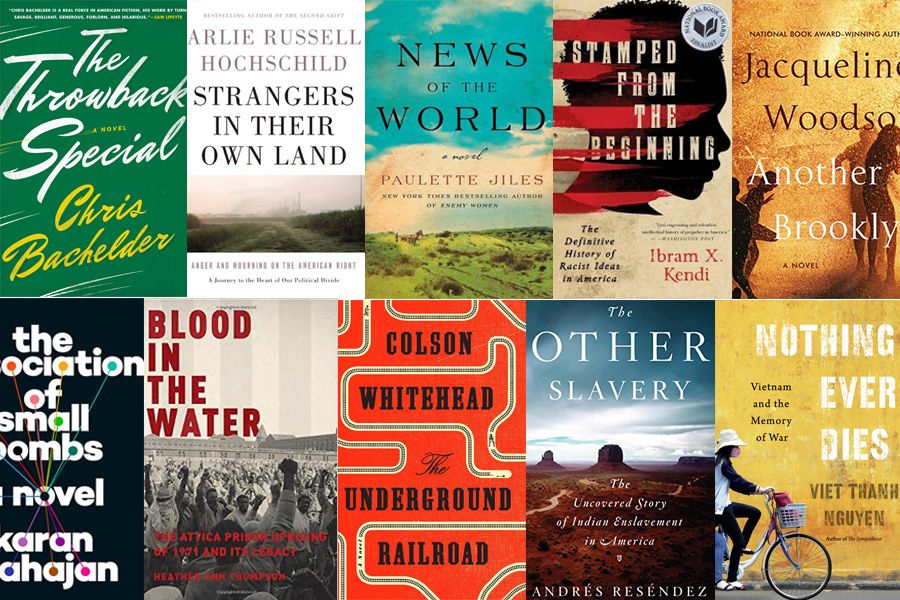 It was a night designed to honor writers and their work, to celebrate literature and its impact. And it did. But the annual National Book Awards ceremony on Wednesday evening was a celebration with a caveat, proceeding in the shadow of the presidential election that had transpired just eight days before it. Host Larry Wilmore, presenters and award winners addressed the shock, pain and fear many in the room and the nation were feeling, while emphasizing an even more urgent need to write, read and share books. They were feting literature in a darker, but perhaps more profound way than they had anticipated just a few weeks ago.
"Welcome to the 2016 National Book Awards, or as it's going to be called next year, the Trump National Luxurious Evening for Books Big League," said Wilmore, addressing the crowd at the Cipriani Wall Street in Manhattan. He recounted his surreal election night experience, which started off with happy anticipation but ended feeling "as though everyone's dog had died." He admitted, joking as though it might come as a shock, that he was a Democrat and had voted for Hillary. Later on election night, "a friend of mine actually said, 'That was exciting wasn't it?'" But exciting isn't quite the word Wilmore would have chosen to describe last Tuesday. "It's exciting in the same way that an asteroid hurtling toward earth is exciting," he said. "Yeah, it's spectacular, but I think we're going to die soon."
Wilmore's performance as host throughout the evening fell a little flat, though it wasn't necessarily his fault. Nobody was in the mood to laugh. He did his best, however, and a few of his bits landed.
"The coming Trump presidency is affecting the book world," he said. "Bookstores taking all copies of the Constitution and moving them from the government section to the fiction section. They're taking all the bios of Trump and moving them from the nonfiction section to the horror section. And they're taking classic books and changing their titles," he added, and proceeded to list a few examples: The Great Gatsby became The Terrific and I Mean Terrific Gatsby; Little Women became Little Women Who I'll Be Dating in 10 Years; The Hitchhiker's Guide to the Galaxy became The Hitchhiker's Guide to Canada; and Pride and Prejudice became Pride and Really Fuckin' Prejudiced—Wilmore "censored" himself by garbling the "fuckin.'" For A Clockwork Orange, he joked that there would be no change. And finally, Dr. Seuss's The Cat in the Hat became Grab 'Em by the Pussy Cat in the Hat.
"Actually that was really a clean joke, it just sounded like a dirty joke," he said of the last Trumpean title. "I wasn't going to do that joke, but Billy Bush egged me on." Moving on to the books and the awards, he added that he'd always thought that "books may one day be our only evidence of a civilized society. I'm starting to believe that might be true."
Though Wilmore was the first and last to speak, he wasn't the only one Wednesday evening who felt the need to mention the election and the state of the union, or rather a deep sense of disunity and disappointment. Leaders of the National Book Foundation, presenters and awardees chimed in too, some speaking explicitly and some less directly, but either way rarely invoking the name of the president-elect. Since most of them are renowned writers or at least prolific readers and lovers of language, their remarks were not only emotional, but also articulate and searing.
"We have seen a black president, and we are seeing what kind of president comes after a black president," said Terrance Hayes toward the end of a lyrical speech he gave to honor Cave Canem, a Brooklyn writing center dedicated to African-American poets and poetry, with the Literarian Award for Outstanding Contribution to the American Literary Community.
The founders of Cave Canem who came onstage to accept the award proceeded from there. "I believe that the Cave Canem poets will be the flesh and blood of the work that our country needs so urgently to do, especially now," said Toi Derricotte. "This energy does not belong to us. It was passed down through the creative genius of our ancestors, which was their response to slavery and oppression," she added. "We do them honor by passing it on. Joy is an act of resistance."
Her co-founder, Cornelius Eady, followed her with a few words of his own. "It's been a very tough week hasn't it?" he said. "What I would like you all to leave with is the memory of what love can do. This is what happens when a group of people actually go forward and try to transform something," he said of the two decades of work Cave Canem has done to support and amplify the voices of African-American poets. "Hold on to this moment, I think."
In presenting the Medal for Distinguished Contribution to American Letters to Robert Caro, the New York Public Library's William Kelly spoke of the recipient's contribution to our understanding of power. "Bob's sentences and the books they constitute have made us conscious of the ubiquity of power, of its presence in the most intimate aspects of our lives, of its capacity for great good and even greater evil, of the need to recognize its often invisible exercise and the imperative to resist its abuse," Kelly said. "That is a gift of a rare order, never more critical than in these days."
Lisa Lucas, the new executive director of the National Book Foundation—and the first woman and first person of color to hold that role—had already spoken at the finalists' reading the previous evening about the importance of literature at a time when the nation is so divided. But she emphasized the point again, even more eloquently and vociferously. "Putting on our dresses and tuxedos and being together and celebrating literature is in fact an act of resistance, a reminder that we can repair our country and our world," she said. "Let us remember that books give us hope, that they give us comfort, that they light our way, that they instruct us and that they bring us together. That the simple act of reading creates a community where each and every one of us will always be welcome."
"We need books right now more than we ever have. We need our writers more than we ever have. We need thoughtful critique, we need stories and poems and novels and graphic memoirs and essays and thoughtful prose. And we need them to inspire us and to recognize us and to affirm our place in the world," Lucas insisted. "I believe now more than ever we need to come together, we need to understand who we can be, how much there is to achieve yet, and how far we can go," she continued. "And there's no better way to start conversations we need to have than by reading and connecting through the books that we are celebrating here tonight."
When U.S. Representative John Lewis (D-Ga.) and his collaborators on March: Book Three, the third and final installment of a graphic memoir about the civil rights movement, won the award in the young people's literature category, Lewis could barely speak through his tears. He recounted going to the public library in rural Alabama as a poor, black child to try to get a library card and being told "that library cards were for whites only, not for coloreds." Nate Powell, the artist who worked on the project with Lewis and Andrew Aydin, followed him, saying his thanks, also in tears, and ending with a message to the incoming president. "I challenge you to take this trilogy into your tiny hands and allow your tiny heart to be transformed by it," he said. "None of us are alone in this, not even you."
The messages continued throughout the evening, from nearly every presenter and awardee. "We makers of stories, poems and readers of literature all need each other as we navigate the broken heart of this country," poetry judge and presenter Joy Harjo said. "We absolutely need poetry as we move forward from last Tuesday. Poetry carries the spirit of the people and is necessary at the doorways of transition and transformation," she added. "This award acknowledges the accomplishments of American poets who sing and speech us through to the other side."
The poetry prize winner Daniel Borzutzky echoed Harjo's thoughts. His winning book of poems "comes out of the idea that literature, and poetry in particular, can serve a means of producing social and historical memory," he said. "And at this moment as many people in this room are very concerned about what future is going to bring, I too am incredibly concerned about that," he added. "The Performance of Becoming Human comes from experience of thinking about many types of abuse—both state violence, economic exploitation, the experiences of migrants and exiles and immigrants. And I'm particularly concerned about the fate of undocumented people in this country," he added. "So I would simply conclude by asking that we all do our part to make sure that this country remains safe and welcoming to undocumented people, immigrants and speakers of many languages."
Nonfiction judge and presenter Masha Gessen said the list of books she and her fellow judges considered is one "that's begun to feel ever more timely and ever more urgent. And urgency was one of the criteria that emerged in our conversations—not just urgency in the subject matter but also the urgency with which we want to ask people to read these books," she explained. "Because they will change or affect the way that you see the country and the way that you think about some of the most important issues today."
Gessen then announced that this year's prize in nonfiction would go to Ibram X. Kendi for his book Stamped From the Beginning: The Definitive History of Racist Ideas in America. Kendi told the audience about his 6-month-old daughter, which he called the best award he'd received all year, "no offense to the National Book Foundation." He and his wife named her Imani, which he explained means "faith" in Swahili. "Her name of course has a new meaning for us as the first black president is set to leave the White House and as a man who was emphatically endorsed by the Ku Klux Klan is about to enter," Kendi said.
"I wanted to let you know that I spent years looking at the absolute worst of America, its horrific history of racism," he said. "But in the end I never lost faith that the terror of racism would one day end. I never lost faith because for every racist idea there was an anti-racist idea," he continued. "And in midst of the human ugliness of racism there is the human beauty in the resistance to racism. That is why I have faith. And I will never lose my faith that you and I can create an anti-racist America where racial disparities are nonexistent, where Americans are no longer manipulated by racist ideas, where black lives matter."
When James English stepped onto the stage to present arguably the most-anticipated award of the evening, he opened by commenting on the "remarkable celebration of the written word," one that had him "starting to feel good for the first time in eight days." Later, he called Colson Whitehead up to the podium to accept the fiction prize for his best-seller and Oprah Book Club pick The Underground Railroad. The novel, English said, is "a work that impressed [the judges] with its complex and bracing ethics, its formal inventiveness, its use of fiction to illuminate the nation's troubled history for the sake of its troubled present."
Whitehead left viewers at the ceremony venue and those watching the livestream online with one last set of memorable words about the recent election. "I would never think I would be standing here," he said. "And who knows if we're going to if we're going to be a year from now. We're sort of happy in here. Outside is the blasted hellhole wasteland of Trumpland which we're going to inhabit."
While promoting his book in the days since November 8, he's had to tell those asking about the election that he's still stunned. But "I hit upon something that was making me feel better," he said, and he hopes it might be applicable to others as well. "Be kind to everybody, make art, and fight the power. That seemed like a good formula, for me anyway," he said. "So BMF. And if you have trouble remembering that a great mnemonic device to tell yourself is, 'They can't break me because I'm a Bad Mother Fucker.'"