Shakespeare's Globe Theatre Performs Hamlet at Calais Jungle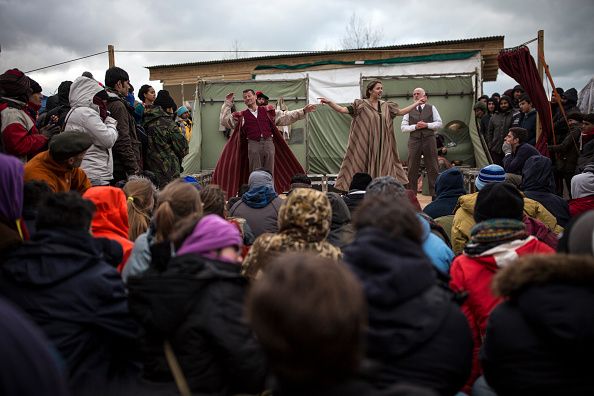 Shakespeare's Globe Theatre on Wednesday staged a special performance of Hamlet in front of 300 migrants in the "Jungle" camp in Calais, the BBC reports.
The performance was part of the London-based theater company's Globe to Globe tour, a two-year project that will take a 16-strong troupe to every country around the world to perform Hamlet for the 450th anniversary of Shakespeare's birth.
Shows have already taken place in migrant camps in Djibouti, Cameroon and Jordan.
The appearance at the Calais Jungle, home to an estimated 6,000 migrants, was arranged in partnership with Good Chance, an organization that has set up a theater space within the camp where it holds daily events, writing workshops, music and dance lessons and film nights, all aimed at piercing the "monotonous and unstable" environment in order to "convey the humanity that exists at the core of this international crisis."
Globe to Globe's next performance will be on February 8 for Libyan migrants in Malta.