Shanghai Lockdown Concerns U.S. As American Diplomats Evacuate From City
The United States has ordered the evacuation of non-emergency staff from its diplomatic mission in Shanghai as the city of 25 million enters its third week of a blanket lockdown to enforce China's "zero-COVID" policy.
American diplomats and their families had previously been authorized to leave on a voluntary basis, according to a notice over the weekend. On Tuesday, however, the U.S. mission in China said non-emergency staff were ordered to depart after capacity at its consulate general in Shanghai was reduced.
"Our change in posture reflects our assessment that it is best for our employees and their families to be reduced in number and our operations to be scaled down as we deal with the changing circumstances on the ground," the statement said. "The employees and family members will depart on commercial flights. The Department ordered the departure due to the ongoing COVID-19 outbreak."
Ambassador Nicholas Burns, who only arrived in Beijing in March, and other American diplomats "have continuously raised our concerns about the safety and welfare of U.S. citizens with People's Republic of China officials. We have informed the government of the PRC about the ordered departure," said U.S. Mission China.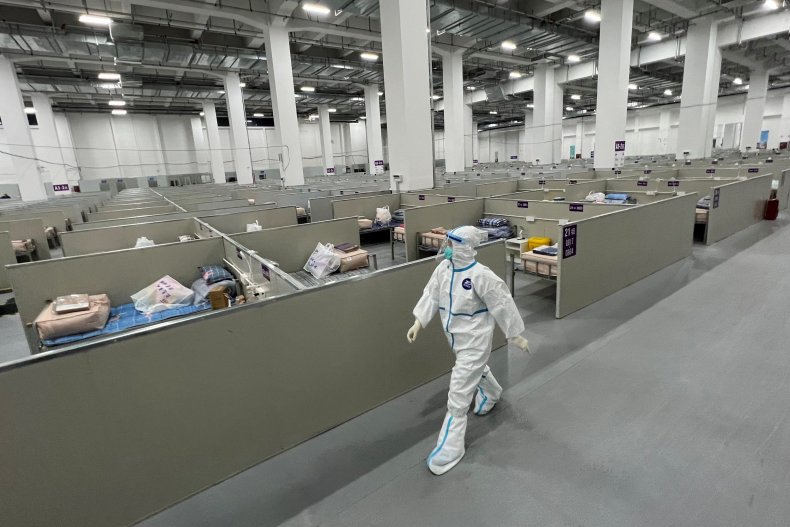 The State Department's decision appears to reflect the unpredictable and often sweeping nature of China's policy for Shanghai, rather than overt concerns over the health of U.S. government employees during the surge of COVID cases in the coastal mega-city. It comes amid reports of residents being hauled off to makeshift quarantine centers, where living conditions are poor and the standard of care is low or nonexistent.
Shanghai has officially been under a citywide lockdown for 16 days, but hundreds of thousands of residents were already confined to their homes by mid-March, as officials sought to get a handle on localized coronavirus outbreaks while balancing public health regulations against the economic impact they have. Three weeks into China's strictest lockdown since the beginning of the pandemic, stories continue to emerge of desperate citizens either left without basic necessities or unable to gain access to other healthcare needs.
On Tuesday, China's National Health Commission reported a total of 994 symptomatic and 22,384 asymptomatic new infections in Shanghai—patients who don't show symptoms of the virus aren't considered confirmed cases. While the latest wave appeared to peak over the weekend, infections in the city still account for just over 93 percent of all cases in China.
Despite recording more than 150,000 cases in the past month and bringing the entire metropolis to a standstill, Shanghai has reported only one patient in serious condition, while the official death toll from the latest COVID outbreak remains at zero. Newsweek was unable to independently verify anecdotal social media accounts of residents who are said to have died as a result of being denied critical care for other illnesses.
On Monday, the State Department's level 3 advisory urged American citizens to reconsider travel to China because of "arbitrary enforcement of local laws and COVID-19-related restrictions." Citizens were advised to avoid Hong Kong, Shanghai and Jilin province, in northeast China, because of "the risk of parents and children being separated" as part of the country's tough isolation rules.
In addition, a country summary of China read: "The PRC government arbitrarily enforces local laws, including carrying out arbitrary and wrongful detentions and using exit bans on U.S. citizens and citizens of other countries without due process of law.
"The PRC government uses arbitrary detention and exit bans to:
compel individuals to participate in PRC government investigations,
pressure family members to return to the PRC from abroad,
influence PRC authorities to resolve civil disputes in favor of PRC citizens, and
gain bargaining leverage over foreign governments"
The Chinese government defended its public health rules and said it had filed a formal complaint over the U.S.'s decision to allow consular staff to evacuate over the weekend. An April 9 statement by China's Foreign Ministry spokesperson Zhao Lijian said the country's pandemic control policies were "science-based and effective, and we are fully confident that Shanghai and other places in China will prevail over the new wave of the epidemic."
"Relevant Chinese authorities and local governments have provided foreign diplomatic and consular personnel in China with assistance and convenience to the maximum extent possible under the policies," he said. "We are strongly dissatisfied with and firmly opposed to the U.S. side's groundless accusation against China's epidemic response policies, and have lodged solemn representations with the U.S. side."
This week, Shanghai's health commission said it would permit a partial easing of lockdown restrictions in neighborhoods where no positive cases are found for 14 consecutive days. Social media images showed some residents walking within their gated communities or along their boundaries, with health inspectors limiting their freedom of movement to several hundred meters.
On Friday, Wu Zunyou, the chief epidemiologist at the Chinese CDC, told reporters he expected Shanghai to reach "social zero COVID"—no transmission outside of those already in centralized quarantine—within two weeks.
In other mega-cities along China's east coast a trickle of new cases is slowly rising into double digits. Elementary and middle school classes in the manufacturing hub of Guangzhou moved online on Monday in a measure that will last for at least a week.