Shanghai Residents Scream From Windows, Get Drone Lockdown Warning: Videos
In viral videos on social media residents in Shanghai, China, can be heard screaming from their apartments, while a drone can be seen issuing warnings about COVID-19 restrictions as the country sticks to its strict zero-COVID policy amid an increase of infections.
A video circulating on Twitter shows high-rise buildings in Shanghai at night, with people heard yelling from their windows.
"Shanghai residents mad as hell, can't take it anymore. china's zero covid policy getting dangerous," Ian Bremmer, a political scientist and the president and founder of Eurasia Group, wrote on Twitter on Sunday, sharing the video.
The video was originally posted by author and radio host Patrick Madrid on Friday and has been viewed nearly 3 million times.
"What the?? This video taken yesterday in Shanghai, China, by the father of a close friend of mine. She verified its authenticity: People screaming out of their windows after a week of total lockdown, no leaving your apartment for any reason," he tweeted.
A separate video posted earlier in the week shows a drone flying over the city, issuing a warning for city residents to follow COVID restrictions.
"Shanghai residents go to their balconies to sing & protest lack of supplies. A drone appears: 'Please comply w covid restrictions. Control your soul's desire for freedom. Do not open the window or sing,' Alice Su, a journalist for The Economist, wrote on Twitter Wednesday. That video has been viewed 3.4 million times.
Shanghai has recently experienced China's largest COVID-19 outbreak, and since late last month, has faced lockdowns. Chinese officials have received backlash for the policy as residents have said they have had to go without basic necessities including food. A video captured ahead of the lockdown last month showed residents fighting one another for food and supplies in a store.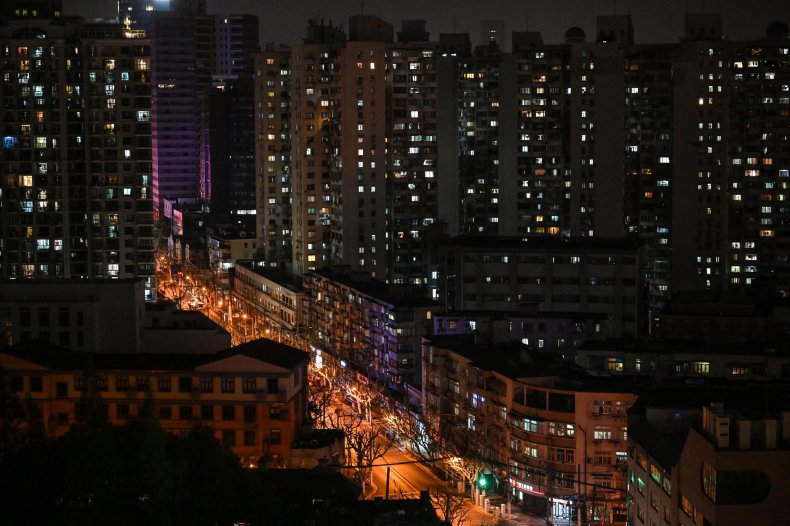 "Local residents in Shanghai seen fighting over groceries as half of its 26 million residents are in lockdown, and other half entering lockdown soon," Dr. Eric Feigl-Ding, an epidemiologist, wrote on Twitter sharing the video.
On Saturday, however, the Associated Press reported that Chinese officials said they would begin lifting lockdowns in communities of the city that don't see infections following another round of mass COVID-19 testing.
Shanghai Vice Mayor Zong Ming said during a news conference on Saturday that sections of the city of 26 million people will be labeled as "precautionary," "controlled" or "locked down," after the next testing round, according to the AP.
The news outlet noted that the city saw an additional 23,000 cases reported on Saturday, but said most of them are asymptomatic.
Newsweek has reached out to the Chinese Center for Disease Control and Prevention for comment.