Shanghai Residents Told to 'Control Your Thirst for Freedom' Amid Lockdown
Officials in Shanghai have sent up drones with loudspeakers that tell residents not to protest the city's latest coronavirus lockdown.
Video shared on Weibo that has been viewed more than 1 million times shows a drone flying over residential buildings after some people went on their balconies and sang to protest the lack of supplies during the lockdown, Alice Su, The Economist's senior China correspondent, reported. "Please comply with COVID restrictions," the drone says.
The drone's female voice also tells listeners, "Control your soul's thirst for freedom. Do not open your windows and sing," according to London's Times.
Other countries, like the United States, are now looking to treat the pandemic as an endemic situation, where a disease such as chicken pox is considered a part of normal life that people live with. But since January, China has been more strict in its reaction to an Omicron variant wave, enacting a "zero-COVID" policy that has led to many cities being locked down.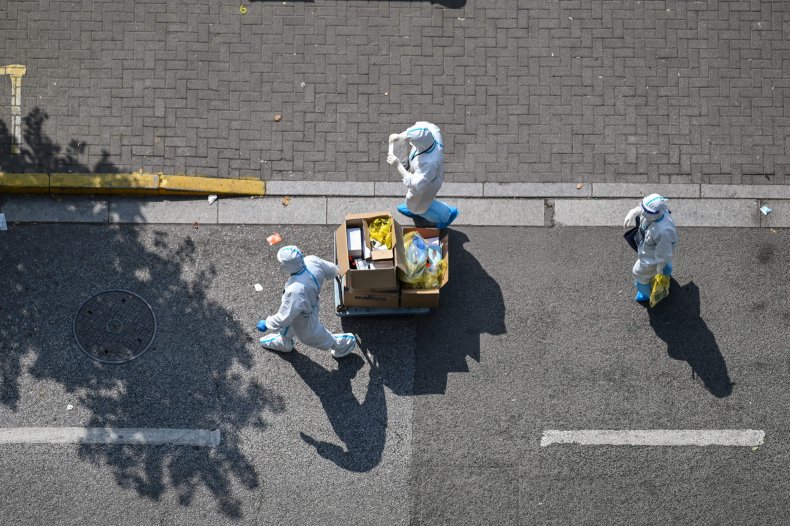 Despite this policy, a new subtype of Omicron was found in the city of Suzhou, which is less than 50 miles from Shanghai, earlier this week. Shanghai's lockdown measures were supposed to end Tuesday, but they have been extended in an effort to test all 26 million residents for the coronavirus.
China is in the middle of a spike in virus cases, with an average of about 1,652 new infections every day, according to data from Reuters. Shanghai also hit its record for most new infections in a single day, with more than 17,000 on Wednesday, CBS News reported. However, Reuters reported that the average number is still only 35 percent of the city's previous peak.
Shanghai began its intensive lockdown at the beginning of last week. Video circulating on social media, showing the city's empty streets, was described as both "mesmerizing" and "dystopian."
The lockdown's strict measures have received widespread criticism from the public. Some residents have had to go without basic necessities like food after panicked people cleared out grocery stores in preparation for the lockdown.
The public outcry against a rule separating parents from their COVID 19-infected children hit such a fever pitch that the Chinese government gave in to the pressure and reversed the rule, something it rarely does, CBS reported. However, the city's health commission inspector, Wu Ganyu, told reporters some provisions are still in place, such as parents eating separately from children, not sharing personal items and signing an agreement that says they "fully comprehend the health risks."
The lockdown started with Shanghai's eastern districts, then extended to cover the entire city. On Sunday, the People's Liberation Army sent 2,000 medical personnel into the city.
Shanghai announced the lockdown on the city's official WeChat account, writing that "the city will continue to implement seal and control management and strictly implement 'staying at home,' except for medical treatment."
Update 4/06/22, 2:05 p.m. ET: This story has been updated with additional information and background.