China Finds New Omicron Subtype Near Shanghai as 'Zero-COVID' Plan Falters
A new subtype of the Omicron variant was recently found near Shanghai, China, as the country continues to battle its latest virus outbreak, despite attempting to operate under a "zero-COVID" policy.
The latest iteration of the virus evolved from the BA.1.1 branch of Omicron and was isolated from a mild coronavirus patient in Suzhou City, located less than 50 miles from Shanghai, the Global Times reported Sunday.
Scientists have said that the subtype is not the same as other coronavirus strains that are causing outbreaks in the country or around the world, causing concern that it may pose a greater threat in the region.
Meanwhile, a case found in northern China's Dalian city on Friday also did not match any coronavirus subtypes found domestically, the municipal government announced on its WeChat account, according to Bloomberg.
The country added more than 13,000 local COVID-19 cases on Sunday, marking the highest number of a daily increase amid the latest virus outbreak, according to the Global Times. Shanghai, in particular, has been one of the worst-hit cities, which reported a total of more than 8,000 cases, including 7,788 asymptomatic infections.
Vice Premier Sun Chunlan arrived in Shanghai this weekend to oversee prevention efforts, ordering health officials to "act quickly and forcefully" to curtail the spread of new infections, Xinhua News Agency reported.
Sun also stressed "unswerving adherence" to China's "zero-COVID" approach by mandating lockdowns, forcing isolation of all suspected cases and implementing mass testing. As of Sunday, each of Shanghai's 25 million residents are operating under some form of lockdown.
"It is an arduous task and huge challenge to combat the Omicron variant while maintaining the normal operation of core functions in a megacity," Sun added.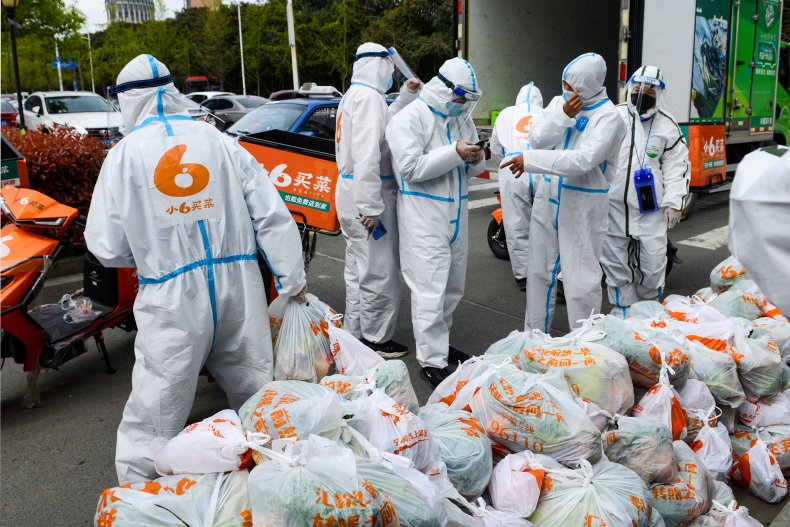 The country's strict approach to prevent the virus from spreading has faltered in the past month largely due to the Omicron BA.2 variant. BA.2, also referred to as the "stealth variant" is a subtype of Omicron that is even more contagious than the original BA.1 strain that caused a significant outbreak of infections across the U.S. late last year.
BA.2 is now the dominant variant across the globe, and the Centers for Disease Control and Prevention (CDC) confirmed last week that it accounts for a majority of new infections in the U.S.
However, as the subtype continues to cause outbreaks across China and Europe, experts in the U.S. have noted that BA.2 does not appear to be associated with an increased risk of hospitalization compared to BA.1. Chief White House medical adviser Dr. Anthony Fauci said late last month that he does not predict the U.S. will see a significant surge from the variant, but noted that an uptick in cases is likely.
Newsweek reached out to China's CDC for further comment, and will update this story when a response is received.