The Omicron BA.2 sub-variant of COVID-19 is now dominant in the U.S., according to new projections from the Centers for Disease Control and Prevention (CDC).
BA.2 was detected in the majority—54.9 percent—of COVID-19 samples studied between March 20 and March 26, according to current CDC estimates.
It comes just a couple of weeks after experts told Newsweek that the sub-variant could become the dominant form of coronavirus in the country.
The Omicron sub-type has been gaining ground in the U.S. for weeks. In the week ending February 26 it was found in just 7.4 percent of samples.
BA.2 is known for its increased transmissibility over the previously dominant Omicron type, known as BA.1.
According to an analysis of BA.2 released by the U.K.'s Health Security Agency (HSA) last week, BA.2 had an increased growth rate around 75 percent higher than that of BA.1.
BA.2 is sometimes informally referred to as "Stealth Omicron" since it is detected via tests in a different way to BA.1.
The U.S. is not the only country where BA.2 is thought to be dominant. On March 22, the World Health Organization (WHO) released an epidemiological update on COVID-19 in which it said BA.2 had become "the predominant variant" globally, noting its steady increase as a proportion of other variants since the end of 2021.
Despite BA.2's global spread, the variant does not appear to be associated with an increased risk of hospitalization compared to BA.1, according to the aforementioned HSA analysis—something researchers have been noting for weeks.
One crucial characteristic of BA.2 is its ability to reinfect people who have already caught BA.1, meaning they could potentially catch Omicron twice. A number of such cases have been identified, and surveillance is ongoing.
In terms of vaccines, vaccine effectiveness against both symptomatic disease and hospitalization was described as similar for BA.1 and BA.2 according to a vaccine surveillance report from the HSA on March 24. While such effectiveness wanes over time, booster shots appear to boost this protection well.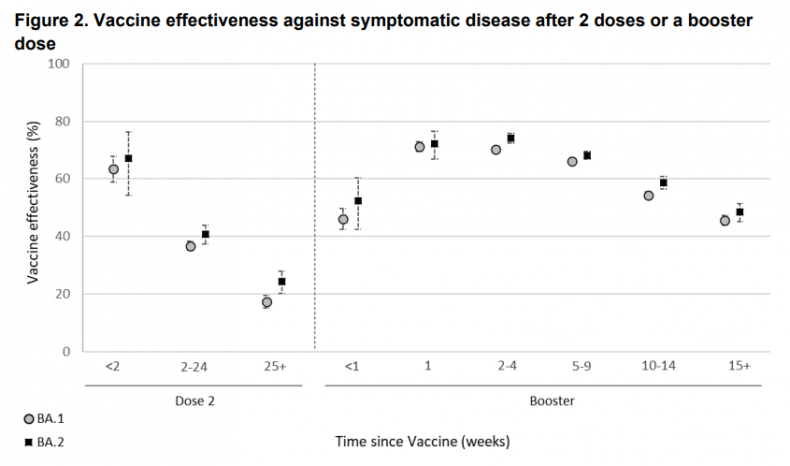 Despite BA.2's dominance in the U.S., COVID-19 cases had remained steady over the past several days as of Tuesday morning this week.
CDC figures show the seven-day moving average of new cases has remained between 27,000 and 28,000 for over a week up to March 27.
Experts told Newsweek earlier this month that BA.2 could possibly cause another wave of COVID-19 cases in the U.S.