An Italian ex-pat living in Shanghai has shared his experience of getting COVID in China, with a video showing him being collected by authorities and taken to a quarantine center, where he has been since April 10.
Alessandro Pavanello, who has lived in China since 2016, tested positive for COVID on March 26. Two days later he was sent the "dreaded red health code," referring to the app that indicates the health status of an individual living in China. Green, in normal circumstances, means you have not been exposed and can travel freely. Yellow and red mean a person's movements are restricted.
On March 29, Pavanello, 31, was visited by a worker in a hazmat suit who sprayed down his home. On April 3, he was informed he had to go to a quarantine center.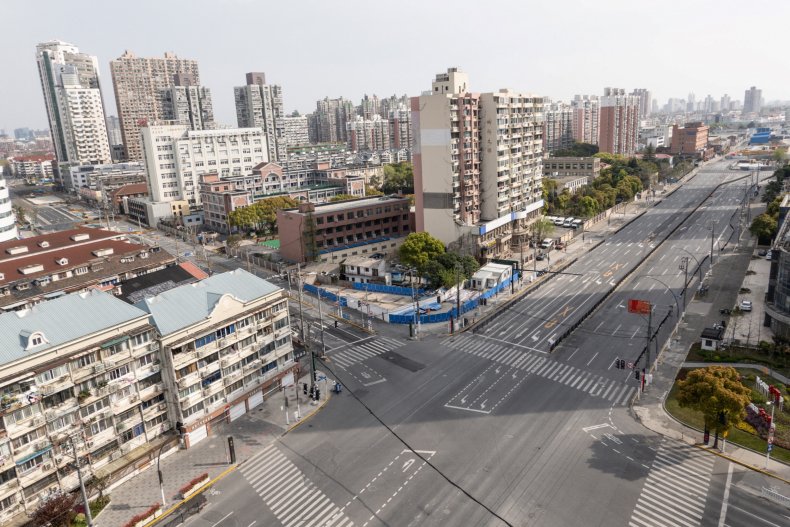 Shanghai—a city of over 26 million people—went into lockdown on March 28 following a surge in Omicron cases. The lockdown was initially for two weeks, but remains in place for many, with restrictions only being eased in areas where no COVID cases have been reported. The city has struggled to cope with the lockdown measures, with reports of food shortages and rubbish not being collected.
While healthy residents are being told to stay at home, people with COVID are being taken to quarantine centers, where they must stay until they have two negative tests.
Pavanello was visited by authorities on April 9, with his video showing people in hazmat suits shouting at him to come downstairs and placing him on a bus. Quarantine centers have been set up in stadiums, convention centers and hotels. Footage and images shared to social media show chaotic scenes with cramped, sometimes unhygienic conditions.
Pavanello speaks to people at the center in Italian and English. He was told he was not being admitted to the center because he does not speak Chinese. A doctor tells him "this place is not good for a foreigner, the conditions inside are very bad." After being driven back and forth between his home and the center over 12 hours, he is finally let in at 2 a.m. local time.
Inside the center is a huge room with rows and rows of cubicles. Pavanello's has a huge spotlight above it, shining into his "VIP room."
"I'd say there must be around 1,000 people here," Pavanello told Newsweek. "So far it's been quite an unpleasant and stressful experience. The hygiene conditions are quite low—bathrooms that are quite dirty, close contact with people, no showers."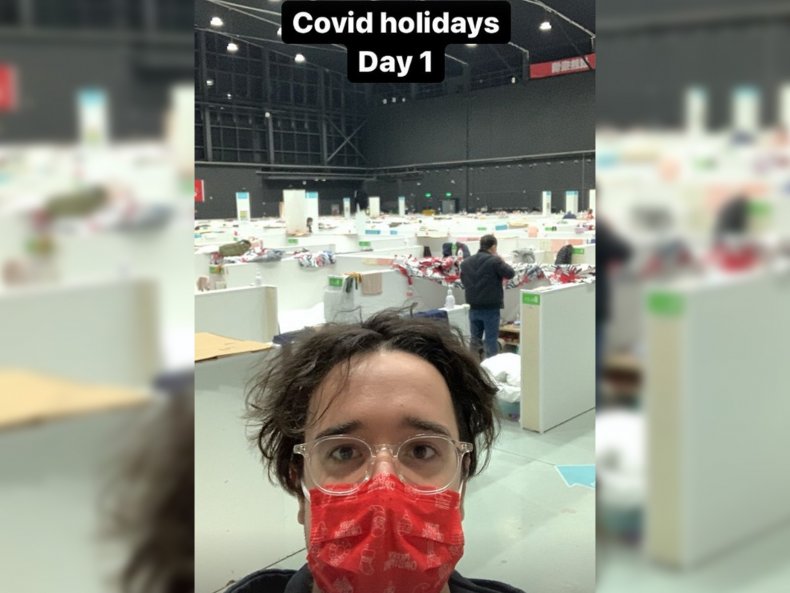 At the end of Pavanello's video, he shows a man coughing into a sink. "The mood inside the center is mixed—I see a lot of helplessness and people just waiting for their stay to be over and others that are being a bit more active and trying to keep their life as normal as possible, [to] exercise, walk around, talk to other people."
Pavanello said he does not know how long he will have to stay at the center. He is currently on his fifth day there. His first COVID test at the center on April 11 was positive and he was awaiting the results of his second one.
"After you receive 2 negatives your name will be put on a list that needs to be approved by the CDC," Pavanello said. "After the approval from CDC they need to arrange transport for you. Obtaining approval from CDC and arranging transport could take from a few days to a week (or more)—it's not a fixed amount of time hence nobody really has a clear idea of how long you are supposed to stay here."
Pavanello is now providing daily updates on his Instagram account, calling his posts his "COVID holidays."