After Chinese authorities reportedly requisitioned certain homes and apartment complexes in Shanghai to be used as isolation sites for COVID-19 patients, viral videos appeared to show residents being dragged away by officers in medical suits.
In one video shared on Twitter, three officers are seen escorting a person to a van, while a group of officers surrounds what looks like a person lying on the street. Another video shows officers clashing with a group of people while screams and blaring horns are heard in the background.
Shanghai, which is China's financial hub and has 25 million residents, reported a new high of coronavirus infections Thursday, with 27,000 cases, Reuters reported. The city is the site of China's worst coronavirus outbreak since the initial one in Wuhan at the end of 2019, prompting authorities to impose and maintain strict mitigation measures.
The clash between residents and officers in medical suits took place Thursday outside the Zhangjiang Nashi International apartment complex in Shanghai's Pudong district, according to the translated caption on one of the videos.
The user who posted it, @tong57966037, said the government decided to use the apartment complex as an isolation site for 1,800 people. Protests and conflict then broke out in response, the user said.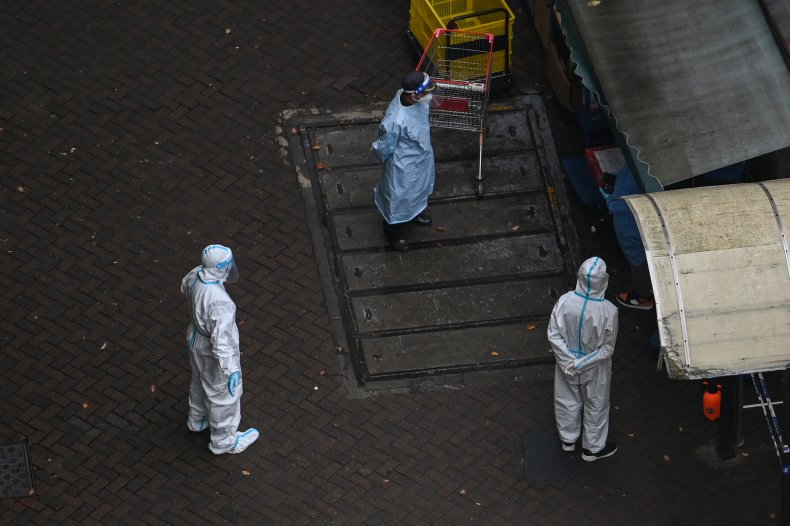 The user who posted the video showing a person being escorted by officers to a van said it was taken outside the Zhangjiang Nashi International apartment complex.
Shanghai residents are reportedly growing increasingly frustrated with their living conditions during the city's lockdown. Many have shared their grievances on social media, speaking out about their difficulties getting enough food or the quarantine requirement for anyone who tests positive for the virus, according to Reuters.
A TikTok user residing in Shanghai has been documenting her experience living through the lockdown on the platform. A viral video from the user, @its__rochelle, said she woke up hearing "screams" one morning in the early hours. She shared footage of residents waiting in line for coronavirus testing and supplies, Newsweek previously reported.
She also said in the video that one neighbor said his tap water tasted like "disinfectant" and that her compound was supposed to receive a food shipment over the weekend—the video was posted on a Monday—but had not yet arrived.
Earlier this week, the U.S. ordered nonemergency staff from its diplomatic mission in Shanghai to evacuate. American diplomats and their families were previously permitted to leave the city voluntarily.
An easing of the strict measures did not appear to be coming anytime soon after Chinese President Xi Jinping said Wednesday that China must maintain its "dynamic COVID clearance" policy and mitigation rules, Reuters reported.
Newsweek reached out to China's National Health Commission and Foreign Ministry for comment.
Update 4/14/22, 12:30 p.m. ET: This story was updated with additional information and background.
Uncommon Knowledge
Newsweek is committed to challenging conventional wisdom and finding connections in the search for common ground.
Newsweek is committed to challenging conventional wisdom and finding connections in the search for common ground.
About the writer
Zoe Strozewski is a Newsweek reporter based in New Jersey. Her focus is reporting on U.S. and global politics. Zoe joined Newsweek in 2021. She is a graduate of Kean University. You can get in touch with Zoe by emailing z.strozewski@newsweek.com. Languages: English.