Shanghai's 'Zero-COVID' Lockdown Gets Metal Barriers: 'So Disrespectful'
Authorities in Shanghai, China, have erected metal barriers as part of the city's ongoing fight against COVID-19 outbreaks, sparking fresh backlash from residents.
The green barriers recently went up around residential buildings in the city, Reuters reported on Sunday. Workers in white hazmat suits were spotted erecting the two-meter high fences, further sealing off blocks of housing and even entire neighborhood streets. Photos and videos have now gone viral on Chinese social media, stoking outrage.
"This is so disrespectful of the rights of the people inside, using metal barriers to enclose them like domestic animals," one unnamed user cited by Reuters wrote on Weibo.
The barriers come in the midst of China's strict "zero-COVID" policies aimed at slowing new outbreaks of the disease. China reported nearly 22,000 new cases Sunday, the Associated Press reported. Most were asymptomatic cases out of Shanghai, with scattered pockets of cases being reported across the country. In response, the government has imposed strict lockdowns, with some residents being stuck indoors for weeks on end.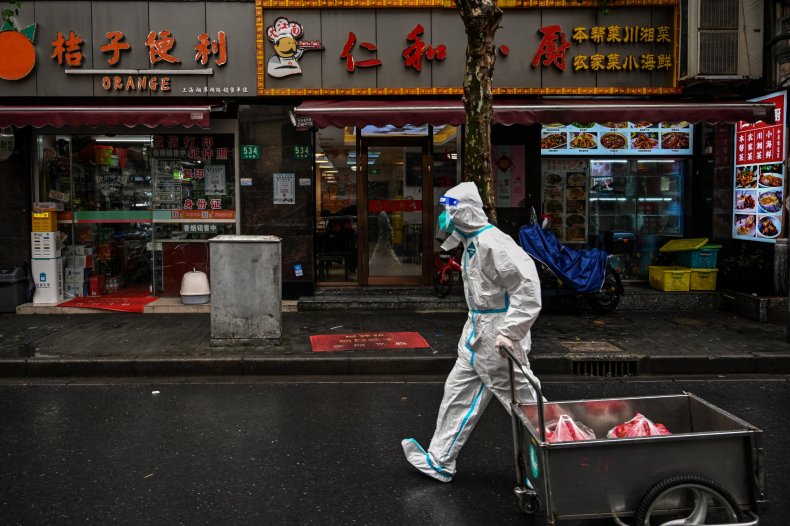 Videos circulating on Chinese social media show further examples of the unrest in the city. In one, residents on balconies shout down at workers erecting fences outside their building. In others, people can be seen attempting to bring the structures down.
Aside from the greater sense of isolation, some residents have hypothesized that the fences, which would seemingly prevent people from escaping a building quickly, pose a serious fire hazard.
"Isn't this a fire hazard?" one resident asked in a Weibo post.
Reuters noted that the fencing appeared to be going up around buildings that had been designated as "sealed areas" by city authorities. This designation applies to places where at least one resident has tested positive for COVID-19. A local notice allegedly posted on Saturday claimed that certain parts of Shanghai would be put under "hard quarantine." Newsweek was unable to verify the existence or veracity of these notices.
Newsweek reached out to the Shanghai government for comment.
Reports emerging out of China during this COVID-19 surge allege that the country is suppressing its actual death statistics. Earlier in the month, the BBC reported that at least 27 unvaccinated patients had "underlying health problems" listed as their causes of death instead of the virus.