A surfer in California was hospitalized on Wednesday after he was reportedly attacked by a shark.
KSBW News in Monterey Bay, California reported that the incident occurred on Wednesday morning at Lovers Point Beach.
In a statement sent to Newsweek, the Pacific Grove Police Department said that at about 10:35 a.m. local time, officers were called to Lovers Point Beach in response to reports of a shark attack.
"Pacific Grove Police Officers, Monterey Fire Department, American
Medical Response (AMR), and State Parks were quickly on scene. The adult male swimmer sustained significant injuries from the shark bite and was transported to Natividad Hospital by AMR," the statement said.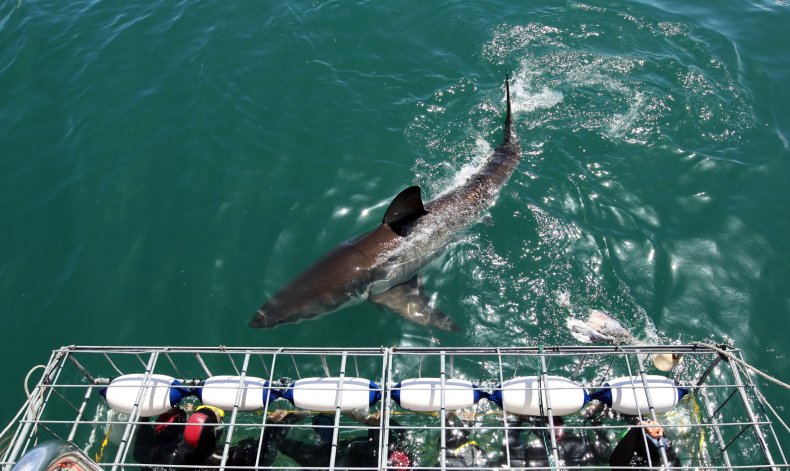 The apparent attack comes several months after the University of Florida's International Shark Attack File reported that the number of unprovoked shark attacks increased in 2021 from 2020.
In the report published in January, the University of Florida's International Shark Attack File said: "The 2021 worldwide total of 73 confirmed unprovoked cases was in line with the most recent five-year (2016-2020) average of 72 incidents annually.
"However, unprovoked case numbers were significantly down in 2020, which we attribute to lockdowns associated with the pandemic. There were 11 shark-related fatalities this year, 9 of which were assigned as unprovoked. This number is above the annual global average of five unprovoked fatalities per year."
The statement sent to Newsweek said that following the attack, the city will follow state park protocol and close down "the beach at Lovers Point and Sea Palm turnout," until Saturday, June 25.
"In an abundance of caution, the Monterey Fire Department, with the assistance of the Seaside Fire Department, deployed a drone to conduct an aerial search of the area for the shark. At the time of this release, there have been no additional sightings," police said in the statement. "We send our prayers and thoughts to the swimmer and their family."
Twitter user Calista Silva of KION News shared a video that appeared to show Pacific Grove Police officers closing down Lovers Point Beach.
"Pacific Grove Police are putting signs up at Lover's Point beach now. Due to a shark attack this morning, the beach will be closed for 48hrs, per State Parks protocol. Working to find out if other beaches in the area will be closed too," the tweet said.
Molly Gibbs of the Monterey Herald shared similar photos on Twitter of the beach closed.
"BREAKING: All beaches in Pacific Grove will be closed for at least 48 hours following a shark attack at Lovers Point this morning," the tweet said.
In another tweet from Gibbs, large police activity can be seen following the apparent attack. Gibbs wrote: "A swimmer has reportedly been attacked by a shark at Lovers Point this morning, shortly before 11 a.m. Emergency responders were notified at 10:39 a.m. and on the scene by 10:47 a.m. The swimmer was conscious. Responders are still on the scene."