A shark has been filmed bursting out of the sea with a quadruple spin, after riding the same wave as a nearby surfer.
The animal's impressive acrobatics, of which any diver or gymnast at the Tokyo Olympics would have been proud, happened off the South Carolina coast last week.
Kaci Allen identified the surfer as her 15-year-old son, Ethan; it is thought the shark is likely to have been a spinner shark.
"This day the waves were good so I swam some with him and then took video of [Ethan] surfing," Allen told Newsweek.
"I saw another spinner, or maybe the same one, and thought, 'I would love to get a video of that!' So, I filmed a good bit of water that day but never saw anything.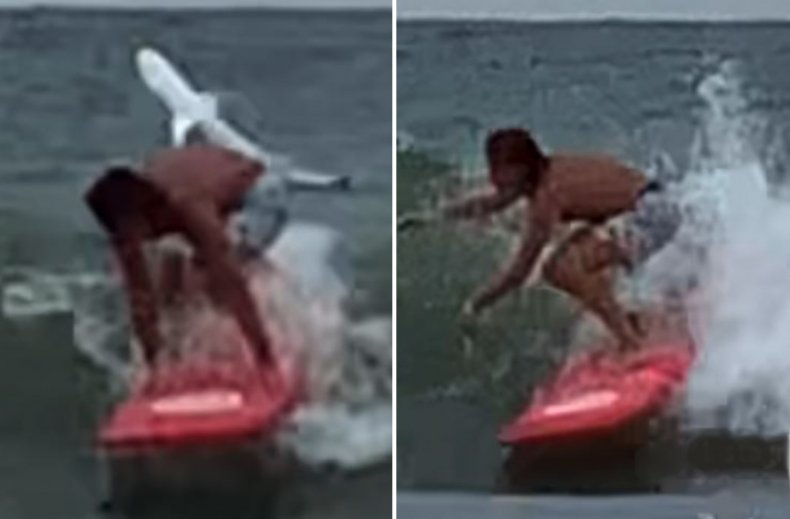 "I was so focused on [Ethan] surfing. It wasn't until a couple days later he was scrolling through video on my phone, analyzing his technique, and came running over to me on the dock and said, "Mom! Oh my gosh, look at this!"
"So when I first saw it I thought, 'Holy cow, that thing nearly got his feet!' Then I thought, 'Wait, I was swimming in there too!' I was mainly grateful that he was OK."
The pair were visiting from Nashville, Tennessee, following the funeral of Kaci's father, Ethan's "Papa."
"The waves have always been a place of refuge," Kaci added.
In response to the Facebook video, one commenter, Holly Hardison Pring, wrote: "That shark knew you were filming and said, watch this!"
Another commenter, Natashia Hendel, said it was "the craziest video" and she was "glad the shark came to play and not eat!"
The shark is thought to be a young spinner shark, according to local newspaper The Charlotte Observer, which first reported on the video.
Spinner sharks (Carcharhinus brevipinna)—a common species off the South Carolina coast—speed through the water vertically while spinning when trying to feed, according to the charity Shark Trust.
Conservation organization Oceana notes that the species is a "fast and agile predator," with adults growing to between 6 and 10 feet in length.
"The spinner shark feeds unlike any other shark species by spinning out of the water in quick bursts of speed to catch a meal," its profile states.
"This shark is not a deep-sea swimmer, but instead prefers inshore to offshore waters no more than 350 feet deep, and juvenile spinner sharks may move into shallower bays with tides."
Sharks Under Threat From Fishing
The sharks have been spotted around the world and are targeted by some commercial fishers. The species is listed as "near threatened" by the International Union for Conservation of Nature (IUCN) Red List.
A spinning shark weighing in at 173 pounds and 5 ounces is cited as the largest spinning shark ever caught off South Carolina.
South Carolina high school teacher Nikki Colwell caught the shark in April, reeling it in with her hands after the animal broke her fishing rod mid-catch.
"When we finally got it to the boat, that is kind of when it went crazy," Colwell told The State newspaper at the time. "It was crazy...I've never had a rod break."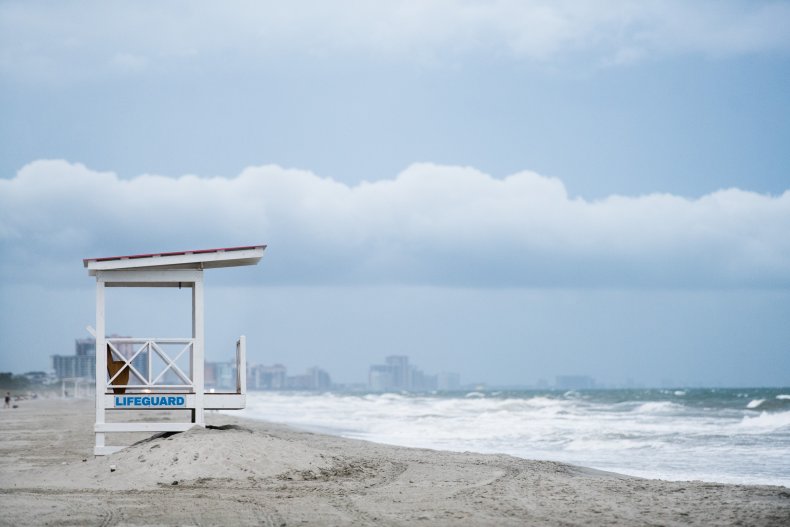 Update 8/12/21, 5:10 a.m. ET: This article was updated with comment from Kaci Allen.