Sharon Stone Brands Eric Trump 'Vulgar' Over Robin Williams Tweet
Robin Williams' daughter Zelda isn't the only person who is not happy with Eric Trump sharing footage from the comedian—now Sharon Stone has waded into the debate and slammed the younger Trump as "vulgar" for his controversial tweet.
Earlier this week, Trump posted a clip of the beloved late comedian doing a stand-up bit about Joe Biden poking fun at the former Vice President and current Democratic hopeful.
The clip is titled 'Robin Williams Just Savages Joe Biden' and features the late comedy legend saying: "We still have great comedy out there, there's always rambling Joe Biden, what the f***. Joe says s*** that even people with Tourette's go, 'No. What is going on?'"
Williams' daughter Zelda hit out at Trump for using her father's jokes to further his political agenda and suggested that the Trump Organization Vice President look up the comedy routines her father had about President Donald Trump.
Now Basic Instinct actress Stone has also taken offense with Trump's use of Williams' stand up footage and taken the opportunity to speak out against it on Twitter.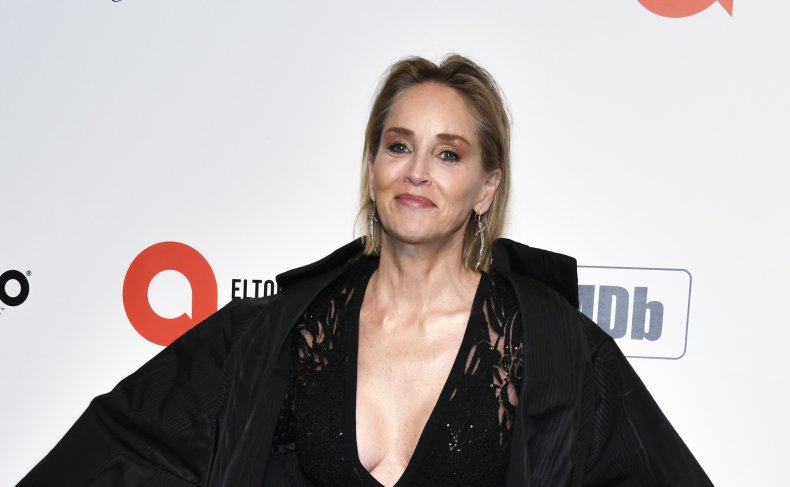 "First of all, Robin Williams was my dear friend," the 62-year-old wrote. "Secondly, using him or any dead comic's material to support Trump is itself a joke. Aside from being the most vulgar and disrespectful behavior. Shame on you Eric Trump."
Stone's tweet started a discussion on Twitter on the morality of using a dead comedian's work to further a political agenda.
Writer Matt Oswalt wrote: "Couldn't agree more. Hate how Williams and George Carlin's decades old material is being taken out of context and politicized."
Following Trump sharing the clip of Williams poking fun at Biden, several Twitter users responded with a clip of Williams discussing the current president during a stand-up performance in 2012, which is arguably more cutting than what he says about Biden.
Williams described Trump as "a scary man" in the segment about Atlantic City and "the Wizard of Oz" because "he plays monopoly with real f***ing buildings."
The Good Will Hunting actor then went on to reference Trump's previous remarks about his daughter Ivanka's attractiveness.
"This is a man who said 'my daughter is hot.' Even people in Arkansas went 'that's f***ing wrong. That's just way out of place,'" he quipped.
Finally, Williams also made jokes about Trump's distinctive haircut, saying "and that f***ing hair, my god. I believe the hair is 'the Donald.' I believe the body is the maintenance system for the hair."