Shatter-proof Glass Fortifies Ballot Count As Trump Looms Over Arizona Vote
Entering the Maricopa County Tabulation and Election Center during this run-up to the midterm elections requires being buzzed through a six-foot-tall spiked metal gate within a chain-link fence. The building's outside and inside doors require key card access, and many of the entrances are manned by two armed guards. Workers can be observed processing ballots through shatter-proof glass.
It wasn't always like this.
"There is a change from pre-2020," Ilene Haber, director of communications and constituent services for the Maricopa County Recorder, told Newsweek. "The biggest change is the exterior of the building, which is now completely secured. You have to have card access."
Outside the building is a "free speech zone" for election protestors, a phenomenon that Haber had not witnessed before 2020. After armed individuals protested outside the building in 2020, entrance to the building has largely been limited to the roughly 3,000 bipartisan background-checked poll workers who report to work in the building for election season.
Maricopa County Recorder Stephen Richer, a Republican, whose office oversees voter files and early voting, is one of the individuals who enters often during this pre-election time. His office plays an important role in ensuring the integrity of the election.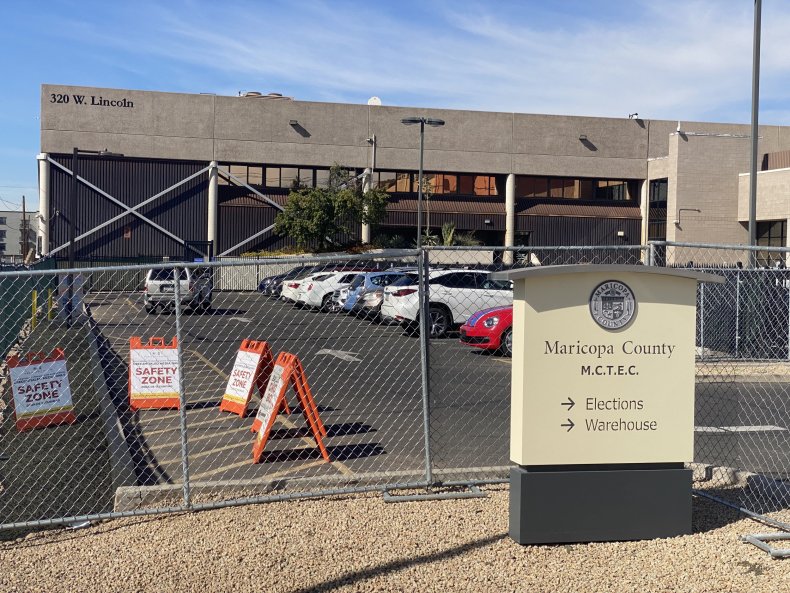 Richer explained to Newsweek that in order to vote, a person must register with their social security number, proof of citizenship, and a valid address. Ballots are only accepted if they are tied to a registration profile. Once the physical ballot is administered, it is assigned a unique barcode and must be received with a signature matching signatures on file for the individual. Each ballot has security marks and cannot be printed at home.
Despite having these measures in place, Richer has received death threats from people convinced that Maricopa County carried out election fraud in 2020. Richer told Newsweek that the FBI arrested a man from Missouri who threatened his life.
He places part of the responsibility for these incidents on political leaders who have questioned the integrity of the previous election. Richer said these people are "putting politics before morality," as they look to pick up the support of those who believe former President Donald Trump was the true winner of the 2020 election, despite having lost the popular vote by more than 7 million votes.
"They're not doing this based on their knowledge of the system," Richer told Newsweek. "If they were, then they would be down here touring it."
"We've made invitations to every single U.S. House member from Arizona," he added, "and none of the ones who are alleging these things have come."
But tensions continue to mount in Arizona as Election Day approaches.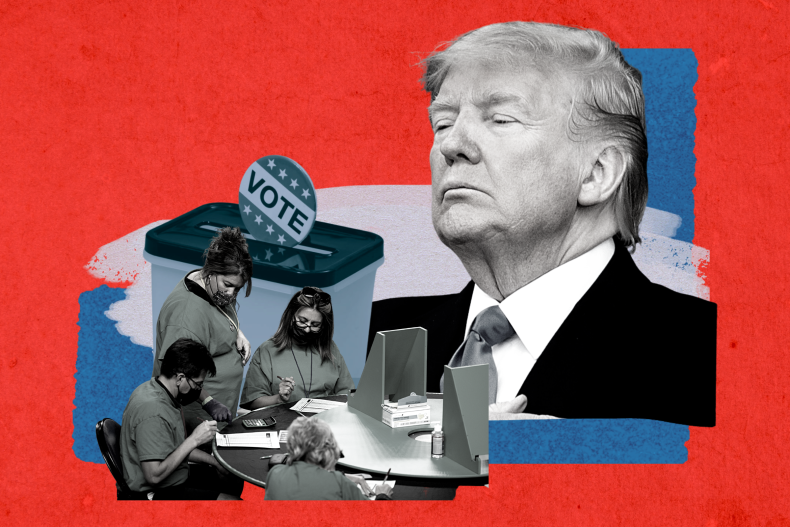 As of October 28, Arizona Secretary of State Katie Hobbs' office has referred 10 cases of potential voter intimidation to the Department of Justice, according to ABC News, as armed individuals in fatigues station themselves outside ballot drop boxes.
Hobbs, a Democrat, who is running for governor against GOP candidate Kari Lake, oversees elections in her current role. Lake has refused to say whether she would concede should Hobbs win the governorship, pointing to her opponent's current role in the election process to cast doubt on the future results.
"Arizona's Secretary of State does not handle ballots or play a direct role in vote tabulation," Hobbs' office told Newsweek when asked to comment on Lake's claims. "She is charged with making sure that the county and local officials who do that important work have the resources they need to run the election freely, fairly, and securely."
"Her role in election administration is governed by the state constitution and Arizona law, which accounts for potential conflicts of interest," it added. "Courts have interpreted the law narrowly and determined that elected officials running for reelection are NOT required to recuse themselves from their duties based on purely speculative claims."
Hobbs' team states that she has "faced hundreds of death threats and threats of violence over the course of this campaign." She and Richer are not the only ones in Arizona to face such threats. In Yavapai County, which Trump carried in 2020, Republican Recorder Leslie Hoffman faced harassment and death threats until she eventually left the job.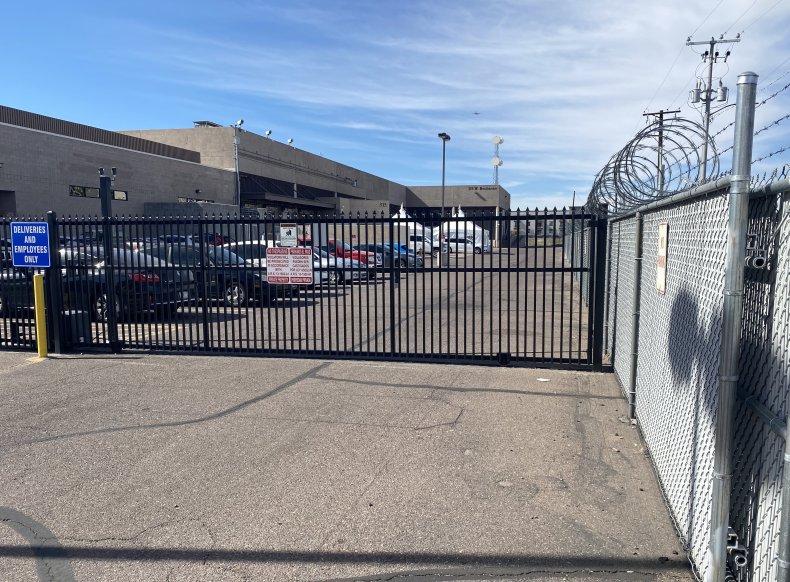 On November 1, U.S. District Court Judge Michael Liburdi in Phoenix issued a restraining order against Clean Elections USA, a group that claims "mules" were paid to stuff ballot boxes with fake votes in 2020. He ordered the group to stay at least 75 feet away from ballot drop boxes. This came after the Arizona Alliance for Retired Americans and Voto Latino, an organization focused on voting rights education for Latinos, filed suit against the group for alleged voter intimidation.
Arizona was in the national spotlight just two years ago, as President Joe Biden carried the state by a margin of just 0.3%. Former President Donald Trump called foul and, according to The Arizona Republic, unsuccessfully attempted to contact the Maricopa County GOP as he sought to swing the state in his favor.
President of the Arizona Senate Karen Fann, a Republican, carried out an election audit that ultimately proved Biden's victory. Nonetheless, the state has become a hotbed for election denialism, as the GOP has lined its ticket with candidates who support the Big Lie.
In addition to Lake, whom some have named the successor to Trump, Republicans also selected candidates Mark Finchem for secretary of state and Abraham Hamadeh for attorney general. An analysis by popular polling site FiveThirtyEight reports that all three have "fully denied" the 2020 results. Should they be elected, all three would likely play a role in affirming future election results.
Arizona State University professors Michael Simeone and Shawn Walker, who conduct social science research and host an educational podcast called "Misinfo Weekly," told Newsweek that the emotional politics being expressed in Arizona are not new to the state. But they argue that the difference now is the breakdown of democratic norms that emerged in 2020.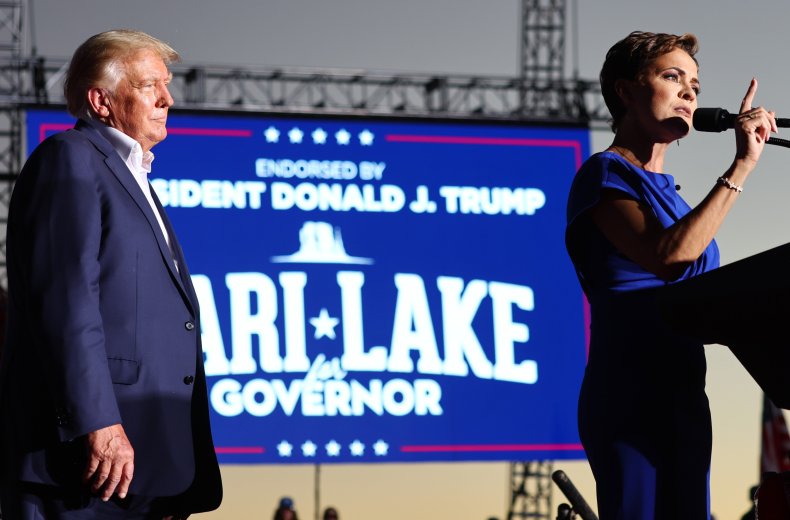 "There are longer-standing conspiracies about the government being irreparably corrupt, or about nefarious external forces trying to flip the politics of Arizona," Simeone told Newsweek. "The COVID-19 pandemic became kind of readable as more evidence of rot in institutions, and any kind of conspiracies about election fraud ultimately come back to this rot and [lack of] trust in institutions."
"I think one thing that's made Arizona a focal point is the role that it played in the federal election in 2020," Simeone added. "This idea of a ballot watcher is not unique to Arizona, but I would say that what we're seeing now is an emphasis on that."
Maricopa County Sheriff Paul Penzone told Newsweek that over his entire 35-year career in law enforcement he can't recall seeing the extent of the type of behavior that Arizona is witnessing now.
He attributes it to the events following the last election cycle, when Trump began the process of normalizing mistrust in election results. Penzone said that has led some people to believe that "it's their job to act out in some ways if they're representing the concerns of the person they support." He noted that with more people feeling "compelled or emboldened" to act on their beliefs, the Maricopa County Sheriff's Office has had to step up enforcement efforts.
Penzone said measures have been put in place to prevent a potential storming of the Tabulation Center, similar to the one that occurred at the U.S. Capitol on January 6. Deputies will be surveilling the area on platforms, and officers trained in "use-of-force tactics," an approach escalating from verbal persuasion to manual escort to pain compliance to use of weaponry, will be stationed at the property.
In addition to the sheriff's own efforts, Penzone said the FBI has regularly provided the office with intelligence. He said his office has an FBI agent embedded within the team to share information and provide support.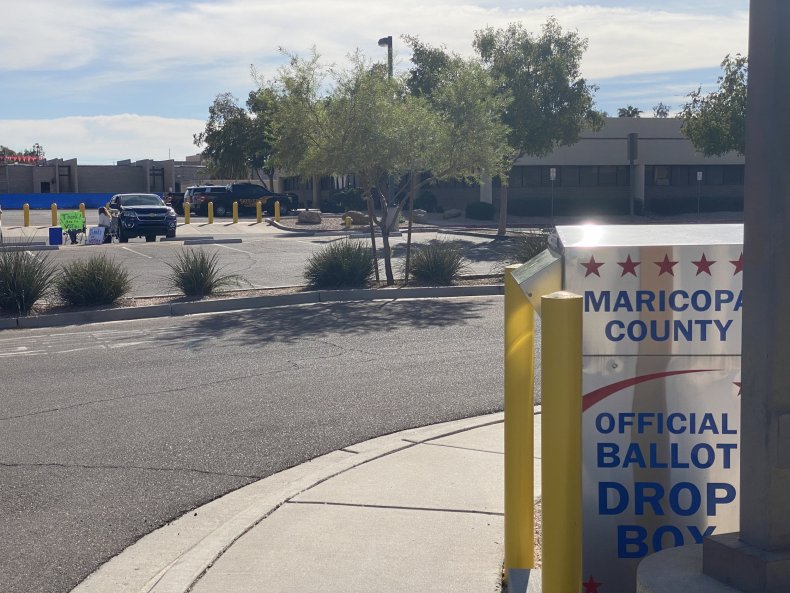 "I realize the eyes of the nation are going to be on Arizona, and we're not going to fall victim to a crowd of people who wish to undermine democracy," Penzone told Newsweek. "At the end of the day, there's going to be zero tolerance."
As Election Day approaches, Penzone urges political leaders to use their influence to calm people. He is asking the public to show support for law enforcement and ensure the safety of his deputies, and to respect their job and mission.
He told Newsweek that this is the time that individuals seeking office can demonstrate their leadership abilities by refraining from lies and political rhetoric. In doing so, they can better ensure that at the end of the day law enforcement and the public servants working at the Tabulation Center are able to return safely to their families.
"We choose leaders who reflect our values, our principles, and lying or manipulating circumstances for selfish needs is never considered an attribute of someone who is a true leader," Penzone said. "People making others feel uncomfortable to vote, whether it's passive or intentional, didn't happen organically. It happened because people in leadership said things that were untruthful or unproven."
Darrell Hill, policy director for the ACLU of Arizona, told Newsweek that if leadership continues to act in such a fashion, American democracy could be stretched to its limits. He argues that the ballot watching being carried out in Arizona presents a slippery slope in respect to voting rights protections, and that the ACLU is "very alarmed" by the situation and the possibility of continued escalation.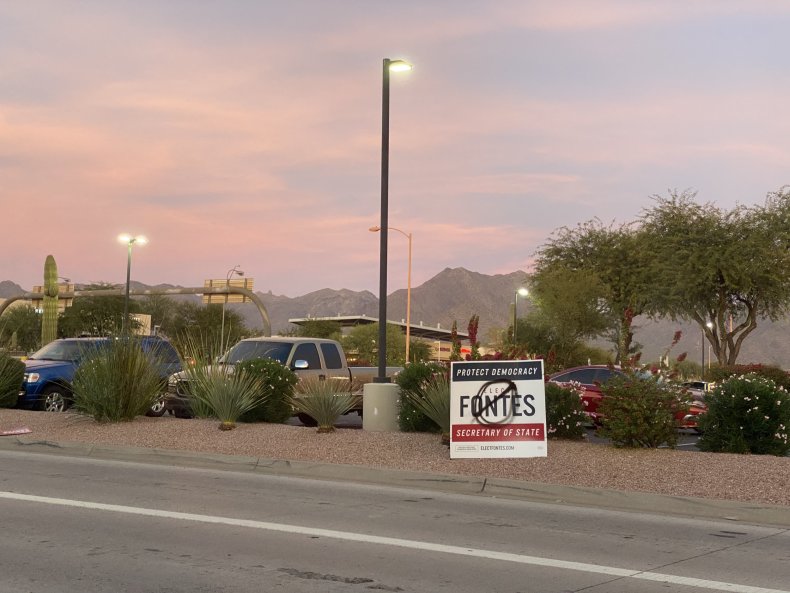 "We've had concerns about voter intimidation before," he said, "but this is the first time we've seen a number of coordinated groups come to Arizona and really, in multiple places —Yavapai County, Maricopa County — perform actions that would intimidate voters and really jeopardize the ability of voters to cast their ballot without intimidation."
While Hill emphasized that every voter is harmed by these practices, he said that rural voters, who often don't have as many options to vote, and elderly individuals, who can be susceptible to intimidation, are particularly at risk from such actions.
He noted that people of color are also disproportionately affected. Latinos, who comprise nearly one-third of the population of Arizona, according to the U.S. Census, fall into this category, especially as rhetoric around illegal immigration at the border intensifies.
Republican senatorial candidate Blake Masters, who is running to unseat incumbent Democrat Mark Kelly, said during an appearance on The Ben Shapiro Show that "it's good" for Democrats to allow migrants across the border, saying they hope to "amnesty these people and make them voters." The Poynter Institute's nonpartisan PolitiFact deemed this claim false.
Nonetheless, the idea of non-citizens tilting the election has been a sentiment repeatedly echoed by election denialists. Trump stated during his January 6, 2021 rally speech that he lost Arizona because "over 36,000 ballots were illegally cast by non-citizens." His lawyer, New York City's ex-mayor Rudy Giuliani, falsely claimed that more than 5 million "illegal aliens" resided in Arizona, and that "way more than 10,000" — the margin of Biden's victory in Arizona — voted in the election.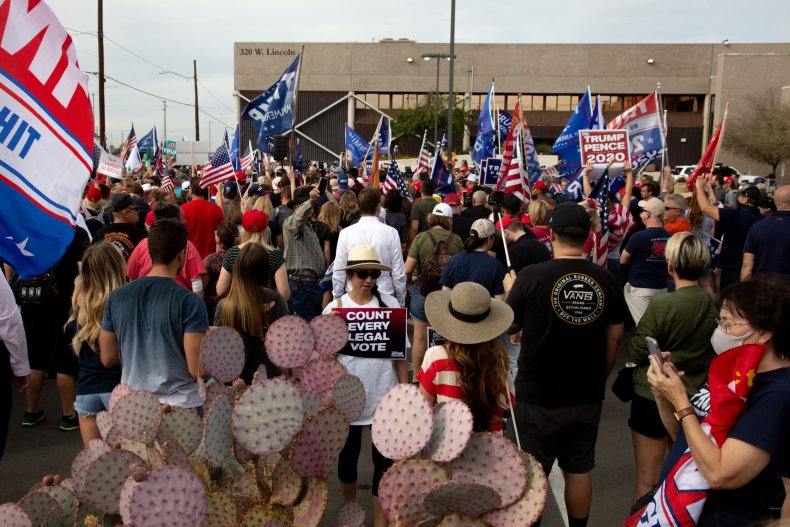 With Latinos comprising 32.3% of Arizona's population, both parties have courted their vote. Any decrease in turnout due to intimidation could impact the race.
"I think the tactics we are seeing from persons who are trying to intimidate voters are very much like the tactics we saw in the pre-Civil Rights South that were designed to place fear in the hearts of voters to make them not want to show up to the polls, not want to cast their ballot, make it more difficult and more scary," Hill told Newsweek.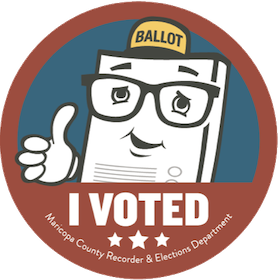 This image, issued by the Maricopa County Recorder and Elections Department, features Phil the Ballot, a feature of public relations campaigns.
Maricopa County Elections Department
Bill Gates [not the former Microsoft CEO], the Republican chairman of the Maricopa County Board of Supervisors, said these threats extend beyond voters and on to the people tasked with counting the ballots. After working 14-to-16-hour days, the tabulation workers, who are members of both parties, had to deal with people taking pictures of them and their license plates, he said. Country Recorder Communications Director Haber said the situation got so bad that the Center had to place green mesh around the perimeter fence.
Many of the individuals Newsweek observed working in the Center were seniors. While Haber said most of the people she has spoken with feel "secure" with the current precautions, there is a sense of anxiety in the building knowing that protests are likely to occur come November 8.
Prior to 2020, Haber said much of the Center's public relations campaign was light-hearted, promoting its cartoon mascot Phil the Ballot. But In the time since, the Center had to work closely with the media in order to demonstrate that vote counting is safe, transparent and secure.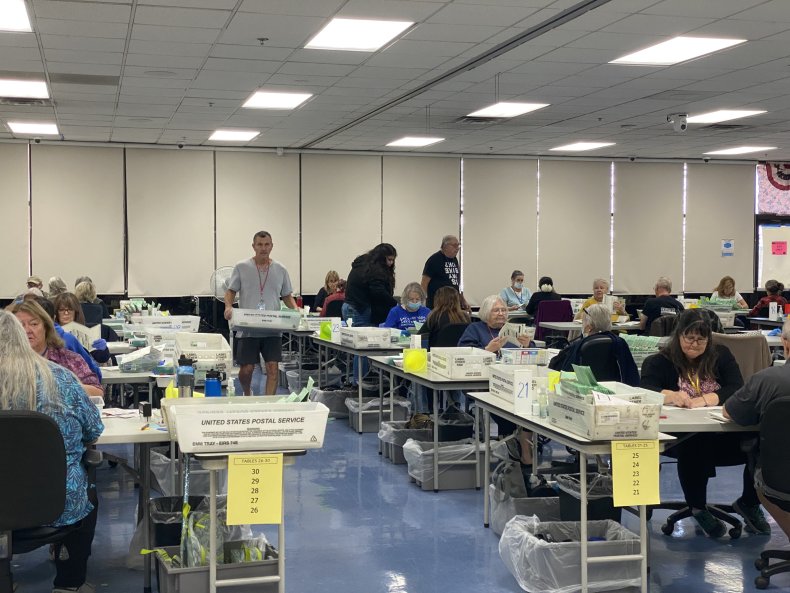 Gates himself has carried out dozens of interviews and press conferences on these issues. While providing information on such matters is a key aspect of his job, he said other Republicans, those not charged with election administration, have spent too much time focused on the 2020 election.
"I have been very concerned as a lifelong Republican, who wants Republicans to be successful, who believes in the principles of the Republican Party," Gates told Newsweek. "To be wasting time on that, in my opinion, and tearing at the foundations of democracy in the meantime, is not a good use of the limited time that we frankly have to make our case to the voters."
Despite the Arizona electorate being comprised of 34% Republicans, 30% Democrats, and 33% "other," the formerly red state has grown increasingly blue.
In 2018, Senator Kyrsten Sinema flipped the state's Republican U.S. Senate seat and Congresswoman Ann Kirkpatrick flipped the Second Congressional District. In addition to Biden's 2020 victory, that was the year Democrat Mark Kelly won the Republican seat that former Congresswoman Martha McSally briefly filled after the death of former Senator John McCain. None of the congressional seats changed hands that year.
Chuck Coughlin, who served as a campaign manager and advisor for former Republican Governor Jan Brewer and is now the president of HighGround Public Affairs Consultants, which runs polls in Arizona, told Newsweek that he hasn't seen the Republican Party do anything to buck the ongoing trend.
His firm's polling places Kelly ahead of Masters 46.4% to 45%. In the secretary of state race, he has Democrat Adrian Fontes leading Finchem 44.8% to 42.4%. HighGround expects Republicans to hold the attorney general seat. And while Lake also leads Hobbs 46.6% to 45.2%, Coughlin said in years past a GOP candidate running against an opponent like Hobbs should be firmly ahead.
"I think we'd all agree that Katie [Hobbs] is not the best of candidates," Coughlin told Newsweek. "She's not a very robust campaigner, and a normal Republican would be wiping the floor with her, but [Lake] is struggling to get over that 50% mark because of who she is."
"[Lake has] just become Trump in a dress," Coughlin said. "I think a majority of the electorate would be fine agreeing with her that inflation is terrible, and Arizona has got it worse than most places in the country, and the immigration system is broken and it's all Biden's fault."
"I think people could rationalize around that, but that's not what she's doing," he explained. "She's maintained this election denialism fraud; she's maintained this support for Trump."