When Will Shaun White Compete at the 2022 Winter Olympic Games?
Stepping up to the halfpipe for the final time in his career, Shaun White will hope to go out on top at the Winter Olympics this week.
The 35-year-old announced his decision to retire from the sport, citing persistent injuries as a reason for calling it a day. White has competed at four previous Winter Olympic Games, and won three gold medals in that time.
He'll be hoping to defend his title from the 2018 games in Pyeongchang but White faces stiff competition from the 2021 World Champion Yūto Totsuka at the Genting Snow Park in Zhangjiakou, China.
If you want to tune in to see how White fares in his final performance in the men's halfpipe snowboarding event, here's when you can watch him.
Men's Halfpipe Snowboarding Event Start Time
Prepare to stay up late if you want to catch the start of White's competition at the Beijing Winter Olympic Games.
Taking the time difference into account, on the East Coast White's competition officially gets underway at 11:30 p.m. on Tuesday, February 8, which is 8:30 p.m. PT.
In local time, that's 12:30 p.m. on Wednesday, February 9, 2022, when the qualification rounds for the men's halfpipe snowboarding begin. There's a large time difference between China and the U.S. which has to be taken into account for the event.
Barring a disastrous qualifying run, White will then compete in the final of the event, two days later.
Local time, the final starts even earlier in Beijing at 9:30 a.m. on Friday, February 11.
Adjusting that for US audiences, you can watch the men's halfpipe snowboarding finals from 8:30 p.m. ET or 5:30 p.m. PT on Thursday night.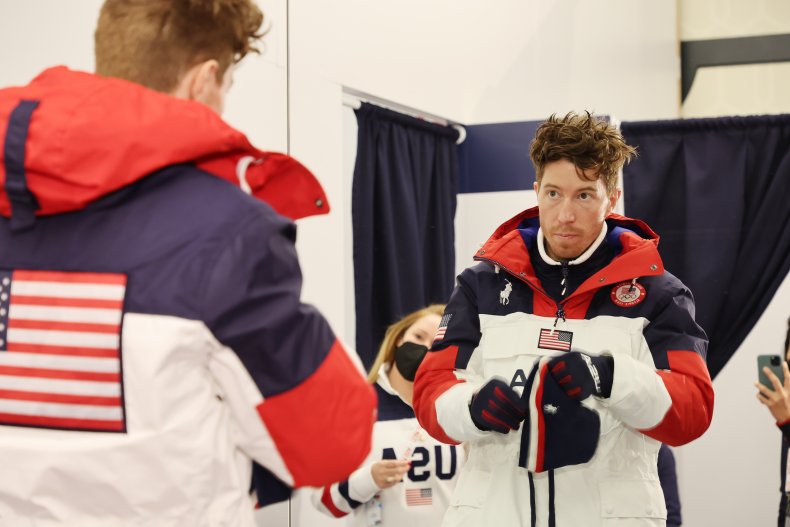 Shaun White's Medal Chances
White may be the reigning champion but he's not the favorite going into the event. With the quality of competition facing him, the 2022 Games will be successful if he comes away with a medal of any color.
The current world number 1 in this event is Japan's Ayumu Hirano, who scored the most points across the three events at the 2021–22 FIS Snowboard World Cup. White currently sits in fourth place in those standings.
Other riders who'll provide White with competition are Scotty James from Australia and the aforementioned Totsuka from Japan, who came in second and first place, respectively at the 2021 Snowboarding World Championships.
White has been sharing pictures and videos from his preparations in Beijing on his social media accounts.
Other Team USA Representatives in the Men's Olympic Halfpipe
Among the 25 snowboarders competing in the men's Olympic halfpipe event, Team USA will have the joint-most competitors along with Japan.
A total of four snowboarders will be hoping to win a medal for the United States. Alongside White are returning Olympians Taylor Gold and Chase Josey, while Lucas Foster is making his Olympic debut.
You can see how White and all of the Team USA snowboarders do in the men's Olympic halfpipe event from 11:30 p.m. ET on Tuesday, February 8 on NBC.
The final of the event will air on NBC at 8:30 p.m. ET on Thursday, February 10, 2022.