'She Needs to Back Off': Mom Backed in Parental Feud with Ex's Girlfriend
Members of a popular internet forum banded together in support of one mother who explained how her ex-boyfriend's current girlfriend constantly interferes with her co-parenting efforts.
In a viral Reddit post published on r/AmITheA**hole, Redditor u/JournalistPuzzled886 (otherwise referred to as the original poster, or OP) said she separated from her ex seven months ago and revealed how his new, 19-year-old girlfriend has attempted to take parental control of the former couple's 3-year-old child.
Titled, "[Am I the a**hole] for walking out of a coparenting meeting I planned?" the post has received nearly 7,500 votes and more than 800 comments in the last day.
She said she and her child's father separated when she caught him cheating, but the two have remained focused on raising their child in a healthy manner.
The original poster also said that her ex's new girlfriend has jeopardized their ability to amicably co-parent.
"She has been the only issue with us co parenting," OP wrote. "She's convinced I'm trying to get back with him and she's constantly saying she's going to adopt my child and I'd never see my baby again."
"In the past 3 months, she has been trying to lay down ground rules with our child (aka, baby can't have sweets, baby isn't allowed to have a babysitter without her approval, baby's bedtime, what he eats, what baby watches, plays with, who the doctors are, [etc.])" OP continued. "It's been miserable arguing that she's not baby's parent and needs to back off."
While planning a meeting with her ex-boyfriend to discuss their child's enrollment in pre-school, the original poster was adamant that she did not want his girlfriend present. The original poster said her ex initially agreed, but brought his partner along for the meeting anyway, causing tension and chaos.
"She didn't want baby to attend a public preschool and she wanted to home school him as it would be better for baby's development," OP wrote. "Any time I tried to give my thoughts, she would talk over me."
"I finally had enough. I told her to shut her mouth, that she was not the parent and this wasn't her decision," OP continued. "I called [my ex] later in the day to discuss what had happened and he told me I was being a b word."
"He said I should have heard [her] out as she was only thinking about baby," OP added. "I told him no, she was thinking only about herself and I'm done talking about things if she was there."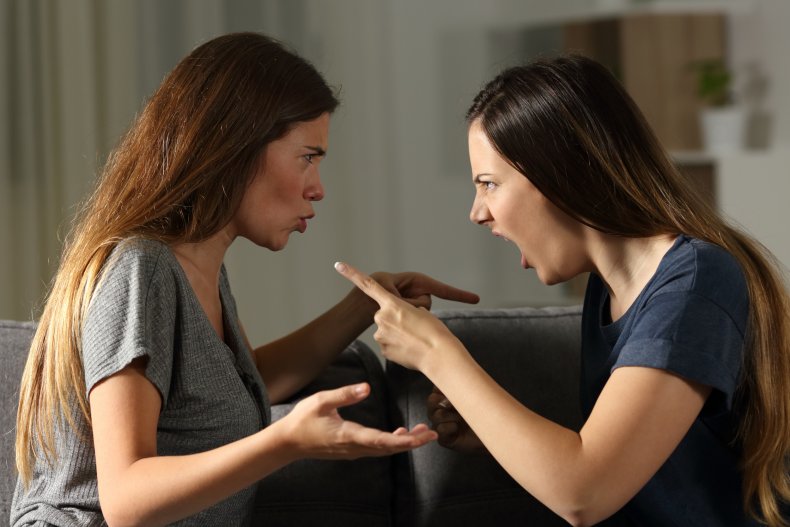 For separated couples, co-parenting is grueling and can have a severe impact on the lives of children.
"Divorced parents almost always find the issue of co-parenting as one of the stickiest challenges of all in their new and uncharted relationship," VeryWell Family reports. "In virtually every case, children suffer as a result of a divorce."
Despite a slew of likely pitfalls, there are strategies for healthy co-parenting, many of which hinge on consistency, communication and always prioritizing the best interests of children over scorned parents.
However, when parents' new partners become involved, there is the potential for even greater challenges.
In cases like the one described by the original poster, a new partner's overbearing attempts to parent a child that is not theirs can be harmful and cause new issues between former couples. To combat this, it is recommended that parents establish strict boundaries between themselves, their children and their new partners.
"If the new partner is trashing you in front of your children...this needs to be addressed quickly with the perpetrator," co-parenting counselor Susan Haworth told Romper.
"If the new partner is overstepping boundaries (such as disciplining your children), this should be addressed privately and compassionately," Haworth added.
Throughout the viral Reddit post's comment section, Redditors told the original poster to enforce the boundaries between her child and her ex's new girlfriend, and encouraged the young mother to seek legal assistance with the situation.
"GET A LAWYER. Get an idea of your legal rights," Redditor u/No-Razzmatazz537 wrote in the post's top comment, which has received more than 20,500 votes.
"The only good thing, his [girlfriend] is 19 and this may get old for her eventually or she has her own baby with him," they added.
Redditor u/Impressive-Solid9009, whose response has received nearly 4,000 votes echoed that sentiment and offered stern advice to the original poster.
"You need to lawyer the f**k up immediately and get a formal Parenting Plan in place, with provisions that only the biological parents can make decisions," they commented. "Also, put in place that if there are coparenting conversations happening, again, it is only between the biological parents."
"Either way, you legitimately need representation," they added. "She sounds aggressive and ignorant, which is a very dangerous combination."
Newsweek reached out to u/JournalistPuzzled886 for comment.