Sheikh Jarrah Requires an Uncomfortable Compromise | Opinion
Sheikh Jarrah, the now-infamous Jerusalem neighborhood, is a quirky jumble of high-end hotels, low-end basic housing, gentrified patches of upscale residences and a cluster of consulates atop a small hill.
In recent weeks, the neighborhood, along with Al-Aqsa Mosque, has come to represent a litany of alleged evils committed by the state of Israel; the pre-eminent symbol, globally, of Israeli war crimes, ethnic cleansing, apartheid, you name it.
When issuing its ultimatum to the Israeli Defense Force on May 10, Hamas invoked those two powerful symbols. Remove all police forces from the Al-Aqsa compound and halt evictions from Sheikh Jarrah, it said, or we will attack.
Israel did not accede and Hamas delivered, shooting multiple rockets in the direction of Jerusalem. Hamas continued to hammer Tel Aviv and southern Israeli towns and villages with hundreds of rockets in a terrifying barrage that continued for 11 days.
On a recent weekday, Sheikh Jarrah was tranquil, as it typically is, with people going about their daily business. There is a heightened police presence due to the regular appearance of various political NGOs and others advocating this or that position. Evening demonstrations have become a regular occurrence, efficiently dispersed by border and civilian police forces. Life goes on.
At its core, the Sheikh Jarrah issue is a very ordinary—with a twist or two—property dispute between two parties. In this case, though, one party is Jewish, the other Palestinian.
Several homes in Sheikh Jarrah are inhabited by Palestinian families, who have resided there since the mid-1950s when East Jerusalem was under Jordanian control. No one disputes that fact. The land was purchased by a Jewish man in 1875, who had proper title. No one disputes that fact either. While it controlled the area, however, Jordan chose to ignore the 1875 purchase and, working with UNRWA, agreed to build some basic housing units on the land for refugees. In exchange, the families residing there were required to surrender their refugee status.
Houses were built, a lottery was conducted and a lucky few families moved in to begin new lives. Jordan had apparently promised to transfer title to the new occupants, but never did; probably because it had no ability to vitiate the original title.
At some point after the 1967 war, when Israel was in control of the area, the Jewish title holders resurfaced, demanding that the new inhabitants pay rent. The Palestinian residents refused, saying they were owners, not tenants. The Jewish title holder applied to court to have the Palestinians evicted.
In the ensuing decades, this saga has been bogged down in the Israeli civil court system, treated as the simple property dispute that it is. Except this is Jerusalem, where nothing is simple.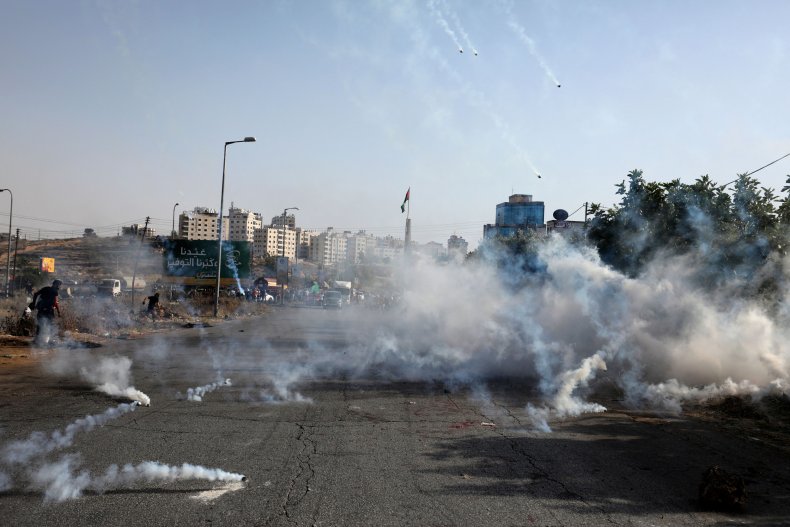 Hamas and various international interests have manipulated Sheikh Jarrah into a meme. Its very name now conjures every alleged evil of Israel's: colonialism, expansionism, racism.
Totally coincidentally, the Israeli Supreme Court was set to issue a decision on the pending Sheikh Jarrah evictions just as the Al-Aqsa conflagration was gaining momentum. Critics of Israel conflated two totally separate issues to make one overarching point: the Israeli occupation is flagrantly breaching international law.
Over-simplification—not to mention subsequent violent images of riot police and Molotov cocktails—makes for much more compelling media coverage than do property deeds.
The Palestinian residents of Sheikh Jarrah are resolutely refusing to vacate. And the owners of the land appear to be aligned with right-wing Israeli nationalists aggressively vocal about reclaiming every inch of Jerusalem and the West Bank, which they see as their birthright.
Therein is the real conundrum of Sheikh Jarrah. It is now totally politicized. Once a solidly Arab neighborhood, it is quite mixed today. But the Jewish families waiting to move into the contested homes are there to promote a political agenda—and to do so provocatively. That lends international urgency to an otherwise very dull case. The court should definitely not issue its decision while tensions remain high.
Typically, property disputes are settled with financial agreements. No amount of money will resolve this standoff, however. It is unjust and unethical to evict the current residents. It also happens to be technically correct that they have no legal right to reside there. So, an ethical and political compromise would seem to be in order—something that rarely happens in the Middle East.
And then there is the matter of equal and principled application of the law. Many Palestinians residing in the Middle East held legal title to lands within the 1967 borders of Israel. These properties have been settled almost exclusively by Jewish families since 1948. Should the Palestinians produce valid title, it is a foregone conclusion that it would be denied by an Israeli court. At some point, all parties must accept the unjust outcome of war and focus instead on pragmatic ways forward. Just as the millions of Jews expelled from Arab countries and disenfranchised throughout Europe will never receive appropriate remedies, neither, sadly, will many Palestinians.
Israel should allow the families to remain in their homes to the end of their days. The state should find a comparable piece of land in the vicinity and offer that to the rightful owners. No one will be satisfied, meaning it is probably a just outcome.
Sadly, what will likely transpire is that "#SheikhJarrah" will stop trending soon, and life will revert back to the uneasy "normal" that has persisted for decades.
Vivian Bercovici was ambassador of Canada to Israel from 2014 to 2016.
The views expressed in this article are the writer's own.