Sheldon Adelson, Trump's Biggest Donor, Dead at 87
Sheldon Adelson, the Las Vegas casino magnate, political influencer and philanthropist, has died at the age of 87.
Adelson died Monday night from complications related to treatment for non-Hodgkins lymphoma at his home in Malibu, California, his casino the Las Vegas Sands said in a statement.
The 87-year-old was born in Dorchester, Boston, on August 4 of 1933, to Jewish immigrant parents and raised in a poor section of the city.
He began his entrepreneurial career selling newspapers on Boston street corners at the age of 12 and rose to become one of the most successful entrepreneurs of his time.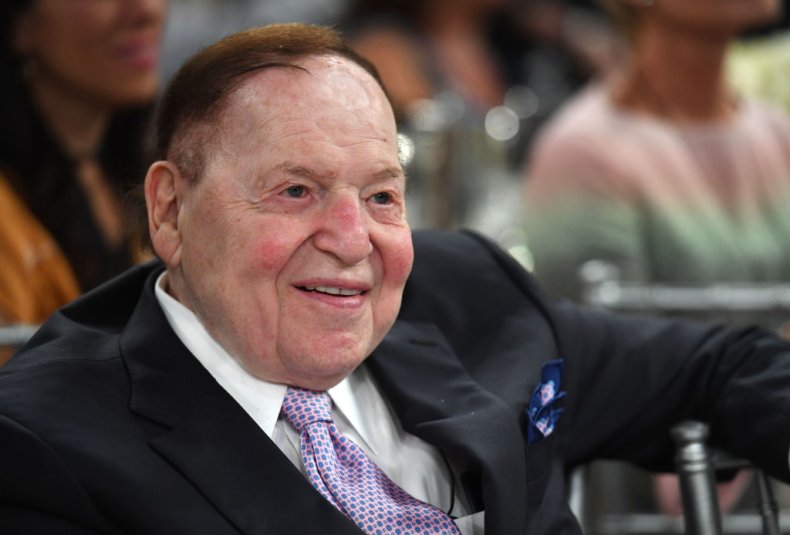 He was a luxury resort developer, philanthropist and political influencer who bankrolled various Republican politicians including President Donald Trump.
Adelson and his wife Miriam were among the top Trump donors during his 2016 presidential campaign and were the biggest contributors to his 2020 re-election effort, according to filings with the Federal Election Commission and as reported by Bloomberg.
During the 2020 election cycle, Adelson gave $75 million in donations to the Preserve America PAC that spent heavily on television ads supporting the president.
During Trump's 2016 presidential bid, the pair spent $20 million on the campaign and another $5 million for his inauguration.
"I'm against very wealthy people attempting to or influencing elections," he told Forbes magazine in 2012. "But as long as it's doable I'm going to do it," he added.
Adelson was also a prominent supporter of Israel and Israeli Prime Minister Benjamin Netanyahu.
Notably, he founded and served as Chairman and CEO of Las Vegas Sands Corp., the world's largest gaming corporation.
He had been on medical leave since January 7 as he battled non-Hodgkin's lymphoma.
"It is with unbearable pain that I announce the death of my husband, Sheldon G. Adelson, of complications from a long illness," his wife, Dr. Miriam Adelson, said in a Tuesday statement provided by Las Vegas Sands.
"To me — as to his children, grandchildren, and his legions of friends and admirers, employees and colleagues — he is utterly irreplaceable."
Adelson "transformed the industry" and "changed the trajectory of the company he founded", the Las Vegas Sands press release reads. "His impact on the industry will be everlasting."
In the wake of his death, Donald Trump Jr, took to twitter to commemorate his life, describing Adelson as "a true American patriot".
"Sheldon was a true American patriot and a giant among men," he wrote. "He treated his employees like family. His philanthropic generosity changed countless lives. The US-Israel relationship is stronger today because of him."
Adelson pioneered the integrated casino resort model combining luxury hotel-casinos with convention centers.
The model became so successful that it made Adelson a billionaire with a casino empire spanning from Las Vegas to China.
Adelson's worth is reported to sit at $35 billion, according to the most recent Forbes estimates.
The mogul owned roughly 57 percent of Las Vegas Sands' outstanding common stock as of December 31 of 2019, according to filings with the U.S. Securities and Exchange Commission and as reported by the Las Vegas Review Journal.
A funeral is set to be held in Israel, the birthplace of his wife, with plans for a memorial service to be held in Las Vegas.