At the start of the COVID-19 pandemic, shelters across the country saw an uptick in people looking to foster or adopt a new furry friend. ABC 7 noted that in April 2020, one shelter in New York City reported that their application submissions had jumped from 140 per month in the previous year to about 3,000.
One pup in Chattanooga, Tennessee, stayed at a local shelter for months but eventually was permanently adopted -- and was seen off with a standing ovation in a Facebook video liked 160,000 times.
Big Mac, who is a mixed breed one-and-a-half-year-old dog, first stepped his paws into McKamey Animal Center in December 2020 when his owner dropped him off, noting that they were moving and no longer had time for the dog, according to The Dodo.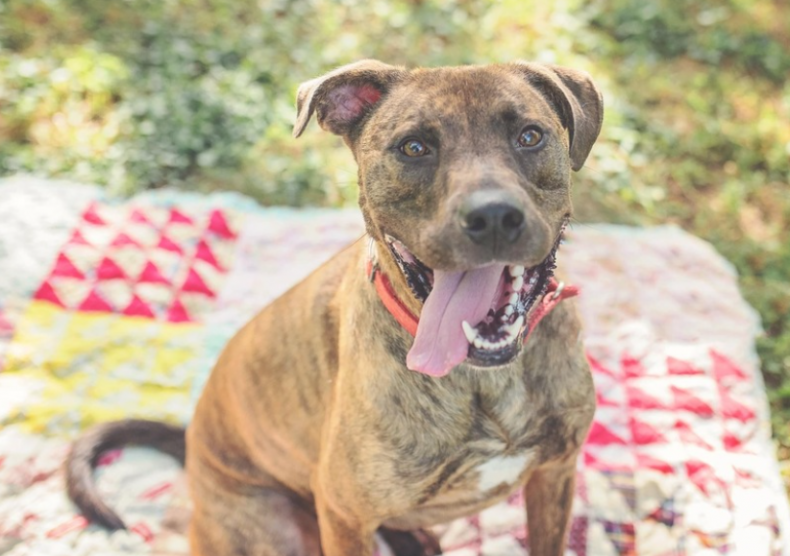 From the get-go, Big Mac struggled in the shelter setting as he was nervous around new people. Slowly, he became the shelter's longest resident.
Lauren Mann, advancement manager at the shelter says that the length of time a dog spends at the shelter can vary.
"Some stay only a day or two, while others who may be harder to place can be with us for an extended period of time," Mann told Newsweek. "Big Mac suffered from what we call 'stranger danger' so he was very cautious of new people and environments. He wasn't the typical 'I want to kiss your face' dog right off the bat for people, which was attributed to his longer length of stay."
Over the course of his stay at the animal center, Mann says Big Mac was fostered three times before going to his fourth — and final — foster home.
"The first three were to just give him a much-needed break from his kennel in the shelter," Mann said. "The fourth was a 'foster to adopt' or what we like to call a 'trial adoption' with his now, forever family."
After 260 days, the Dodo reported, one of the shelter volunteers agreed to foster Big Mac but soon what is often a temporary situation became a forever solution for the dog and his new family.
When Big Mac finally left the shelter for the last time, the staff of the shelter gathered to give the pup a round of applause to commemorate the momentous occasion, the Dodo reported.
Since Big Mac's departure earlier this month, Mann says that like many shelters nationwide, their shelter is overcapacity caring for 282 dogs.