A Tennessee sheriff has warned residents about a shocking danger that may lie hidden inside folded dollar bills.
On two recent occasions, the Giles County Sheriff's Department was notified of a folded dollar bill on the floor at a local gas station, Sheriff Kyle Helton announced in the warning issued Thursday on the department's Facebook page.
"When it was found and picked up, the person discovered a white powdery substance inside," Helton said. "The substance was later tested and was positive for methamphetamine and fentanyl."
The sheriff urged parents not to let their children "pick up any folded money they may find in or around businesses, playgrounds, etc., without using great caution and even alerting a parent or guardian."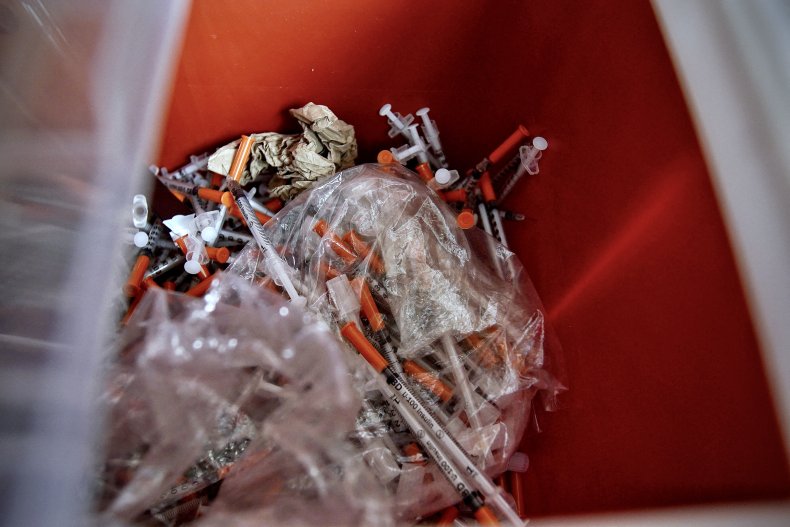 Helton attached a photo of a penny placed next to a much smaller smudge of white powder.
"The amount of powder shown next to the penny (if fentanyl laced) is more than enough to kill anyone that it comes into contact with," he said.
In 2020, there were 2,473 deaths from opioid overdoses in Tennessee—79.1 percent of all drug overdose deaths in the state, according to the health-focused nonprofit Kaiser Family Foundation (KFF).
The COVID-19 pandemic and related stressors drove up rates of substance use disorder across the United States. In Tennessee, drug overdose deaths rose from 22.8 per 100,000 people in 2015 to 45.5 per 100,000 in 2020, KFF reported.
The national opioid epidemic, which began with increased deaths from opioid prescriptions in the early 2000s, followed by rising deaths from heroin in the 2010s, has led to an even sharper increase in overdose deaths from synthetic opioids.
Over 150 people die every day from overdoses related to synthetic opioids like fentanyl, which is 50 times stronger than heroin, according to the Centers for Disease Control and Prevention (CDC). Powdered fentanyl looks like many other drugs and is commonly mixed with drugs like heroin, cocaine and methamphetamine. The U.S. Drug Enforcement Administration (DEA) has said that it poses the "deadliest" drug threat ever known.
Police departments nationwide have shared false beliefs about fentanyl overdoses, including the idea that skin contact or inhalation can cause an overdose, according to a report in Health & Justice. In 2017, the San Diego sheriff released body camera footage of a deputy falling over after testing recovered fentanyl, alleging that he only survived because he was given naloxone. The sheriff later acknowledged this claim was false.
To combat misinformation that could aggravate officer burnout and imperil lifesaving overdose responses, the American College of Medical Toxicology and the American Academy of Clinical Toxicology issued a joint report in 2017 asserting that the risk of fentanyl overdose through incidental skin contact is very low.
Newsweek reached out to Sheriff Kyle Helton for comment.
Uncommon Knowledge
Newsweek is committed to challenging conventional wisdom and finding connections in the search for common ground.
Newsweek is committed to challenging conventional wisdom and finding connections in the search for common ground.
About the writer
Shira Li Bartov is a Newsweek reporter based in New York. Her focus is on trending news, human interest and legal stories. She has covered labor and civil rights lawsuits extensively. Shira joined Newsweek in 2022 from Inside Edition. She is a graduate of Brown University. You can get in touch with Shira by emailing s.bartov@newsweek.com. Languages: English, German, Hebrew and Mandarin.