On 'National Fentanyl Awareness Day,' DEA Says Drug Poses Deadliest Threat
The U.S. Drug Enforcement Administration (DEA) said that fentanyl posed the "deadliest" drug threat ever known while marking the first National Fentanyl Awareness Day.
DEA Administrator Anne Milgram warned against the "highly addictive" synthetic narcotic on Tuesday while the agency recognized March 10 as National Fentanyl Awareness Day. The Centers for Disease Control and Prevention (CDC) reported that over 100,000 drug overdoses had occurred in the U.S. during a 12-month period that ended last November, 66 percent involving synthetic opioids such as fentanyl.
"Fentanyl is killing Americans at record rates," Milgram said in a video statement on Tuesday. "Many [overdose victims] didn't know they were taking the deadliest drug our country has ever seen....And they didn't know that just one pill can kill."
"We at the DEA know that this is happening, and now you do, too," she added. "On this first-ever National Fentanyl Awareness Day, please be sure you talk with your friends and your family about the dangers of this deadly substance."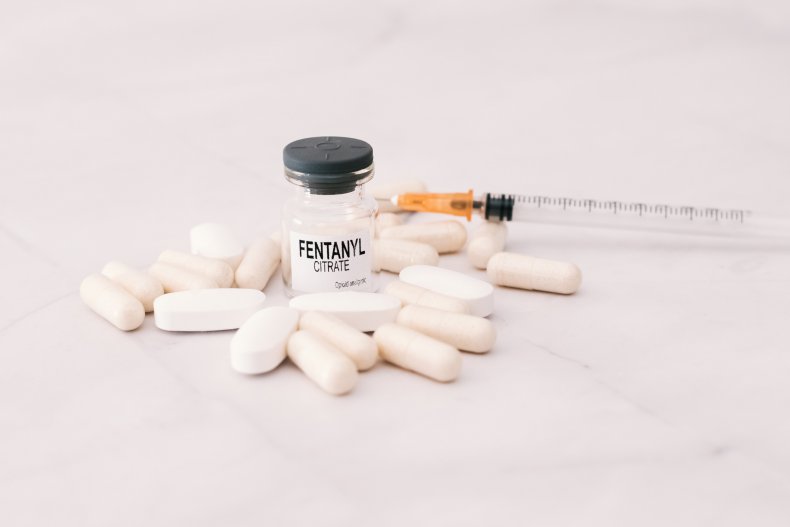 Fentanyl is considered especially dangerous due to its high potency. It is roughly 50 times more potent than heroin and 100 times more potent than morphine, according to the DEA, making a comparatively very small dose of the drug potentially fatal.
The DEA noted that "only two milligrams of fentanyl is considered a potentially fatal dose," with the drug being "particularly dangerous for someone who does not have a tolerance to opioids."
Drug traffickers often mix fentanyl, which is cheap to produce, in with other narcotics or substitute it entirely for use in counterfeit pills. Those who overdose may believe that they have taken another drug and be unaware of the much more powerful substitute.
"Fentanyl has permeated the street drug supply, and not because of any true want for it," toxicologist Dr. Ryan Marino said in a statement after National Fentanyl Awareness Day was first announced last month. "It is replacing heroin and even being pressed into a wide range of pills without people knowing."
"When people don't know what they're getting, or how much, their risk of overdose is much higher," he continued. "It is more important than ever that people who use drugs understand that fentanyl could potentially be in almost any street drug they buy."
Milgram's video also urged Americans to help the DEA "save lives" by only taking "prescription pills that are prescribed to you personally, and that come from a pharmacy." Black market pills containing fentanyl may be presented as popular and often-abused prescription drugs such as Percocet, Vicodin, Xanax or Adderall.
National Fentanyl Awareness Day was initially proposed by Song for Charlie, a nonprofit group dedicated to raising awareness about the drug being used in fake prescription pills, and several other organizations, major corporations, schools and government agencies.
"My boyfriend died in his fraternity house after taking a fake Percocet," Song for Charlie board member Bridget Lattimer said last month, referring to the organization's namesake Charlie Ternan, who died of a fentanyl overdose in May 2020.
"[National Fentanyl Awareness Day] is a real opportunity for universities, colleges, fraternities, and sororities to warn their communities about these fake pills, and about fentanyl in cocaine," added Lattimer.
Newsweek reached out to the CDC's National Center for Health Statistics and the DEA for additional comment.