What Happened To Sherri Papini? Everything We Know About The Mysterious Case With Few Answers
The case of Sherri Papini still remains a big mystery as 2017 comes to a close and the suspects have yet to be caught.
The story of a California mother of two that disappeared then came back weeks later was one of the biggest mysteries of 2017. The 35-year-old went missing on November 2, 2016, and was found 22 days later on Thanksgiving day on the side of a highway with her long blonde hair cut short and branded on her shoulder. She also had clamps around her ankles and a chain around her waist.
Papini's case sparked international attention, and there are many who still don't believe the story that she was abducted while she was jogging in her neighborhood. Will there be a deeper dive into her disappearance in 2018? Here's what we know about the case so far:
She had male DNA on her when she was found, but Papini claimed she was abducted by two women:
The DNA found on Papini's clothing was of a man and a woman, not of two women. When it was tested, the male DNA was not her husband's, Keith Papini.
"It's one of those little pieces that's just a weird anomaly of information that I can't explain," Shasta County Sheriff spokesman Sergeant Brian Jackson previously told Newsweek. "It is just weird."
The sketches of the women were not released until this year:
Papini told authorities that two Hispanic females abducted her, beat her and held her captive in a basement until one of them decided to ditch her on the side of a road in Yolo County, California.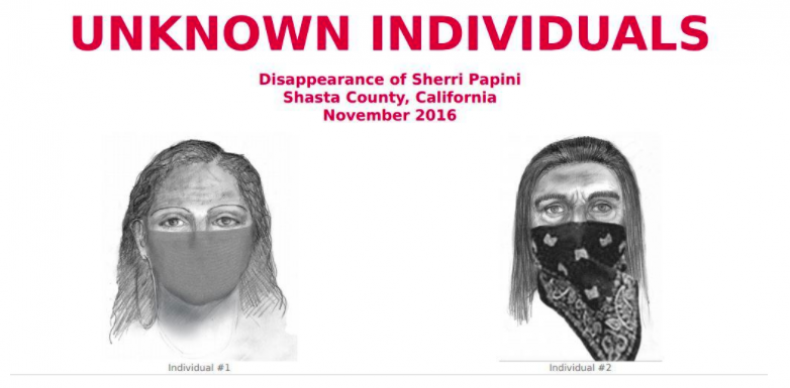 The Sheriff's Office waited to release the sketches of the female suspects until October 2017. The sketch pictures two women with both of their mouths covered. One of the females is younger with thin eyebrows, curly hair, wearing hoop earrings. The second woman is older with straight hair and thick eyebrows.
Authorities said she was texting another man in Michigan:
More details of the case also came out in October when officials said Papini was texting another man in Michigan, but later ruled him out as a suspect.
Papini said she cut her foot when she was running from her captors, but there is no evidence of this:
The California woman said she cut her foot while fighting off one of her captors, but none of the hospital workers could find a trace of an injury.
Papini does not leave her home:
While there have been recent reports that Papini has left her home with her husband, it has been unproven. Neighbors previously told Newsweek that after she returned home, they never see her or her children. While she was open with the public about her story, she lives a very quiet life at home.
"She doesn't come out of the house," neighbor Joyce Allison said. "I don't see the kids out playing in the yard. I honestly don't know if the story is true. If it is, I'm sure we'll find out. If it's fake, we'll find out soon enough."